College prepares superintendents to lead, impact local schools districts
by Sal Nudo / Jul 25, 2017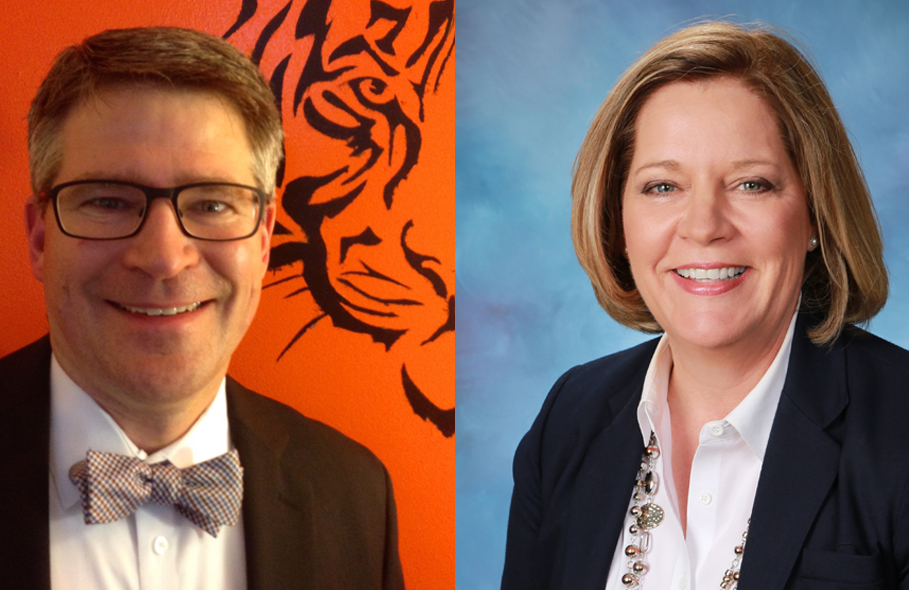 Local superintendents Donald Owen and Susan Zola
A College of Education at Illinois graduate has been superintendent of Urbana School District 116 since 2007. Across town in Champaign, the Unit 4 School District has been run by a graduate of the College since 2012.
The most recently named Education graduate to lead Unit 4 is Susan Zola, Ed.D. '97 EOL, who took over on July 1 for former superintendent Judy Wiegand, Ed.M. '91, Ed.D. '03 EOL.
In Urbana, Donald Owen, Ed.M. '05 EOL, Ed.D. '13 EOL, began his role as superintendent in 2013, succeeding Preston L. Williams Jr., Ed.M. '87, Ed.D. '00 EOL, who led the Urbana school district for six years as superintendent and served in the system for 27 years.
Dean James D. Anderson said the College of Education has a legacy of educating and training the best leaders to be principals of schools and superintendents of districts.
"At the College of Education, we want to continue to be a place where those who are interested in being leaders in the field of education—whether principals or superintendents or specialists—can come here to get trained and become excellent leaders," Anderson said.
The Champaign and Urbana school districts are involved with the College in several ways. Owen said his district connects with Education at Illinois scholars on education issues surrounding culturally responsive teaching and in the realms of civic engagement and democracy.
"Those have been very valuable conversations," said Owen, who talks regularly with Dr. William Trent, the director of the Center for Education in Small Urban Communities.
Additionally, several Education scholars have helped establish and expand the thriving dual-language program in two Urbana elementary schools, in collaboration with alumnus Joseph Wiemelt, M.Ed. '09 EPOL, Ed.D. '14 EPOL, the director of Equity & Secondary Bilingual Programs in the district.
Zola said raising a family with her husband, David, in a community with a renowned university offers Unit 4 teachers and administrators opportunities for collaboration that goes both ways.
"I think it's a value-added aspect of our school district," she said. "I think oftentimes we forget to articulate what a gift that it is to the school district, and hopefully the university feels we're a valuable partner in its work as well."
As they've grown professionally in their administrative roles, Owen and Zola have stayed personally connected with the College. Zola, who oversees a district of more than 10,000 students and 1,900 staff members, has spoken to Education freshmen and preservice teachers and has served on multiple campus panels. She said working in the preK-12 setting and gleaning insights from her husband, a clinical professor in the Department of Educational Psychology in the College, makes for interesting household conversations.
"Oftentimes I may be doing something in the work of teaching and learning and he's got a research connection or a theoretical connection that wouldn't automatically come to me," Zola said. "And then the exact opposite may happen. He may be teaching a theoretical point or he may be sharing some data and I may be reminding him of the practicality and the reality of the day-to-day work that happens in the teaching world."
Owen, whose wife, Meg, is a speech and language pathologist at Martin Luther King Jr. Elementary School in Urbana, also regularly speaks to Education students and has collaborated with Illinois researchers, serving as a "gatekeeper, adviser, and advocate" for studies that affect the Urbana school district and the work within it.
Collaboration also occurs between the superintendents themselves, from late-night phone calls about snow days to community engagement efforts with groups such as the CU Schools Foundation, Champaign Community Coalition, C-U One-to-One Mentoring Program, and CU Cradle2Career.
Owen and Zola met via conferences they attended centered on curriculum and instruction and curriculum development. As each climbed the administrative ladder, their paths began to cross more frequently.
"I've always admired her," Owen said of Zola. "She and I get along very well. We have a similar sense of humor and a similar way of approaching a lot of things."
Both Owen and Zola said they greatly respect their predecessors and learned a great deal from them. Zola called Wiegand a topnotch listener who was always willing to engage and work directly with numerous stakeholders. She hopes to emulate Wiegand's leadership qualities in a variety of ways.
Owen called Williams a longtime mentor to him and someone who supported and developed future leaders by challenging them to be their best. As fellow historians, Owen said he and Williams look at the context of a given situation and then analyze how it may play out.
As their administrations unfold, Owen and Zola will use their expertise and the learning they received in the College to help guide them. Owen recalls his higher-education experience in the College as one in which scholars pushed students to look at leadership as a form of agency to expand and improve the common good in realms such as social justice, an area he cares deeply about.
And when Zola looks back at her time in the College, she remembers an institution that was thoughtful about accommodating practitioners who wanted to further their higher-education learning.
"I think the university wanted those of us who were already in schools and school settings and still had the desire to continue our professional academic opportunities," she said. "They were very thoughtful to try to marry those two needs and make you feel like you were really leaving with a premier education from a premier institution."
Anderson said training leaders in the College affects "every corner of the state" that needs a principal and superintendent. Such work is the College's legacy and its future, and he said Owen and Zola are up for the task of leading local education in the right direction.
"These are people who we have great confidence in. We look forward to working with them to do whatever we can to assist and improve education in both the Urbana and Champaign districts," he said.