Student organizations in College offer varied networking, philanthropic, and professional opportunities
by Sal Nudo / Nov 22, 2016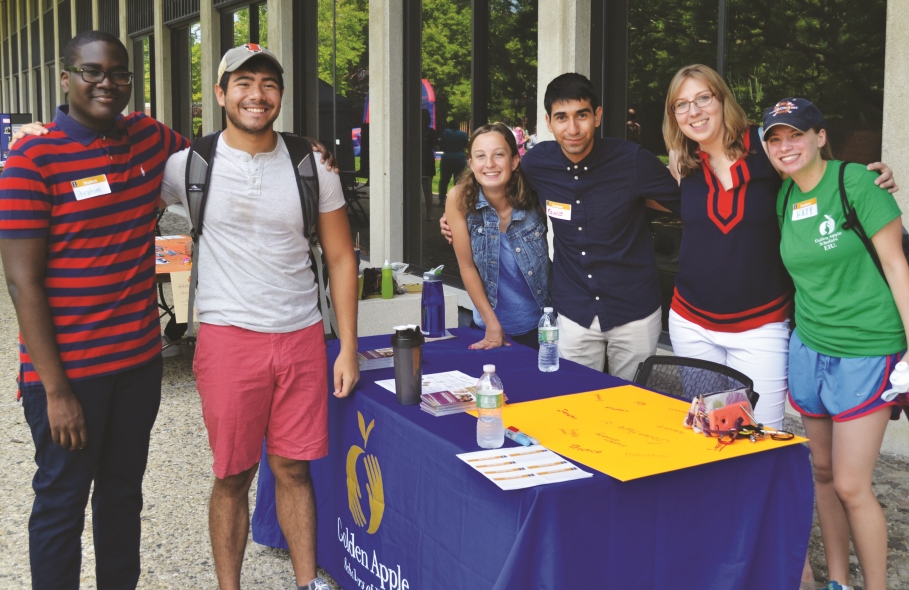 Students in the College of Education often want to go beyond the classroom to give back to the community and hone their professional development skills.
The College offers such opportunities through four registered student organizations: Epsilon Delta, Golden Apple - Illini, the Minority Association of Future Educators (MAFE), and the Student Education Association (SEA).
"Students are interested in what happens outside of their coursework, including what happens in the community," said Kathy Ryan, assistant dean for academic affairs in the Student Academic Affairs Office. "These student organizations are involved in different community projects, fundraising activities, and they often bring in speakers for professional development purposes."
The four student organizations offer camaraderie through common interests, allowing Education students to bounce ideas off of one another, volunteer and raise money for what they believe in, and attain professional development advice.
The four student organizations offer camaraderie through common interests.
The organizations are also ideal for networking. Irene Andsager is a junior studying in the College's secondary education program. She heard about SEA on Quad Day her freshman year and was immediately intrigued. Now she is the group's president-elect.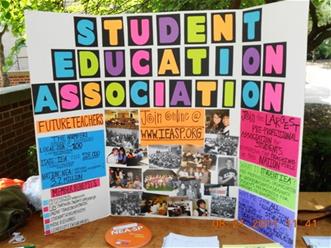 Andsager said membership in SEA allows her and future teachers who are passionate about education to learn from experienced educators. She said the organization, which is part of the Illinois Education Association and National Education Association, gives students access to major networking opportunities.
"It gives me an opportunity to connect with other future teachers and learn tips, tricks, and just plain cool things about being a teacher that I would never have the opportunity to learn about in my classes," Andsager said.
Along with networking, SEA members perform volunteer work at the Tap In Leadership Academy, Crisis Nursery, Building Blocks, Outreach to Teach, The Graide Network, and elsewhere.
Each organization has specialized elements. Epsilon Delta, for instance, provides a forum for students to exchange ideas and concerns regarding educational issues. MAFE offers a support network for underrepresented students seeking to become professional educators and addresses the educational needs of children, with an emphasis on children from underrepresented groups.
Senior Alanna Williams has been the president of MAFE for two years and a member since her freshman year. Within the organization she began the Manifesting Achievement from Exposure-Project L.O.V.E., an initiative in which members tutor and mentor students at Franklin Middle School in Champaign throughout the week.
MAFE also holds the Future Fridays event once a month, which allows Franklin students to travel to the Illinois campus and get exposure to the culture of higher education.
"If they can see it, they can believe it, and then they can achieve it," Williams said.
"If they can see it, they can believe it,
and then they can achieve it."
- Senior Alanna Williams
Golden Apple – Illini promotes excellence in teaching and proactively contributes to the advancement and betterment of future educators who will someday influence children.
"I care passionately about Golden Apple because the group helps diversify the students we are graduating as teachers," Ryan said. "I know there are students who choose to go into teaching because they are funded by Golden Apple. I can't thank them enough for what they do."
Eduardo Martinez is a junior in the College's secondary education program. He was the president of Golden Apple last year and currently serves as the head of the organization's Committee for Civic Engagement. Martinez said volunteerism is a big part of Golden Apple – Illini, and that many doors have opened for him already because of his membership.
"Golden Apple Foundation helps with job placement, so I am very confident I'll find employment after graduation," he said.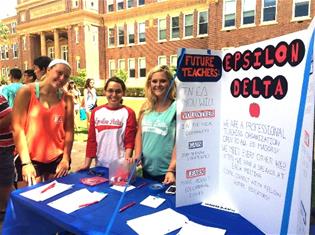 The organizations are aware of the educational needs of the Urbana-Champaign community, as well. Epsilon Delta, for instance, offers a wide variety of tutoring opportunities in many local schools.
Alyssa Shlensky '10 C&I joined Epsilon Delta her freshman year in 2006, becoming the organization's president in 2008-2009. Under her leadership, Epsilon Delta received the campus's Student Affairs Leadership Award. Shlensky's work within the organization helped her discover a passion for working with students and their families.
Shlensky said classes can be incredibly focused on the academic aspects of school and the more standard education system. Her time in Epsilon Delta gave her chances to learn beyond classroom walls and work with students in a variety of outreach ways.
From planning events to collecting pen-pal letters, Shlensky said she was able to form bonds with like-minded peers, relationships she didn't get in classrooms or elsewhere.
"Student organizations such as Epsilon Delta are incredibly important for university students to join for networking, for making friends, for extending their understanding of what education can be, and for enhancing their own leadership skills, ultimately preparing them to be successful in the workplace," Shlensky said.