Creativity and patience help student-turned-alumnus shine in classroom setting
by Sal Nudo / May 28, 2014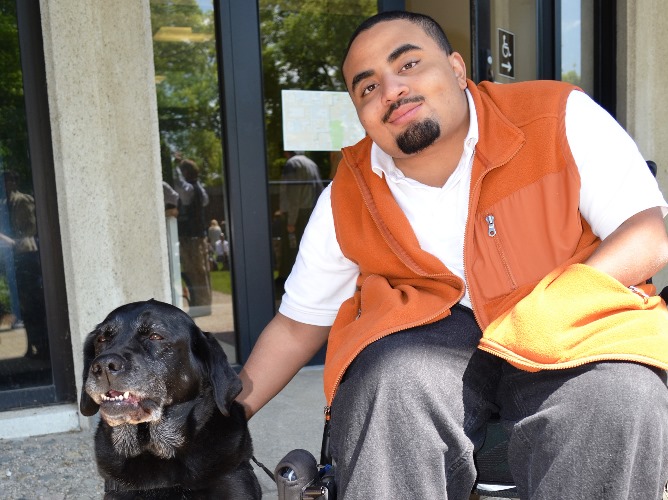 Not many student-teachers read their own fictional work to the students they teach, but 24-year-old Ian Nelson does.
To the delight of his sixth-grade students, Nelson reads his unpublished fantasy tale—"Beast, Blade, Benevolence"—during class. The kids listen, enraptured, as "mortal beasts" that resemble humans transform into monstrous animals in an all-out war between the two races.
Nelson began his career at the University of Illinois as an English major and graduated in May 2014 with a degree in elementary education, with a focus in language arts. He is modest but hopeful about his writing talent. One day, perhaps, he could become a published author.
"His writing is the best," said Mike Moehrlin, Nelson's cooperating teacher in the classroom at Centennial Elementary in Bartlett, Ill. "It's better than books I've read."
Writing engrossing fiction may come naturally to Nelson, but it's also a craft that requires patience. And Nelson, who maneuvers in the classroom in a wheelchair that he's always known, understands what it means to be patient.
At 9 months old, Nelson had a stroke and a blood clot that resulted in a spinal cord injury. Having grown up using a wheelchair, Nelson has been told by others that he views the world a little differently.
"When you have any type of disability, especially physically, things take longer," he said. "You learn to become patient and understand that certain things take time—and that things are not always what they appear."
Like many aspiring teachers in the College, Nelson began his student-teaching journey in 2012 by observing and then teaching in Champaign schools, visiting classrooms a few times a week and eventually every day for a full semester.
Nelson said those early student-teaching ventures in the classroom were invaluable to his quest to become a teacher. He enjoyed teaching in Champaign schools, but his preference was to student-teach in or near his hometown of Batavia, a Chicago suburb, where the streets were familiar and his adoptive parents, sister, and lifelong friends were readily available.
Jay Mann, director of the School and Community Experiences (SCE), helped make Nelson's wish a reality. Knowing what a determined person Nelson was, Mann worked with accommodating administrators and educators in School District U-46 to place the aspiring teacher in an elementary school. Eric Hillman, a specialist in SCE, also worked hard to secure Nelson's placement.
"Jay Mann did an excellent job of finding a place up here where I could fit in and do very well," said Nelson.
Nelson added that early childhood and elementary supervisors Jill Rogers and Sharon Morrisette in SCE were also extremely helpful and highly supportive of his efforts during his college career.
Mann said it has not been uncommon during the last few years for SCE to accommodate students like Nelson who have special needs.
"It requires we have a very close working relationship with the student, and that we honor his or her wishes and rights to make sure we place them in the best possible scenarios," Mann said.
Nelson said his student-teaching experience at Centennial Elementary has been ideal, from the implementation of his service dog, Sophie, who helps him open doors and reach dropped items, to his collaboration with Moehrlin, who Nelson calls an outstanding teacher and mentor.
"I feel all the elements here came together to really let me do the best I could and to succeed better than anywhere else I've been," Nelson said.
Moehrlin said Nelson is a hardworking, student-centered teacher-facilitator who wears a smile on his face every day. He also explains things to students well and in multiple ways, according to Moehrlin.
"He's not a person who just lectures at students. He definitely gets them involved, likes to keep them active, and stays on task," Moehrlin said.
Nelson has ended the student-teaching chapter of his own personal book and is excited to one day preside over a classroom in Batavia or a nearby suburb like Bartlett. He plans to continue to hang out with friends, pursue his love of drawing, start a family, and, of course, write.
No matter how Nelson's life story evolves, Moehrlin said his protégé's work ethic and desire to always improve will make him an excellent teacher.
"Wherever he goes," Moehrlin said, "they'll be lucky to have him."

Interested in Ian's teaching path? Learn how to begin coursework in Elementary Education.