Bureau of Educational Research holds seminar: 'Long but Fulfilling Journey to Distinguished Teaching and Advising'
by The College of Education / Dec 19, 2012

Students, faculty, and staff joined together to hear advice and reflections of College of Education teaching award recipients at the Bureau of Educational Research's fall seminar, held on December 6. After sharing a meal, attendees enjoyed hearing down-to-earth and practical teaching and advising insight from three panel members, all of whom won a 2011-12 outstanding graduate teaching award.

The title of the seminar was "The Long but Fulfilling Journey to Distinguished Teaching and Advising in Higher Education: Perspectives from Those Who Have Found the Trail."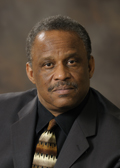 Stafford Hood, associate dean for research and research education, introduced the panel members: professors Cris Mayo (EPOL), Kiel Christianson (Educational Psychology), and Stacy Dymond (Special Education). Though he had a last-minute emergency, Thomas Schwandt, professor of Educational Psychology, who was a 2011-12 distinguished teaching career award recipient, was also slated to serve as a panel member.

"It is important to get together as a community to hear from our colleagues who have been acknowledged for their work; for their teaching and advising and mentoring," Hood said when opening the event. "As I looked over the nomination materials, something stood out to me. There was a common thread that was universally shared in how generously these people give of themselves in the advising and mentoring of their students," Hood added.

"Teaching is a lifelong experience and none of us ever really 'get there,' " Hood said, adding that we often highlight the pursuit of excellence in research when discussing the accolades of faculty, but not necessarily teaching and advising—all three of which are important.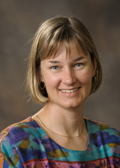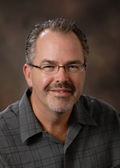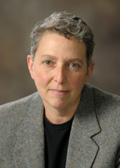 Mayo opened the panel with some lighthearted remarks and then turned to a more serious reflection, saying, "When I started reading and researching more about pedagogy, I realized that the central metaphors for teaching and the idealism with which I first started teaching were simply wrong. Or they were insufficient. Or they are occasionally true but not always useful," Mayo reflected.

Mayo also touched on the importance of reviewing and rethinking teaching style not just annually, but at the end of every semester and at the end of every class period. She also mentioned that research and teaching intersect to provide "a journey that sustains itself across a variety of contexts."

Christianson talked about the mentoring side of teaching and the importance of meeting students where they are and remembering to stay present to them, "not just in classrooms or in the lab, in my case, but throughout," he explained.

He encourages fellow faculty to mentor "not just on the nuts and bolts of research and teaching, but also in the sorts of things you don't tend to encounter as a graduate student very often, if at all," he said, citing post-internship issues such as funding procurement, interacting with students, networking at conferences, and dealing with paper reviewers. Christianson says this is where the professional life and the "real" life of his students intersect.

Christianson also touched on how research and teaching intertwine, and that "what you do in your research is situated in a social context of other researchers," adding that "Some of those things, including how to establish authorship on a paper or evaluating job candidates are never touched on in the classroom."

"Where the metrics of success are not necessarily straightforward, I must say that my favorite moments are when my (former) students come to me and they are doing something (so specialized) that I realize I can't do," Christianson said.

Dymond said she thinks of her graduate students as colleagues. "When somebody comes, particularly a doctoral student, and they enter a graduate program, they come with a lot of experience. They come as teachers, as professionals, and all the sudden they take this role as student and it somehow gets away from the idea that they came with all this expertise," Dymond said.

She said it's important for her to spend time with her advisees so that she can clearly understand "where they've been and who they aspire to become." She also encourages her students to ask questions and not assume that she, as an adviser, is 100 percent right all the time. "I learn so much from my students, and I encourage them to inquire in a respectful, fair, and diplomatic way," she explained. "I don't want them to be passive learners."

Dymond enjoys watching the students she once advised grow into successful individuals. "I love seeing people establish themselves in the field and being recognized for their work. The people who come into the program are our future colleagues in the field, and I want them to be their very best, Dymond said. "It's not okay to be mediocre."

Top photo: Stafford Hood, Sheila M. Miller professor and associate dean for Research & Research Education, and director, Center for Culturally Responsive Evaluation and Assessment (CREA).
Three photos: Cris Mayo, professor in Education Policy, Organization and Leadership; Kiel Christianson, associate professor in Educational Psychology; and Stacy Dymond, associate professor in Special Education.