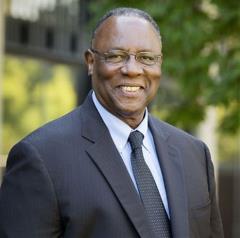 James D. Anderson has held key leadership roles during his nearly 50-year tenure at the University of Illinois at Urbana-Champaign, including serving as the head of the Department of Education Policy, Organization & Leadership (EPOL). He was selected in 2016 as a UI Presidential Fellow and is known internationally as a groundbreaking scholar in the history of African-American education and school achievement in the U.S.
Dr. Anderson is a member of the National Academy of Education, a Center for Advanced Study Professor of EPOL, and is a Gutgsell Professor of History of American Education. The Gutgsell endowed professorship is bestowed upon the most distinguished senior faculty members on the University of Illinois at Urbana-Champaign campus.
His seminal book, The Education of Blacks in the South, 1860-1935, won the American Educational Research Association outstanding book award in 1990. Dr. Anderson is senior editor of the History of Education Quarterly and has served as an expert witness in a series of federal desegregation and affirmative action cases, including Jenkins v. Missouri, Knight v. Alabama, Ayers V. Mississippi, Gratz v. Bollinger, and Grutter v. Bollinger.
Learn more about Dean Anderson via his College of Education faculty profile.