Spring 2015
Disentangling Continuous and Discrete Structure Within Data
Dr. Doug Steinley
Professor of Psychological Sciences, University of Missouri - Columbia
Dr. Steinley's talk focused on general strategies for extracting class structure and factor structure when fitting models to data. Demonstrations were given on a data set of Internet habits of college students.

Spring 2014
Presenting Findings from an Experimental Evaluation of Job Corps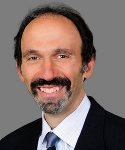 Dr. Peter Z. Schochet
Senior Fellow and Senior at Mathematica, Princeton
Dr. Schochet presented findings from an experimental evaluation of Job Corps, the nation's largest education and training program for disadvantaged youths ages 16 to 24. The study used data collected during nine years on a nationwide sample of 15,400 treatments and controls.

Fall 2013
Studying and Designing Alternative Infrastructures for Learning

Dr. Reed Stevens
Professor of Learning Sciences, School of Education and Social Policy, Northwestern University
Dr. Stevens' research program has spanned two decades. His work has taken place in K-12 classrooms, museums, homes, and preschools. His presentation drew on insights from field studies that looked into the possibilities of designing new tools that offer alternatives to traditional school infrastructures.