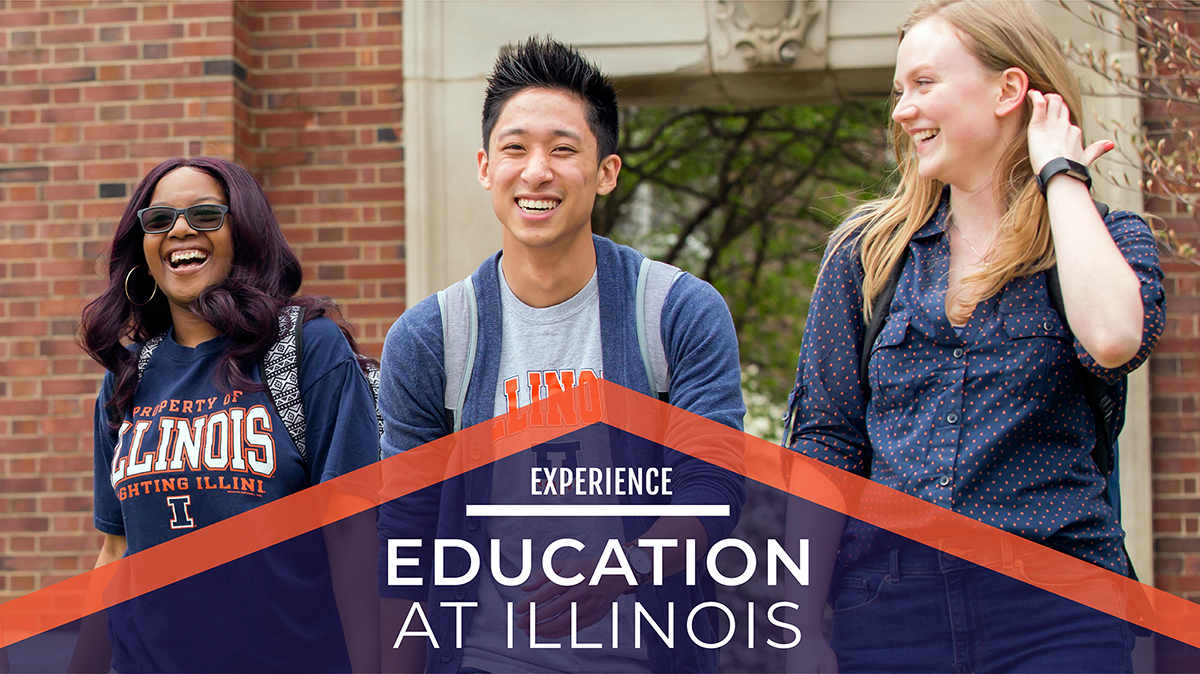 Student Experiences at the College of Education
Imagine living and learning on an iconic campus, attending classes with students from around the globe, and belonging to a top-tier research university known for nurturing some of the most passionate, inventive, and committed graduates the world over. State-of-the-art labs and classrooms, research opportunities with leaders in the field, funded study abroad, and outreach opportunities — ILLINOIS sets the stage — the rest is up to you.
THE UPDATE
THE UPDATE is a weekly digest of news and opportunities for College of Education undergraduate students. Each week, we feature stellar Education students to build community in our Student Spotlight—and we'd like to highlight YOU. Complete the quick Q&A below and submit your story!

Realizing Her Passion for Equitable Education
Senior Allie Gilbert has truly made the most of her student experience while at Illinois. From her involvement in Epsilon Delta and Student Alumni Ambassadors to doing a pandemic-shortened study abroad semester in Spain, she's explored many opportunities to learn where her true passions lie. Now, she waits to hear back about her Fulbright Scholarship application—staying true to continuing to learn about herself, the world, and how to provide equitable education to her future students.

Read More About Allie Gilbert
Advocate and Inspire
As her senior year comes to a close, Special Education major Kapri Dowdell has her eyes set on her future as an educator. After graduation, Kapri is heading home to Chicago Public Schools, with plans to return to school for a Master's in Administration in a few years. When asked about her dream job, Kapri stated, "I want to return to school or have a higher power in our education system to advocate for our students with special needs for academic, emotional, and mental support."
Passionate About the Next Generation of Learners
As the 2021-2022 school year kicks off, meet sophomore Julie Ross. She's thrilled to be back on this bustling campus for classes this fall and we TOTALLY get that vibe. She's even more excited to lead her own classroom of crazy busy middle school students one day. Learn more about why Julie loves being part of Education at Illinois.
"Everyone Has Dignity"
Senior David McCormack has enjoyed his time on campus with involvement in Best Buddies, the Newman Center, and intramural sports. Most of all, he cherishes his experiences in his chosen field of Special Education. He recalls the beginnings of his affinity for special education back in high school, "I decided that I want to follow this passion and start to devote my life to it." Now, David is looking forward to starting his professional career as a Special Educator in a classroom of his own at Lincoln Jr. High this fall.
Read More About David McCormack
"The students from the University of Illinois are extremely well prepared and ready to continue their learning in the classroom. They are prepared, responsible, and professional."
—Melissa Hirsch, assistant superintendent, Department of Curriculum and Instruction, Northbrook | Glenview School District 30
"We have had many strong student teachers that take on leadership roles in their grade levels. I feel that they keep us on our feet about being honest and real about our practices and instruction."
—Jonathan Kosovski, principal, International Prep Academy in Champaign
Erin Dickett, Special Education
The University of Illinois is great for every single major, filled with tons of opportunities - and I have definitely seen that to be proven true in my two years of being here!

Kay Tetlak, Secondary Education
I enjoy how much the College of Education communicates with us and organizes events for us. It's wonderful.
Ana Garcia, Early Childhood Education
I love helping others, and I knew that teaching small children would fulfill a part of that purpose in my life.
Kerrigan Lane, Early Childhood Education
I chose to come to Illinois because I heard from many alumni that this was the school where I needed to get my teaching degree. The school was praised for its sense of community and equality and that really appealed to me.
Lily Greenberg, Elementary Education
As a woman of color, I'm passionate about the idea that kids of all different backgrounds deserve a teacher who they feel represents them.
Xochitl Mondragon, Elementary Education
What I enjoy about the College of Education is how many genuine and caring professors there are.
Sharon Stagaman, Elementary Education
I feel really prepared to graduate with experiences at different types of schools across grade levels, and I feel so lucky that these experiences started junior year to help me solidify that teaching is what I want to do.
Lesly Ortega, Secondary Education
There are a lot of people we can go to if we need any form of support or help. I have never felt alone in my academic years at UIUC so far.
Erin Molay, Elementary Education
I love the close-knit community atmosphere at the College of Education.