How TooTak the Talking Parrot Can Help Kids Learn to Read Farsi
by Tom Hanlon / Aug 30, 2023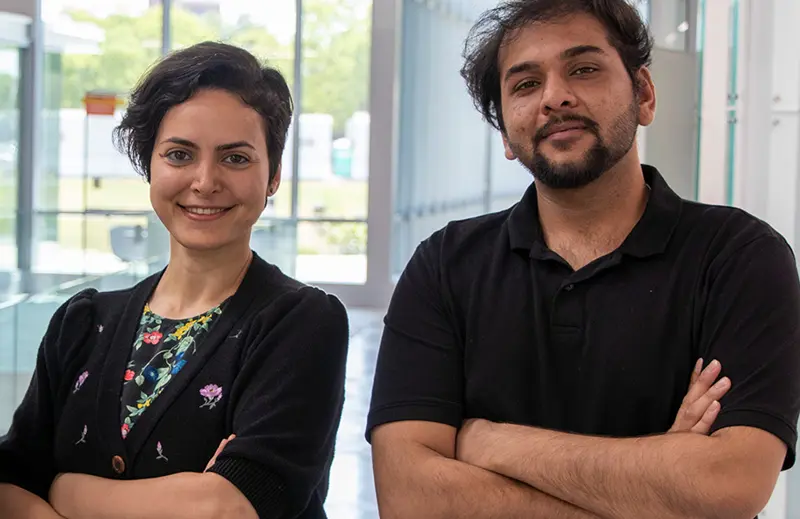 Two Ph.D. students from the College of Education are developing an application to teach children how to read Farsi. Their project is part of the current cohort of iVenture Accelerator projects, the educational accelerator for student startups at the University of Illinois Urbana-Champaign.
In 2020, Shafagh Hadinezhad worked with a nonprofit organization in Canada, the Seed Foundation, to create an online digital library in Farsi and other Iranian languages for children ages 6-16.
That project, appropriately enough, became the seed for a new idea called "TooTak"—a mobile application featuring a talking parrot that she and her team are building to help children ages 6-10 learn how to read Farsi.
"TooTak" in one of the Iranian languages means "talking parrot," Shafagh explains.
Shafagh, a Ph.D. student in Curriculum and Instruction in the College of Education, is a cofounder of TooTak, along with Sepideh Shahi, director of design and community development for Seed. The project is part of the ninth cohort of iVenture Accelerator, the educational accelerator for student startups at the University of Illinois Urbana-Champaign. iVenture, a program of the Origin Ventures Academy for Entrepreneurial Leadership, has helped fund and support more than 300 student entrepreneurs since its founding in 2015.
Filling a Need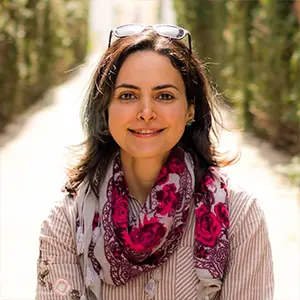 Shafagh
, who hails from a small town about 200 miles northeast of Tehran, grew up speaking Farsi. She knows full well the need for a tool to
help Farsi-speaking immigrants to become familiar with their heritage language and culture
According to data from the Migration Policy Institute, about 400,000 Iranian-born immigrants are in the United States. And thousands of other Iranian-born children living elsewhere—including Iran—don't have access to good quality resources.
"So many of these children don't have access to books that will help them learn Farsi," Shafagh says. "And for those who do have access, the quality of education is not always high. Some children struggle with their reading. The whole idea with TooTak is to make the reading fun and engaging for immigrants and refugees who don't have access to good resources."
For now, she adds, the focus is solely on reading. But she hopes to expand that education to writing Farsi as well. The app will also apply to Afghans and others who speak Dari, which is similar to Farsi.
"It's our hope to provide this to children everywhere who want to learn to read and write Farsi," Hadinezhad says.
Learning Language and Culture Through Game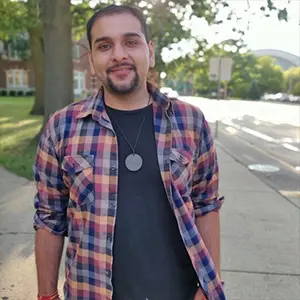 Sourabh Garg, also a Ph.D. student in Curriculum and Instruction (C&I), is working alongside the design team on designing games for TooTak.
"We have two modules, with games in each module," Garg says. "The aim of Module One is cognitive development." For this module, the design team has developed a "drag-and-drop" game with various scenarios that students can choose from.
"So, say that TooTak, the talking parrot, is going on summer vacation," he says. "He needs to pack his bag. The student has to drag and drop elements on the side of the screen into the bag. As the students click on an element to drop it into the bag, the word for that element is spoken and written on the screen. In this way, they begin to develop their vocabulary."
As Shafagh said, culture is also an integral part of the games. To that end, Garg says, "We make sure we incorporate cultural content from Iran so that children can culturally connect to their roots. So, we bring in culturally important things, like the Iranian New Year."
He has also developed memory card games to help the children expand their vocabulary.
"It's going really well," Garg says. "We achieved what we intended to do for the summer earlier than we thought we would. We intended to make five games, and we're already done with the game design. They are all working pretty well right now."
Garg developed a prototype of the app, which is being tested with families now. The plan is to first focus on families, where children can learn at their own pace at home.
"But we will soon thereafter be talking to cultural centers and schools to see what their needs are and how TooTak can be integrated into their curricula," Shafagh says. "It can be a complementary tool for Farsi-speaking schools or centers in the US and Canada."
Building Language Skills—and Community
Many Iranian immigrants face a dilemma when considering when and how to teach their children Farsi, Shafagh says.
"The structure is different between Farsi and English," she notes. "Many parents say they want their kids to learn Farsi before they get into school so they don't get confused with not having enough time to learn that. Other parents say their kid was starting to talk later than other kids because he was bilingual, and maybe they shouldn't teach him Farsi now, just let him learn English for now. Then we show them the app, and they say, 'Oh, okay! This is playful learning; it would be a good thing for them to get involved with the language whenever they want to.'"
Part of the confusion is that Farsi is written from right to left, while English is written from left to right. And, in Farsi, some of the vowels—the ones detached from the consonants—are often removed.
"Farsi is a challenging language," Garg, who is from India, laughs. "I am not a Farsi speaker. I've learned some letters, but it's challenging learning a new language. But research shows that young children can grasp new languages better than adults."
Another benefit of TooTak is its capacity to be used to build community.
"I was talking to a friend, and she said that in addition to the fact that they want their kids to learn Farsi, community building is also very important," Shafagh says. That community is built as children make friends with other Farsi-speaking children in their community. "That's another aspect of it," she says.
Using "The Art of Reading" Method
TooTak employs the method developed by Iranian Ali Sedeghaty for learning how to read Farsi. The technique, "The Art of Reading," has been used for the past 12 years to teach thousands of people in Iran and Afghanistan how to read Farsi. Shafagh is working directly with community facilitators in those countries who have used the method to co-create an application that creates the same experience in a digital environment.
"We wanted to work on a complementary aspect to this method to provide it for more people," she says. "When the pandemic happened, we were saying we need to find other ways of providing education in these challenging times. An application can make it more accessible for kids."
Empowered by iVenture and Outside Mentors
TooTak started with iVenture this summer. Funding lasts for one year, during which the TooTak team also has access to mentoring, coaching, seminars, pitch event opportunities, and networking. Giselle Martinez Negrette, an assistant professor in C&I, acts as a mentor for the TooTak team. They also have mentors from the Gies College of Business. The team includes people from the Seed Foundation who have already used "The Art of Reading" method.
"They have mentored us on the content development, on the educational side of that," Shafagh explains. "It's been an international collaboration with a community of educators and designers and researchers. We have partners and volunteers working internationally with us in Iran and other places."
Launching Next Summer
The plan is for TooTak to launch next summer. To make that happen, though, Garg says, they need more funding to support more people. "It's a content-dependent app, so we need to engender a lot of things for making the whole learning process and design," he says. "If we get the funding, that will be quicker."
Collaborating with Engineering and Business
Their early involvement with iVenture has already left them with deep impressions.
"We've had this discussion quite a few times about why all the education startups seem to be from engineers and not from educationists," Garg says. "We need to change this. Entrepreneur courses should be run in collaboration with the College of Education because our researchers can bring a different perspective that would be good for the product. It would ensure that learning is happening."
Students in education, engineering, and business all have much to learn from each other. For instance, Shafagh says she learned many useful marketing strategies that will help TooTak reach more people.
"It's been a new experience for me, one I'm gaining new knowledge from," she says.
They are pouring that knowledge into the development of TooTak to help Farsi-speaking children better learn the language.
"When parents want their children to learn Farsi," Garg says, "their first choice should be TooTak. That's what we want it to be."