iGlobal: Award-Winning Program Connects Students Around The World
by Tom Hanlon / Jun 26, 2023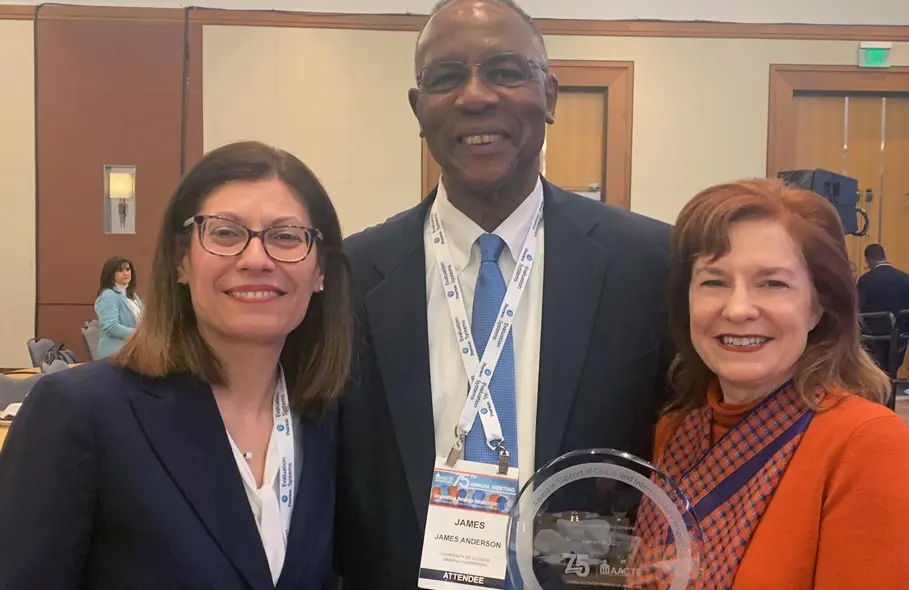 The University of Illinois Urbana-Champaign receives a national award for the College of Education's iGlobal program.
When COVID-19 first curtailed travel and education abroad plans for the College of Education in 2020, Allison Witt didn't panic.
Instead, the director of the Office of International Programs shifted gears, leading the development of iGlobal, an online program that connects middle schoolers across the world, focuses on the Sustainable Development Goals set for by the United Nations, and acts as the perfect training vehicle for future teachers to hone their teaching skills, gain intercultural confidence, and learn the ins and outs of using technology in education.
Her efforts, and the efforts of many across the College in creating and implementing iGlobal, did not go unnoticed. Earlier this year, Witt, on behalf of the University of Illinois Urbana-Champaign, accepted the 2023 Best Practice Award in Support of Global and International Perspectives from the AACTE (American Association of Colleges for Teacher Education).
The award recognizes exemplary practice in the intercultural, global, cross-cultural, and international arenas, and is part of the AACTE's mission to ensure that a global/international perspective is brought to policy and programs associated with the preparation of education professionals.
"This award is for the College as a whole," Witt says, "because it takes effort at every single level at the College for this to happen." She mentions the ongoing concerted efforts of the human resource staff and finance staff in getting systems in place so the undergraduates could have a paid internship and acknowledges the many useful suggestions from faculty and graduate students.
"Throughout the College, there were ideas and support and help at every level," she says. "And that's what it takes, right? If you're going to build a really strong teacher that we need in the future, it takes every single person in our College to do it. We're just so lucky that we have those people at every level who are really committed to those students and making it work. And it's magic when it works."
iGlobal launched in 2021. It started small—three or four undergraduate students were involved, and four or five graduate students took part. Students from seven countries participated.
Fast-forward to the 2022-23 school year: 60 undergraduates and 10 graduate students were involved, as were students from 21 countries.
This coming year, Witt fully expects greater growth.
"We have lots of schools waiting in the wings to participate in iGlobal," Witt says. "We just didn't have enough teachers to fill the spots yet. We're working on that! We're telling incoming freshmen about iGlobal and will sign up as many as we can to get them started on their first project in their first semester. We're excited to see how far we can grow now."
Going forward, Witt says, "we hope to formalize a role for the undergraduate students to develop curricula for the program, to share their ideas for improving the curriculum, because I feel like that's the next step."
Witt notes that with the Study Abroad program back in full swing, students can participate in both the study abroad and iGlobal programs.
"We have students who went abroad that want to keep participating in iGlobal," she says. "The only thing holding us back is tax law. We currently don't have a way to pay them if they're out of the country. But I'm sure we can conquer that too."
The national award from the AACTE represents growth and momentum to Witt.
"I feel like now we can make the case anywhere we need to that we can grow this program, that we can move forward with it, and so it provides some momentum for us," she says. In accepting the award at the AACTE national convention in Indianapolis earlier this year, she was thrilled to have both Dean Emeritus James D. Anderson—"He was my first professor when I started at Illinois a long time ago!" Witt says—and current Dean Chrystalla Mouza in attendance, along with a few graduate students who had worked closely with her on iGlobal.
"For me, it was a full-circle moment, because here was my first professor, and I teased Dean Anderson in my remarks that I was sure he was quite surprised to see how this turned out for me! I was happy to prove that I had a little bit of something somewhere," she jokes.
Witt doesn't plan to let iGlobal rest on its laurels.
"The whole world is out there, full of schools that want to have fun with each other and learn about sustainable development goals and practice English," she says. And iGlobal, she says, affords preparing teachers "the international experiences and intercultural confidence they need, the awareness of other education systems out there, of other ways of doing things, and now they can do that with technology, they get to practice teaching online, which we now know is going to be part of their future.
"iGlobal allows for a low-stakes, fun place to practice. And that's going to be important going forward to develop the kind of teachers that we need."