What Will Be the Impact of Egypt's Ambitious K-12 Education Reform?
by Tom Hanlon / Mar 1, 2023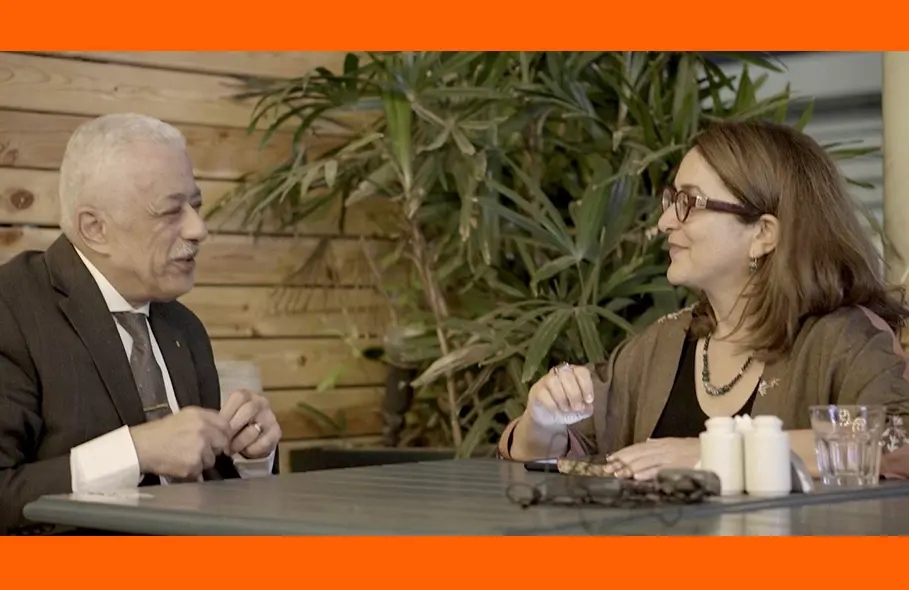 Tarek Shawki (Egyptian Minister of Education and Technical Education, 2017-2022) and Linda Herrera / Oral History Interview in Cairo, 2022.
Professor
Linda Herrera has enjoyed an insider's view of the massive reform taking place in Egyptian education. Here, she shares her role in researching and documenting the reform.
In 2018, Linda Herrera received a call from Tarek Shawki, at the time the new minister of education in Egypt.
"He asked me if I would come to Egypt to serve as an independent researcher to document this historic reform that he was leading," says Herrera, a professor in the Education Policy, Organization and Leadership Department at the College of Education.
Shawki had been an engineering professor at the University of Illinois Urbana-Champaign for 13 years before returning to his native country. The project he was heading in 2018 was, in Herrera's words, "a massive restructuring and reimagining of the Egyptian education system."
Herrera spent two years in Egypt on secondment (a temporary assignment) as director of "The Education 2.0 Research and Documentation Project," which was housed at the American University in Cairo. The project was just getting off the ground when Covid-19 struck. Though she had to close down the project, Herrera continued conducting oral history interviews both remotely and in-person with key policy leaders, "people building the architecture for a new digital infrastructure, writing the new textbooks, reforming the assessment policies, producing educational television, communicating the vision of the reform," she says.
The reform is necessary, Herrera adds, because "Egypt, like many countries in the world, has an outdated and overstressed education system based on memorizing and teaching to the test. It needed a shake-up, an infusion of new ideas, approaches, content, technologies."
Arab Spring and Education Reform
The appointment to her role as such an integral researcher does not come as a surprise. Herrera has spent much of her academic career researching Egyptian education, youth, and technology.
"When social media and mobile phones entered student life, I started to research how youth were using social media for learning, for socializing, for getting civically engaged," she says. "I was in the middle of conducting research with high school and university students when the January 25, 2011 Egyptian revolution erupted."
The Arab Spring, a series of antigovernment protests against corruption, police abuse, and economic stagnation in the Middle East and North Africa (MENA) primarily in 2011 and 2012, sparked Herrera's interest in the social and educational effects of digital transformation in a changing global order. She had, after all, lived in Egypt for 17 years and was a social anthropologist with regional expertise in the MENA region.
"I had to shift my orientation from issues around citizenship and schooling, to youth social movements and revolution in the age of social media," she says. "That was exciting to be learning about and trying to make sense of these changes in real-time." Her book, Revolution in the Age of Social Media (Verso, 2014) documents that exploration.
A Different Sort of Research
Though Herrera's work has focused on education, youth, and policy issues in MENA for some time, this project represents a new experience for her.
"It's a little bit different from other work I have done," she explains. "Before, I worked more as an independent, critical researcher who published in standard academic venues. But for this project, I find myself more in the role of a chronicler, and that is a different kind of orientation and responsibility."
The current reform that she is chronicling, called Education 2.0, "is an attempt to transform education from kindergarten through high school, to change the very culture of learning. At the primary level this means entirely changing the curriculum towards more multidisciplinary and activity-based learning and retraining teachers," Herrera says.
"The second big aspect of the reform is digital transformation, especially at the high-school level," she adds. Every student entering high school receives a free tablet from which, among other things, they can access the Egyptian Knowledge Bank (EKB), a massive online library and Learning Management System.
"The Egyptian Knowledge Bank, which launched in 2016, was Tarek Shawki's brainchild. It has far more digital resources than our huge library at UIUC and is available free of charge to over 100 million Egyptian citizens. It has separate portals for researchers, general readers, and students," says Herrera. "It is a unique and radical experiment in freeing knowledge, and I think we have a lot to learn from it."
Book and YouTube Channel
Herrera is turning the oral history interviews and research from the Education 2.0 Research and Documentation Project team into an edited book (its working title is Education 2.0: Culture Change and Digital Futures in Egypt). She plans to publish it next year with an open-access peer-review publisher so that it's accessible and downloadable to everyone at no cost. "It's a different model than the usual academic publishing, which holds the copyright. This is more of a public service book," she says. It will be her eighth book. All of them are focused in one way or other on the Middle East.
She has also been developing a companion YouTube channel that will eventually house a series of oral history videos. To date, the channel carries excerpts of policy speeches, press conferences, and media appearances about EDU 2.0 in English and Arabic.
"It's not every day that a minister asks you to document a major reform, allows you access to his inner circle, and agrees that you keep your position of an independent scholar. It's a great opportunity and a big responsibility," Herrera notes.
Her immersion as an insider in the process of reform is helping her carry out that responsibility. "Being invited into the system has made me much more empathetic and less quick to judge," she says. "If I had not been in this role, I would have been much more critical. 'Why don't they do this? Why did they do that?' But now I see and understand the political pressures, the economic constraints, the impossibility of doing such a massive reform at scale in a system with 35 million children and 1.6 million teachers. It has definitely made me humbler and more mature as a scholar."
Her work as an insider has also afforded her a deeper understanding of the political and economic obstacles that slow down the reform. "I think the reform has provided a jolt to the system, but we cannot talk about it in binary terms of 'success' or 'failure'," Herrera says. "It is not going to bring miracles but we definitely see behavior change on different levels; we have to temper our expectations, given the multitude of challenges on the ground."
Global Youth Development
The Egyptian education reform that began in 2018 is slated to be fully implemented in K-12 by 2030.
"I hope this reform, and especially initiatives like the EKB, open untold opportunities for people," Herrera says. "One concern is that issues of inequity creep in because of the digital divide."
Of equal concern to Herrera is the youth crisis in the Global North and Global South, where "there is an alarming growth of anxiety and depression, especially among girls," she says. "Some of that is related to pressures associated with social media combined with the insecurity and instability of economic structures. We need to better understand these phenomena and find viable ways to address them."
At the U of I's Global Summit in October, Herrera participated on a panel that focused on youth development for global change. "We have to find ways as educators to engage this incredible human capital in youth from the Global South," she says. One of the United Nation's goals is to promote youth entrepreneurship, an approach she is critical of.
"Entrepreneurship is not the solution for the world's 1.4 billion youth. Yes, youth entrepreneurship can work for a very small minority of business-minded people. But for the majority, this model sets them up for debt, failure, and lives of insecurity," Herrera says. In that summit, the emphasis was on the African continent. "I completely agree that we have to reorient our outreach and find ways to engage more with young people from Africa with their enormous energy, high levels of education, creativity, and potential," she says.
Serving the Next Generation
As for Education 2.0 in Egypt, Herrera believes this has been an historic and unique reform, though it has faced many obstacles.
"I think Egypt is a country we can learn from globally because of its size and the ways it has really pushed experimenting with digital transformation," she says. "The reform has not exactly gone as planned. The minister was replaced in a cabinet reshuffle in August 2022 by someone who does not harbor the same vision. But change is in motion, and we can learn a lot by keeping an eye on intended and unintended consequences of this bold reform."
While the project and its process are complex and laborious, the focus is simple.
"We as educators and researchers care about what we're leaving to younger people," Herrera says. "We want to be of service to the younger generations. The world is changing fast, and young people, Gen Z and Gen Alpha after them, need support. So, I learn from young people, and I also try to do things that will reach them and help them navigate the world in a way that will help them make better decisions, both individually and collectively."