Punctuating the Exceptional Career of an 'Especially Genuine' Leader
by Ashley Lawrence / Aug 11, 2022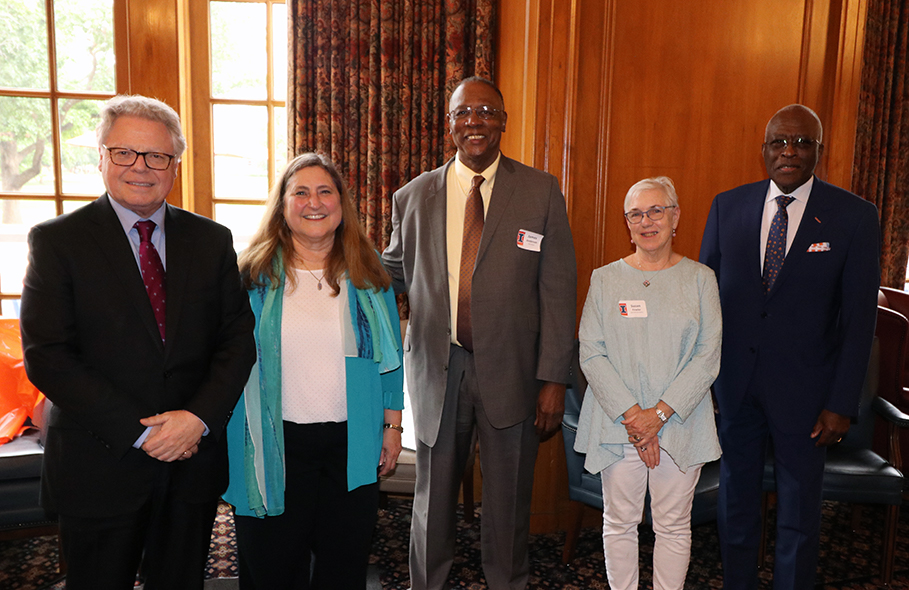 Provost Andreas Cangellaris, Lisa Monda-Amaya, James D. Anderson, Susan Fowler, and Chancellor Robert Jones pose during Monda-Amaya's reception.
Interim Vice Provost for Undergraduate Education and Professor of Special Education Lisa Monda-Amaya was awarded the College of Education Dean's Medallion during her retirement reception on July 28.
Warmth and laughter radiated the Illini Union Ballroom where the friends, family, and colleagues of Lisa Monda-Amaya recently gathered to celebrate her memorable and meaningful career at the University of Illinois Urbana-Champaign.
After more than three decades of impactful research, teaching, and service at Illinois, Monda-Amaya is looking forward to spending quality time with her family who are located across the country.
"I've had the privilege of knowing Lisa since 1990, which for both of us was our first year as tenure-track faculty members in the Department of Special Education," said professor emerita and former College of Education dean Susan Fowler. "I quickly learned in those early years how resilient and determined Lisa was to meet her goals within the College and to be regarded with respect.
"What I will remember and cherish the most, however, are memories of Lisa working intensely with her students, the extra hours we used to spend in the office on teaching preparation and student office hours, her laughter and encouragement and 'can do' attitude at our faculty meetings, and the time she would always take to greet her colleagues, students, and ultimately friends."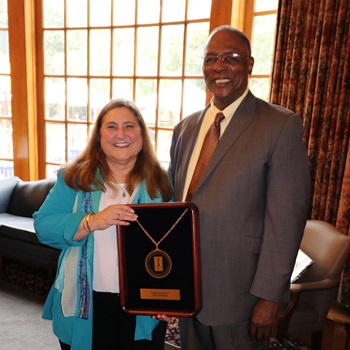 The lasting effects of Monda-Amaya's dedication to outstanding teacher education are evident at local, state, and national levels said James D. Anderson, former College of Education dean. During his remarks, Anderson honored Monda-Amaya with the Dean's Medallion, which recognizes exceptional individuals who support and bring distinction to the College in a profound way.
"Lisa was often in Springfield and Chicago working with Illinois State Board of Education leaders in revising teacher standards, assessment practices, school codes, and certifications," said Anderson. "Likewise, in special education leadership roles she spent time in Washington, D.C. advocating for research and personnel preparation funding and improved national standards.
"But beyond this, beyond her many teaching awards and all she accomplished, she did it in such a way that was so humane and genuine," said Anderson. "Whether it was heading a taskforce or stepping up to a new leadership position, what you could count on was excellence. Lisa deeply understood the traditions and honor of the College, our high standard of excellence. She's always reminded me of what this College of Education stands for."
Provost Andreas Cangellaris presented Monda-Amaya with a framed portrait of the College of Education building and spoke to her essential campus-wide leadership during the height of the COVID-19 pandemic's challenges in higher education. Cangellaris praised Monda-Amaya for her strategic and collaborative work to ensure Illinois' undergraduate student experience continued to be one of the best in the nation.
The College of Education and campus communities wish all the best to Professor Emerita Lisa Monda-Amaya in her well-deserved retirement.