Studies Examine Effects of California's Push for Computer Science Education
by Sharita Forrest, UI News Bureau / Feb 24, 2022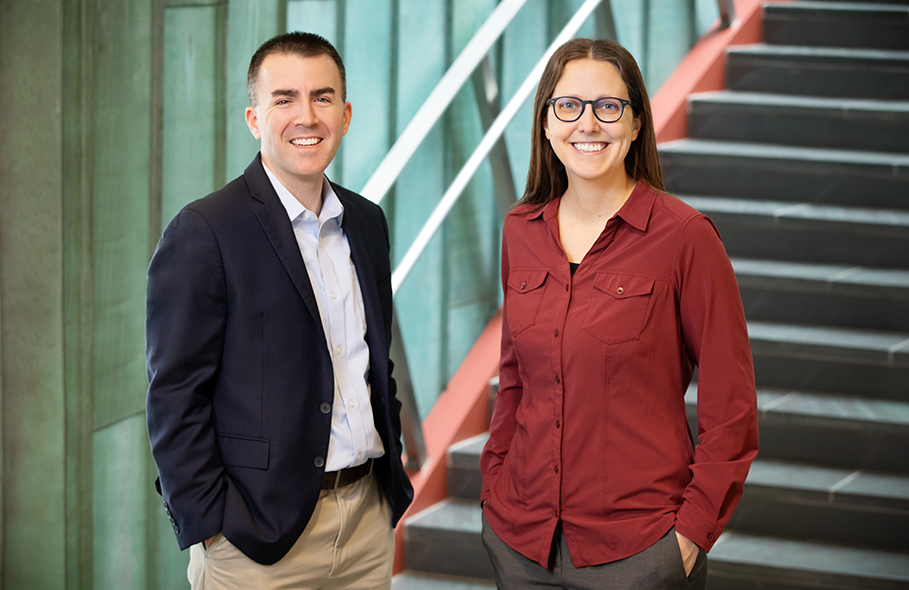 Professors Colleen Lewis and Paul Bruno co-wrote two studies that found despite California's computer science education policies, gender, racial and ethnic disparities persist among the high schools that offer these courses, the students enrolled in them and the faculty who teach them.
New studies of computer science education at California high schools found that a greater emphasis on computer science education did not produce the anticipated spillover effects, neither improving or harming students' math or English language arts skills, according to school-level test scores.
However, one trade-off of increased enrollments in computing courses may be that students are taking fewer humanities courses such as the arts and social studies, researchers at the University of Illinois Urbana-Champaign found.
Paul Bruno and Colleen M. Lewis examined the implications of California's recent state policies promoting computer science education and the proliferation of these courses in the state's high schools. Bruno is an assistant professor of Education Policy, Organization and Leadership, and Lewis is a professor of Computer Science in the Grainger College of Engineering.
Using data that schools reported to the California Department of Education from 2003-2019, the researchers explored the effects on student test scores and the curricular trade-offs of student enrollments in computer science courses. That study was published in the journal Educational Administration Quarterly. In a related project, the collaborators explored equity and diversity among California's computer science teachers and their students. That study was published in Policy Futures in Education.
The Google Computer Science Education Research Program supported both projects.
California has been near the forefront of a nationwide movement prioritizing technology curricula at the K-12th grade levels. In 2018, the state adopted computer science education standards, and the following year implemented a statewide strategic plan to expand access to computer science education.
The proportion of students attending California high schools that offered at least one computer science course jumped from 45% in 2003 to more than 79% in 2019, the data indicated.
"As someone who works in school administration, it raises a lot of questions about how schools – especially high schools – are going to implement this rapid change and offer these new courses effectively," Bruno said. "Schools are already having trouble offering all the courses that they need for students to graduate and go on to college – and finding enough qualified instructors to teach them, especially in science, technology, engineering and math subjects."

Read the full UI News Bureau story...