Jennifer Jones Alexander Scholarship Honors Legacy of Giving
by Tom Hanlon / Jul 27, 2020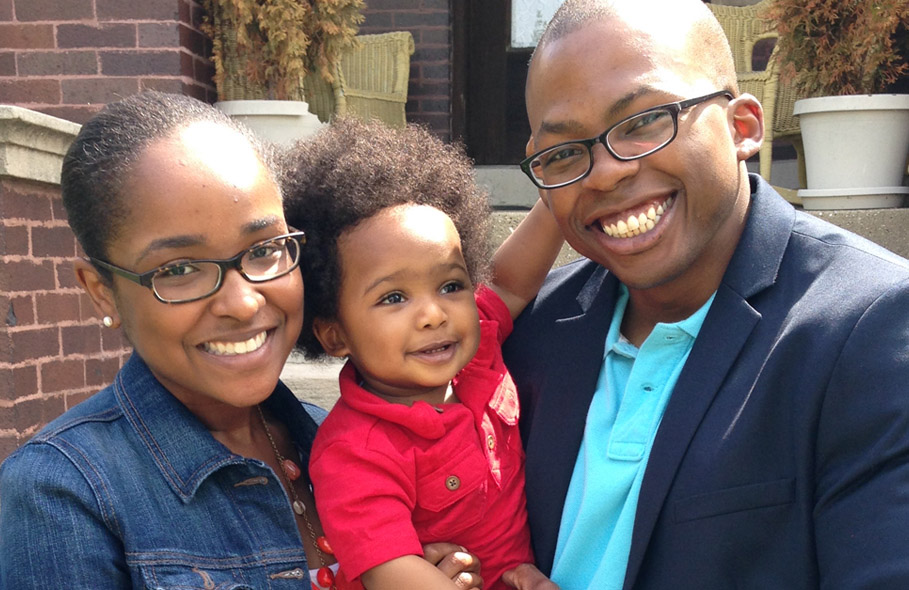 Jarvis Alexander's late wife changed a lot of lives as a teacher. By endowing a scholarship in her name, he is making sure that impact carries on.
In her too-short life, Jennifer Jones Alexander had a big impact on her high school students in Chicago Public Schools. Jennifer's widower, University of Illinois graduate Jarvis Alexander (BS in Math in 2005) is making sure that impact carries on.
Jarvis Alexander set up a five-year pledge through the College of Education in honor of his late wife, who graduated from the College in 2005 and died in 2016 at age 33 of breast cancer.
"We met as freshmen at the University of Illinois," Jarvis says. "She told me she wanted to be a high school English teacher in Chicago Public Schools. She said 'I've been to private schools all my life; I just want to give back. I want to teach kids who don't have a lot of advantages or resources.'"
When Jennifer passed away, Jarvis recalls, there were a lot of former students at her funeral, including many from her first year of teaching. "They were coming up to me, telling me how she'd changed their lives," he says.
In 2017, two friends of Jennifer's approached Jarvis with the idea of creating a scholarship in Jennifer's name. Jarvis loved the idea, and worked with the College to set up a five-year pledge.
"The College handles everything. The process was easy on my end," he says. "The biggest parameter I had was to focus on kids who Jennifer would have taught. The inner-city school she taught at was predominantly Hispanic and black. I wanted the scholarship to be for somebody who could have been in her classroom and been accepted at the University of Illinois but didn't know how to pay for it."
The Jennifer Jones Alexander Scholarship was first awarded in 2018. Jarvis, who is a principal risk specialist for FINRA, a financial self-regulatory organization authorized by Congress, has attended the College's last two annual brunches for students and scholarship donors, where he had the pleasure of meeting the first two students who received the scholarship.
"They give me hope for the future," he says. "They are some of the smartest and most focused students I've met, and they were so thankful for the scholarship."
Jarvis has been as energized in his giving as the students have been in receiving the financial help. "It's important for alumni to understand how easy it is to give back to the University, and how their donations, no matter how large or small, really makes an impact, both on the College and on the students," he says.
"Those of us who have gone through the University of Illinois and come out a better person, with their life changed, can help students who are now going through it. Students rely heavily on the University, but they also rely heavily on the alumni."
If you would like to make a gift or discuss endowing a scholarship, please contact the College of Education's Office of Advancement at advancement@education.illinois.edu or call 217-244-7228.