How to Defend Your Dissertation, Virtually
by Nitasha Mathayas, PhD / Apr 9, 2020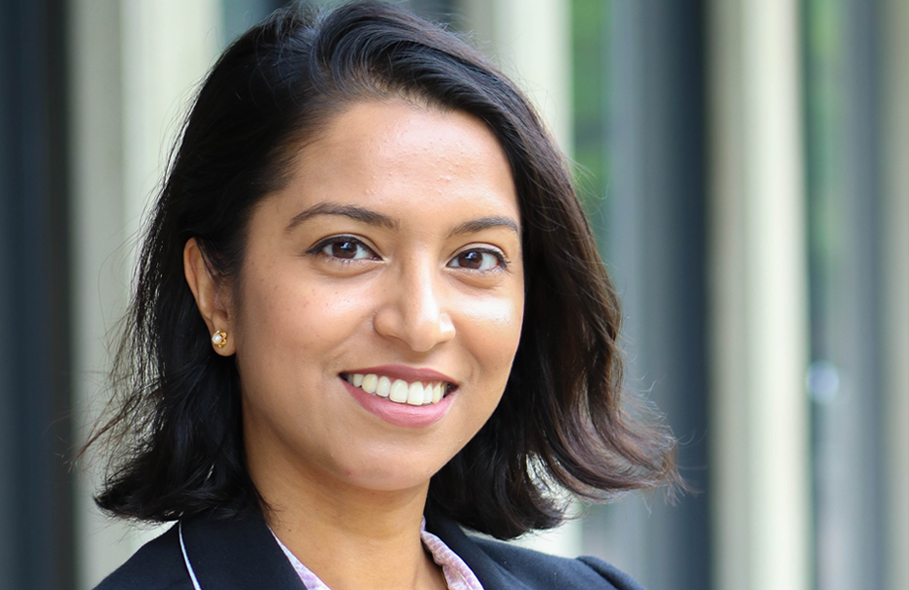 Tips on preparing, presenting, and celebrating from a new PhD.
On March 24, one day after in-person meetings and instruction at the university were halted and moved online due to the coronavirus pandemic, Nitasha Mathayas earned a new title: PhD. She delivered her dissertation defense—on students' sensemaking using gesture-augmented simulations—via Zoom to her committee of Curriculum & Instruction faculty, her family, and friends. Over the next several weeks, many doctoral students will face the same situation. Here, Nitasha shares her experience and advice for holding a successful virtual dissertation defense.

Prepare Well in Advance
Online meeting setup and structure: Several days before your defense is scheduled, talk to your dissertation committee chair and decide your conferencing platform and how to structure the meeting. One of my committee members, Dr. Stina Krist, hosted the Zoom video conference call and made me a co-host. She also managed the breakout session for the private discussion.
Practice, practice, and practice some more on Zoom! (Or whatever video conferencing platform you choose to use.) Don't just practice your talk like you normally would in person. Try giving the talk a few times to make sure you test everything out. I practiced my talk on Zoom three times with my colleagues and their feedback helped me adjust my pacing and presentation. Shout out to my Education peers for coming online multiple times on late evenings for me. You know who you are!
Make adjustments: I like to point when presenting in person. But I could not do that remotely, so instead I added subtle animations and bolded things on my slides. While there is a laser pointer option with PowerPoint, it is better that the slides themselves highlight things you need to emphasize.
Strong internet connection: While practicing, I figured out my home internet was not good enough to run the video call and my presentation, so I went to campus (was the only one there, social distancing was practiced), used an ethernet cable, set up a lamp, and ensured my environment looked professional.
Professionalism matters: On that note, do everything you can to look professional. Dress formally, use a good webcam that is centered on your face (no weird angles). Use good lighting (add more lamps if needed) and have a clean background (no bright windows, distracting artwork, no pets in the background).
Last call: Touch base with your dissertation committee a few days ahead of your scheduled defense to see if they have specific requests. For instance, one of my committee members asked me for my slides ahead of time.
Check—and Double-check—your Tech
Connectivity: Before the defense begins, see if your committee members can hop onto the call 10 minutes early to check for issues on both ends.
Two screens recommended: In terms of technical set up, I used my laptop and a second monitor. I presented my slides on my laptop and transferred Zoom's control bar and attendee video to the second screen. This way there was nothing in front of my slides while I used them.
Single screen works, too: If you use a single screen, you may have to minimize your speaker view to see your slides. If not, you might have to leave some empty space on your slides so you can put the attendee video there. A few people could not see text on my slides as their video panel obscured it.
Test screen sharing options: Zoom has multiple options and things may get confusing if you use PowerPoint's automatic presenter mode. I set mine to use the primary screen only. I did not have access to slide notes, but I did not need them as I had practiced it well enough.
Backup hardware: Keep a backup device (or two) ready to go in case you have technical issues. I had a backup laptop with me that I thankfully did not have to use. Yet later that evening, my dock gave out and my second screen went green. I really lucked out there. Phew!
Record yourself: You can watch video of practice sessions to critique yourself, and you will also want to remember to record your actual defense.
Present, then Celebrate!
Slides: I shared my final presentation file with my committee a few hours before my defense by uploading it to Box. This way they could access the slides at any speed they wanted, and I got to correct some typos without emailing them multiple versions. The upload file was the final version though, it was not a draft.
View your committee: Ask other attendees to log off and log onto the call again after all dissertation committee members have joined, so that the committee appears on top of the speaker view.
Explain the process: My chair described how we would structure the conversation. My presentation was about 30 minutes. He requested that my committee ask me clarification questions during the talk but to hold substantive questions for later.
Questions: There was time for audience questions at the end from non-committee attendees. Audience members were asked to turn their video off during the talk but to turn it back on while they asked me questions. This really helped keep the committee's videos up on top and I could see them when I needed to.
Main room and breakout room: The main room was used for the public portion of the defense and was recorded, and then committee members moved to a breakout room that was not recorded. My family and friends waited with me in the main room while my committee discussed.
Audience: I am glad I invited my friends to attend my oral defense. I was nervous and having them there made me much more confident when I talked. And they cheered with me when my advisor informed me that I had passed!
Positive takeaways: There were some unexpected perks of my online defense. My friends and family from India were in attendance, which would not have happened if the talk was on campus. This way they were given the same experience as everyone else. Also, the Zoom session was recorded (a personal choice that everyone agreed to but is optional) so I now have a video of one of the most important days of my life to look back upon.
Celebrate! Finally, plan to celebrate yourself. You did it! You made it! You deserve it! This is an important milestone, and it is unfortunate that you cannot celebrate in person. I set up a second Zoom party between 6-8 p.m. that evening and invited friends, committee, and family. We all toasted in our respective homes and people hopped on and off the call during that time. I was able to feel thankful and connected for a while. My friends and colleagues have given me so much and I was glad I could cherish that moment.
P.S. I also bought myself a Ph.Diva shirt. It's not coming off for a few days. No one can smell it but me… phew for social distancing right now! Good luck fellow colleagues. You will all be great!