Q&A with Trey Harris, Middle Grades Education Major and Class of '21
by Kim Schmidt, OVCIA / Jan 29, 2020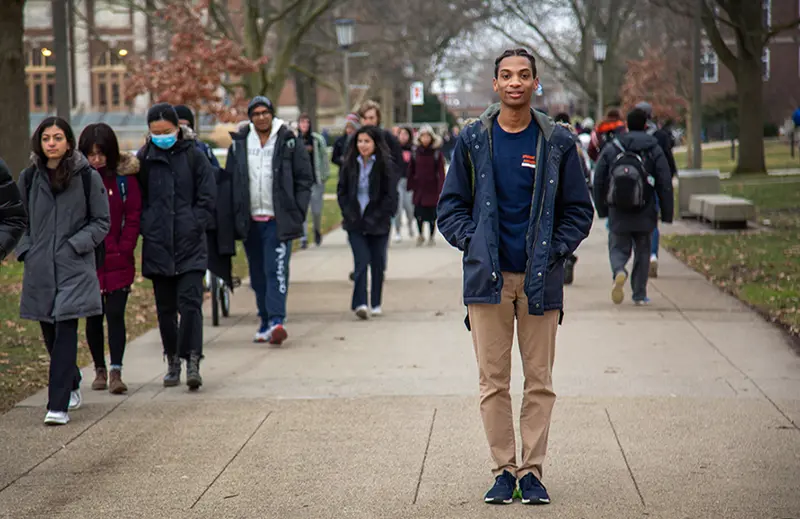 Junior Trey Harris, Curriculum & Instruction, is looking forward to walking into a middle school math class again—this time as a teacher.
Q: How did you decide to come to Illinois and study education?
TH: I decided to go to Illinois based on four factors: location, size, opportunity, and cost. I chose these because I felt that these were important to me in order to have the best experience in college. I knew I wanted a big school because I lived in Chicago all my life and it's a big city. I also knew that I wanted to go somewhere that was close enough that I can go home during breaks or emergencies, but not so close that my parents could pop up every weekend.
As far as opportunity, I wanted to go into education ever since I was little. I noticed the absence of the male educator in the classroom at a very young age. I only had one male teacher for a core class until I reached high school. I thought that was strange, but I was also interested in why. The lack of color was also something that I took notice of as well. I decided to go into education to help close that gap of male educators while also supporting all different types of students. I want to show black and brown males that they can become educators and guide future generations to success. I want to create programs that help students who lack resources find opportunities that they enjoy and want to learn from.

Cost was an important factor, but not as much as the others. I say this because before coming to college I already faced the reality that I might come out of college with some type of debt. This was something that didn't frighten me because I knew I was going to get the best education at Illinois.
Q: Can you explain what it means to be a Golden Apple Scholar? What sort of work did you do in the Chicago Public Schools?
TH: A Golden Apple Scholar is a student who is passionate about the world of education and teaching. This organization prepares (and helps support through tuition assistance) high school seniors and first- and second-year Illinois college students who have the determination and drive to be excellent teachers. They help prepare us for immediate and lasting success in the most challenging teaching environments. We work with schools of need throughout the state of Illinois.
This past summer we got to work in Chicago Public Schools with their summer school programs, helping students who struggled during the school year to move forward into the next grade. This was such an eye-opening experience for me, seeing the many students that Chicago Public Schools serve. I enjoyed being a positive role model to look up to, and I hope they could see themselves doing some of the things I do. I want to be that mentor that shows them that it isn't always about where you start, but how you finish.
Q: Your goal is to teach middle school. Can you explain why you've chosen to teach this age? What do you hope to bring to your students as a middle school teacher?
TH: Every time I tell people I want to teach middle school they are surprised, but happy for me. I think this is due to them having flashbacks of their middle school experiences—thinking how some of them might not have been so great. This is something that I want to change when I teach.
Middle school is such a critical period for all students. Their bodies are starting to change both physically and mentally. They are about to embark into new-found independence and responsibility. Many students haven't yet learned the skills—or seen the skills—to handle such pressures. I want to be that teacher that wears these different hats for his students. Coming from a place where there was a lack of resources, I didn't have the tools like others to make lemonade out of lemons. I barely had the lemons, so I learned to turn my struggles and questions into learning opportunities and answers. This is what I want to bring to my students—a sense of 'I'm here for you in the role of teacher, mentor, listener, and sometimes parent.' I want to help make that transition from elementary school to middle school to high school a little better for my students.
I feel like middle school is the perfect time to get through to students, especially when they have questions about life. That's why I want to go back to my community. They see a black male figure teaching and that representation inspires them to say, hey I can go to college, I can do this, I can be this. I want to be there to let them know you definitely can. I did, and I know you can. Don't let what you see around you affect where you can go.

Read the full Q&A at STORIED...