College's Online Graduate Education Programs Earn High Marks, Nationally
by Ashley Pellegrini / Jan 15, 2020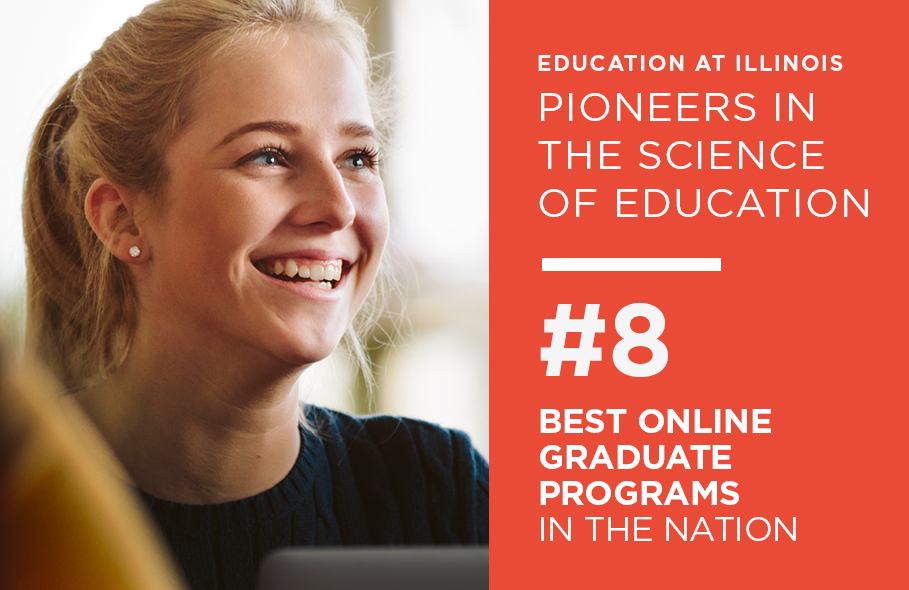 Education at Illinois continues to be a pioneer in the science of education.
The College of Education at Illinois' Online Graduate Education Programs have once again been named among the nation's top-ranked, according to the 2020 Best Online Graduate Education Programs list from U.S. News & World Report. Education at Illinois was tied with seven other schools at No. 8 on the list, moving up eight spots from last year.
Dean James D. Anderson said the latest rankings reflect the continued excellence of the College's innovations in online education. Most notably, the College recently developed an Online Master of Education (Ed.M.) degree in Curriculum & Instruction, which debuted Fall 2019. The program addresses critical issues of teaching and learning within diverse settings, with an emphasis on technology application. Students may pursue a general degree program (Perspectives and Practices) or select a concentration in Bilingual/Bi-Cultural Education or Digital Learning. U.S. News ranked the program, in its first full year, in a tie at #13 in the nation.
"We have continually expanded our online curricula since 1998, and the new online Ed.M. program in Curriculum & Instruction adds another dimension to our commitment to creating convenient access to education and equitable outcomes for everyone," Anderson said.
As one of the first colleges on the Urbana campus to provide an online degree program, Education at Illinois offers online graduate degrees, certificates, and endorsements for educators who work in both the public and private sector, from pre-kindergarten through post-secondary.
The College also offers online programs for trainers, developers, designers, and managers in human resource development and instructional technologies.
View all Education at Illinois Online and Off-Campus programs.