Grad Student Ananya Tiwari Honored for Educational Advocacy Work
by Ashley Pellegrini / Nov 18, 2019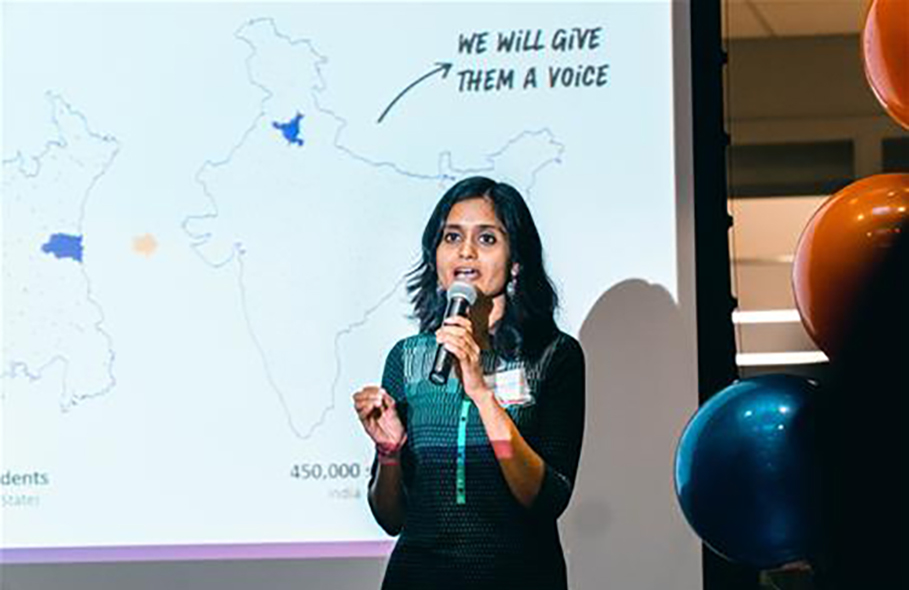 Second-year Educational Psychology PhD student Ananya Tiwari's vision—as an educator, entrepreneur, and researcher—is a world where the oppressed get access to quality education as a tool for transforming their place in society, and educational systems that challenge inequitable societal structures.
To this end, this week Ananya will receive the 2019 Illinois International Graduate Achievement Award from campus' Illinois International for co-founding and leading the SwaTaleem Foundation. But to fully appreciate this well-deserved recognition, understanding SwaTaleem's work and mission is key.

"I was not raised with an awareness of what social justice is," says Tiwari, who was born and raised in Kanpur, a small city in Uttar Pradesh, India. "When I saw the number of my classmates who had to drop out of school to earn wages, it was discomforting. Seeing the inequality that limited opportunities for those I grew up with, that's when I decided to work in education."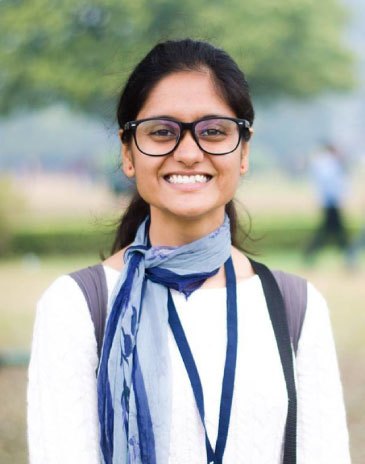 Before arriving at Illinois, Tiwari was a schoolteacher in a small rural Indian town, working with poor migrant and minority populations. While there, she and a small team of teachers converted fifth and sixth grade science textbooks into videos in the Hindi language for more access to the material. Today, the videos are part of the National Education Body of India's repository of open source educational materials.
Her experience as an educator was what eventually inspired the SwaTaleem Foundation, an organization that works with teachers and vulnerable adolescent girls in India to improve educational outcomes and decision-making. SwaTaleem, which roughly translates to mean "Owning your Education," aims to solve challenges schools in rural India face, such as lack of professional development and resources for teachers. It also tackles the still too-common practice of child marriage by keeping girls in school and building their education and socio-emotional skills.
This summer, SwaTaleem Foundation was chosen as an iVenture Accelerator project, the program for top student startups at the University of Illinois. The iVenture Accelerator, powered by Gies College of Business, supports student- and alumni-led startups with entrepreneurial knowledge, seed funding of $15,000, and access to world-class Illinois resources and networks.
"SwaTaleem is the only non-profit group in the current iVenture cohort," says Tiwari. "The other projects are profit-generating ideas: apps, business tools. Our needs are very different from the rest of the group, so it's interesting."
Currently, SwaTaleem is working with more than 900 girls and 30 teachers in some of the remotest parts of India. The team consists of 11 Illinois students, including Tiwari, as well as six research collaborators at Ashoka University, and two full-time employees in India. Recently, the government signed a memorandum of understanding with SwaTaleem to scale the program to the entire state of Haryana. The Foundation's goal is to work with 2,000 girls by July 2020.
"The engagement as an iVenture Accelerator project brought a lot of speed and traction for us. Our second crowdfunding campaign is now up. We've started building a board of advisors, and we're starting the work on getting incorporated. We hope to add two more full-time employees in India by the end of the year," Tiwari says. "The ecosystem is right to see SwaTaleem expand, with the resources in place to sustain it."
SwaTaleem has struck a partnership with the Siebel Center for Design, too. Tiwari says the team wants to experiment more with human-centered design, to see what it looks like when solving complex social processes like those in rural, hierarchical India.
Ananya says she chose to pursue a PhD program with Education at Illinois because of its reputation for excellence within her circles of influence back home. She says the best advice she received was to schedule as many interviews or phone calls as possible with potential advisers, to get a sense of how generous they are with their time, attention, and interaction.
"As a scholar here I'm given respect and a sense of freedom to sort of bring in my ideas," she says. "I don't feel limited in what I can do."
Tiwari's PhD program adviser is assistant professor Chris Napolitano, and she was nominated for the Illinois International Graduate Achievement Award by professor Rodney Hopson.
"It came as a total surprise to win this award, although when I learned about Dr. Hopson nominating me, it seemed so organic. I've been working with him since he arrived at Illinois, and he's always interested to hear about this work and is respectful of what is happening with SwaTaleem," says Tiwari.
"I have to acknowledge the support that U of I has given me. I feel like I've been really supported by the people here, in whatever capacity they've met me—my adviser, the faculty members, staff—and I'm thankful," she says. "The environment you create for your students and scholars is very important. The moment you start investing in your students, they will flourish."

Read more about SwaTaleem in the Independent Media Center's Public I newsletter and from the Gies College of Business...

This story is one in a series to recognize International Education Week, November 18-22, 2019.