The Office of Community College Research and Leadership: Turning 30
by Tom Hanlon / Oct 14, 2019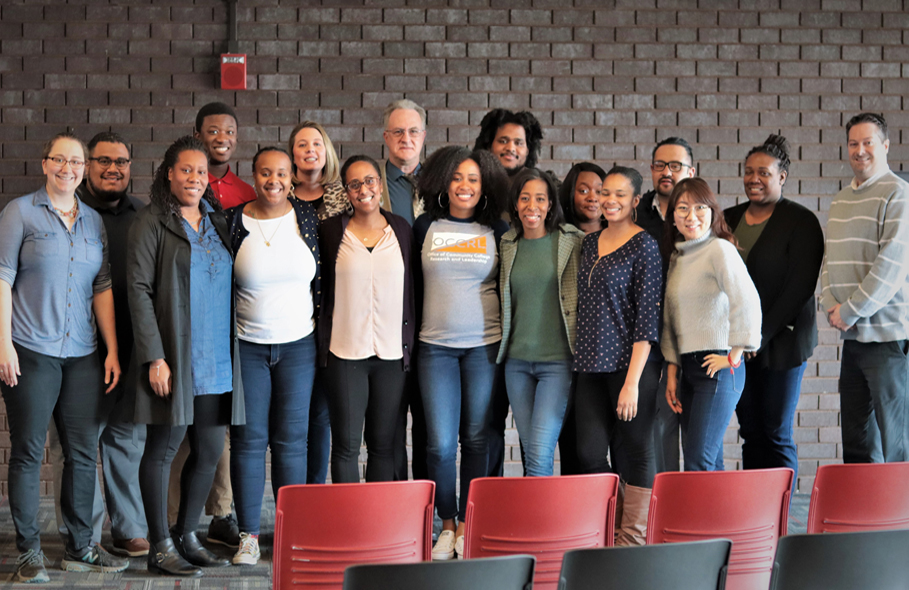 The Office of Community College Research and Leadership celebrates its 30th anniversary this fall. Director Eboni Zamani-Gallaher reflects on the office's growth and shares her vision for the future.
It started with a grant from the Illinois State Board of Education back in 1989.
Then grants came in from the U.S. Department of Education Office of Adult Education and the National Center for Research in Vocational Education. In the early 2000s, grantsmanship blossomed, and grants began pouring in from state and federal agencies. This, as well as funding from private foundations, has been flowing into the Office of Community College Research and Leadership (OCCRL) for 30 years now.
But while the grants have kept the unit running for three decades, they are not the reason the OCCRL has survived and thrived.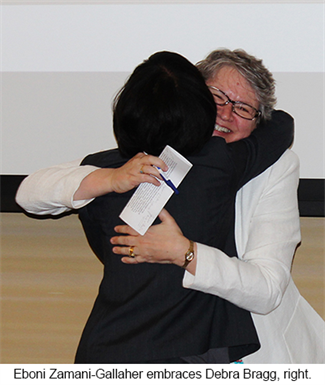 The OCCRL has flourished because of strong and astute leadership—for its first 26 years from Debra Bragg, and for the last four years from Eboni Zamani-Gallaher. Thirty years on "soft" money indicates something is being done right—and something that few others, if any at all, have done.
"There have been other community college research centers throughout the country, but to my knowledge there have been none with the longevity of OCCRL," says Zamani-Gallaher, a professor in Education Policy, Organization and Leadership in the College of Education. "We've had such a long run because we have always been a strong advocate for community colleges. We acknowledge their challenges, but we also share their strengths, and we've been a really good resource relative to generating studies that have had impact on policies and have extended understanding of community college contexts."
Leadership of Debra Bragg
The OCCRL has focused on broadening participation in two-year college contexts since its inception in 1989. Under the leadership of Bragg, who is now the director of Community College Research Initiatives at the University of Washington, OCCRL garnered over $17 million from external funding and private foundations. During Bragg's tenure, the office supported more than 100 graduate research assistants, and continues to do so under Zamani-Gallaher's leadership.
"Over the years, we have trained a topnotch cadre of researchers," Zamani-Gallaher says. Many of our graduate research assistants, she says, have gone on to "have wonderful careers—as tenured faculty, senior and executive administrative leaders, accomplishing great things. It's a point of pride for us."
In OCCRL's early years, Zamani-Gallaher says, the majority of the work was in the state of Illinois—much of it funded by the Illinois Community College Board. That research focused on understanding and improving community college education in the state. Zamani-Gallaher had an insider view of OCCRL from 1998 to 2000, when she was a Ph.D. candidate conducting research with Bragg. As Zamani-Gallaher transitioned into her faculty career at West Virginia University and Eastern Michigan University, the two kept in touch and consulted on external evaluation work.
As Bragg was preparing to move to Washington, she was aware that Zamani-Gallaher was open to something new: Zamani-Gallaher was a finalist for an endowed chair/distinguished professorship in community college leadership at the University of Toronto. Zamani-Gallaher learned that she was looking for a successor, which eventually led to an offer to be a faculty affiliate of OCCRL in Fall 2014, with the goal of transitioning into the role of director the following term.
"My first thought was those are big shoes to fill," Zamani-Gallaher recalls about stepping into the directorship in the spring of 2015. "It's not commonplace to find an African American, let alone an African American woman, to head up a research hub at an R1 university. There was trepidation on my part, but there was also excitement because I knew I was being presented with a unique opportunity."
Expanding, But Staying True to Their Roots
Early on, Zamani-Gallaher was introduced at a meeting as "the new Deb." She remembers smiling and saying, "'I'm not the new Deb, I'm the same old Eboni.' I had my own scholarly identity and knew I had to insert myself in order for it to work. That has helped us move in new directions while staying true to our roots."
Those roots included what Zamani-Gallaher terms the "three buckets": college and career readiness, pathways and programs of study, and transfer and college completion.
Under Zamani-Gallaher, OCCRL has shifted to a "four-pillars" concept: equity-driven change, comprehensive P-20 educational pathways, transformative leadership, and public engagement.
"It builds on what we've done in the past without taking away from the foundation," she says. "It's an expansion of that."
Goals, and how they are stated, might shift over the years—and need to in order to remain relevant—but OCCRL's core purpose remains the same, Zamani-Gallaher says.
"Since its inception, our researchers have addressed student transitions, from high school to community colleges and moving them through and beyond to gainful employment or further education," she explains. "The common threads throughout all of our research over the years are the core issues of access and equity and outcomes. Because it's not just that we need more students to persist to degree completion, but upon exit do they have a family-sustaining wage? It is not only that they are graduating but what are they graduating in?"
When Zamani-Gallaher first connected with OCCRL as a Ph.D. student, she was one of five people on staff. Over time that would grow to well over two dozen core staff, consultants, and affiliates. There are also nearly 3,600 listserv members of OCCRL whose study results and programming activities are disseminated worldwide. Those members include community college practitioners and researchers, K-12 educators, state and federal policymakers, people advancing education at nonprofits and policy think tanks, state board members, and other government employees.
"We've expanded over the years," Zamani-Gallaher says. "But our commitment to bridge opportunities to equitable outcomes has remained the same from 1989 through 2019."
As an example of that unremitting commitment, and of moving in new directions while staying true to OCCRL's roots, Zamani-Gallaher points to Pathways to Results (PTR), which began 10 years ago under Bragg's leadership. PTR helps practitioners understand obstacles to student success through disaggregation of data and the adoption of equity-minded practices seen as a critical aspect of raising performance.
"We revised Pathways in 2016 but kept true to its foundation," says Zamani-Gallaher. In addition, Zamani-Gallaher says OCCRL helps faculty be intentional about being culturally responsive in their teaching. "We help administrators to not be just data driven, but to create cultures of inquiry where they make data-informed decisions that are equity conscious," she says. "We know all students aren't entering with the same backgrounds, and we have to be attentive to how we can respond to their needs."
Sustaining Excellence
Thirty years have come and gone, but OCCRL has a long, bright future ahead of it.
"I see us continuing to innovate and continuing to be aspirational in terms of being the best version of our individual and collective selves," says Zamani-Gallaher. "I want to do the best I can to create and sustain what has been a long tradition of excellence for OCCRL. I'm excited about the future. I want to leave it healthy and hand off the baton and enjoy it from a comfortable distance, watching who has next. Because this isn't our last decade."
The Office of Community College Research and Leadership celebrates its 30th anniversary on October 30, 2019. The public festivities begin at noon with a Lunch and Learn Brown Bag session in Room 22 at the College of Education at 1310 S. Sixth Street in Champaign. At 1:30 p.m., the HBO Sports documentary Student Athlete will be shown in Room 22. From 4:15 to 6 p.m., a brief program with hors d'oeuvres, desserts, and beverages will be served in the new O'Leary Learning Center, Room 10. Please register for the events here or contact Sal Nudo at 217-300-1985 or at snudo@illinois.edu.