How Bapu's Ahimsa Inspired King's Vision
by Gowri Ramnarayan, The Times of India / Oct 8, 2019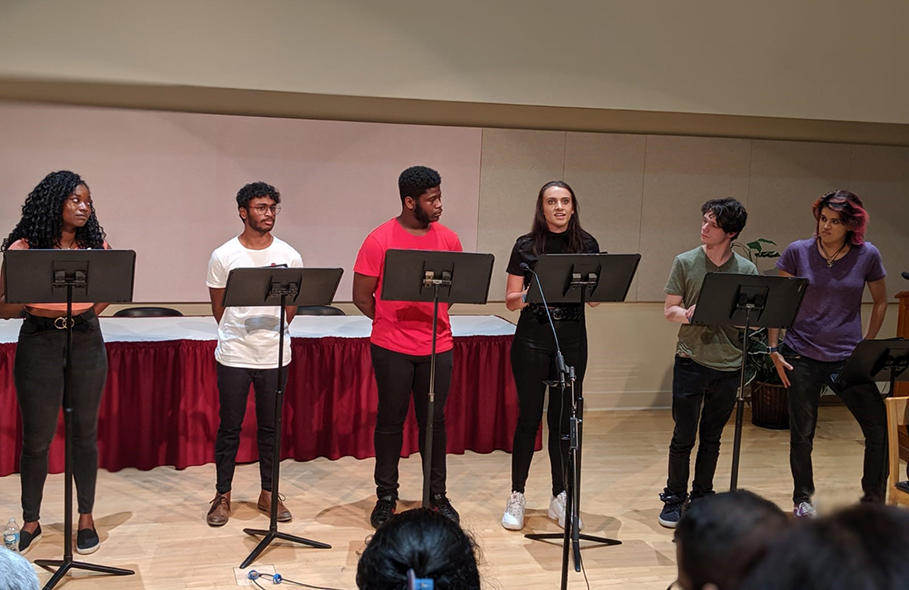 A tribute with an offbeat perspective was hosted by the College of Education with Illinois Theatre, at the University of Illinois, Urbana Champaign. 'Gandhi, King, and Our World Today' brought together African-American and Indian points of view with a play reading by students, and a panel discussion by the university's African-American scholars.
Both focused on Gandhi's ahimsa and satyagraha, and their impact on Martin Luther King's civil rights movement.
The short script, 'Unexpected Contact', was authored by the Mahatma Gandhi's grandson Rajmohan Gandhi, research professor with the College of Education, who also moderated the discussion.
The evening raised two major questions. Firstly, how to repossess Gandhi's vision and King's dream--of equality, respect and friendship between disparate communities. Ronald W. Bailey, head, department of African American studies, suggested that live encounters with diverse cultures across the world could inspire the young to reclaim Gandhi's legacy. He knew that students on a study tour of the southern "Confederate" states "intertwined stories of what they read in the text with what they saw in person".
They could put themselves in the midst of history to deal with present political crises--and change the future. "We grew up with people of violence," said James D. Anderson, dean, College of Education, as he shared memories of getting beaten up in a protest demonstration, glimpsing a "Black Panther", and shaking hands with King. "We didn't get his underlying philosophy as part of our education. Looking back is to know what we missed, what we didn't address."
The second question was why, despite precedents of Lala Lajpat Rai's friendship with WEB Du Bois, Gandhi's interchanges with African-Americans, and King's rapport with Gandhian concepts, there was so little connection between African-American and Indian communities in the US.
"They don't see each other as allies. We don't use black identity in a more collective struggle," said Cynthia Oliver, associate vice chancellor for research in humanities. Can art help bridge the gap? Only deconstructing physical practices predominating in dance could show whether the art form promoted equality and diversity or perpetuated majoritarian domination.

Read the full story here...