Ron Rochon and the Ripple Effect of Illinois
by Ashley Pellegrini / Sep 12, 2019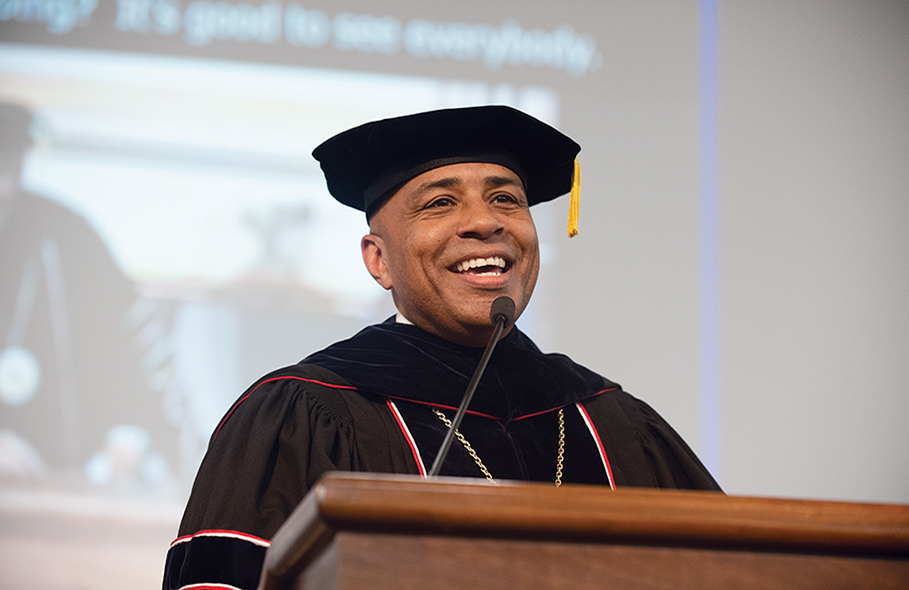 photos courtesy USI Photography and Multimedia and the Rochon family
The Rochon family—alumnus Ronald S. Rochon, Ph.D. '97, EPS, and wife Lynn—visited campus this summer with son Ayinde, who's here to discover his purpose and define his own goals for a life of impact.
Immense pride. Joy. Anticipation. Gratefulness. Awe.
These were some of the emotions emanating through the College of Education contingency in April as they attended the inauguration ceremony for Dr. Ronald S. Rochon—their Education at Illinois family member—now, the president of the University of Southern Indiana (USI), in Evansville, Indiana.
It was the poetic fulfillment of a dream, the realization of a brazen goal spoken aloud more than two decades earlier at the University of Illinois, within the Education Building's walls.
Simultaneously, it marked the beginning of another immense opportunity to create impact. And the chance to witness more waves unfolding in the ripple effect.
"Everyone will have their own unique story about Ron—because of the quality of person he is, and how he made them feel. Because he's so loved."
- Dr. Yoon Pak, professor and department head, Education Policy, Organization & Leadership
The sound his name makes—Ron Rochon—is as fluid and easy as his wide smile, as he introduces himself during his family's visit to Champaign-Urbana, several weeks after his inauguration festivities and official investiture as president of USI. His reason for being back at his alma mater is yet another blend of a dream realized and a new journey beginning: Rochon's son, Ayinde, is a new graduate student in the Education Policy, Organization & Leadership (EPOL) department.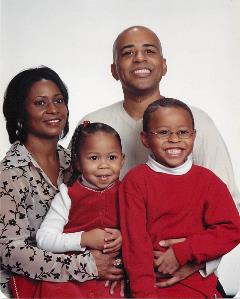 "Ayinde has been in this College with me since he was knee high, walking these hallways," says Rochon. "To see my son—taller than me now—just graduated from Indiana University and being accepted to Illinois is such an exciting thing for me as a father. I'm so thankful for the man he's becoming."
The Rochon family walks these hallways again, stopping in offices for mini-reunions with members of their Education at Illinois family. Conversations full of congratulations and laughter surround them, as they move from one floor to the next.
They're accompanied by Dr. Yoon Pak, who met Rochon in 1997 at Washington State University in Pullman, Washington. In his first teaching role, Rochon was running a summer doctoral program. Pak was a PhD student nearby, at the University of Washington, and says that Rochon awarded her a research fellowship—the one and only time her doctoral work received funding.
"Ron took a chance on me when my own department wouldn't," says Pak. "I am who I am today because of Ron Rochon," says Pak. "Ultimately, it's how I got to Illinois. If not for him, I wouldn't be who I am as a person and a scholar," she says.
"With impact, what becomes so apparent is that it's not just your degree. It's not just your accomplishment. Your grandmother, your parents, your mentors, your former colleague—it's theirs as well."
- Lynn Rochon, first lady, University of Southern Indiana
When Rochon learns about Pak attributing her career to his fledgling support, he refuses to take credit. Instead, and naturally, he reflects on the people who supported and influenced his work, telling his own Illinois story.
Encouraged by one of his Tuskegee University professors (an Illinois alumnus) to continue his studies at the University of Illinois, Rochon arrived on campus to study reproductive physiology in the laboratory of Dr. Janice Bahr, in Animal Sciences (ACES). In the late 1980s, both a female-led research group and an African American graduate student were rarities in this STEM field.
"Janice Bahr means a lot to me—she is an angel on this planet," says Rochon. "Without Dr. Bahr, there'd be no Illinois for me. I was a good student at Tuskegee, but graduate school Illinois was on another level. She gave me a chance to pursue my master's degree. I felt so valued, so equal and respected, and so welcomed in her lab. She led that, and she set the tone for my entire Illinois experience," he says.
Rochon excelled under the advisement of Bahr, Dr. Charles Graves, and Dr. Robert Easter (former University of Illinois System President and Urbana campus Chancellor) in the Department of Animal Sciences. He attained his master's degree and spent two years working at the University of Chicago hospital, focused on reproductive health. But through volunteer work in Chicago schools and correctional facilities, Rochon's interests began shifting from medicine to social issues around education, diversity, leadership, and policy. He decided to return to Champaign-Urbana, with questions percolating and new aspirations in mind.
Soon after arriving back on campus to pursue doctoral work, Rochon recalls hearing Dr. William Trent give a talk on social justice to the Black Graduate Student Association, further piquing Rochon's interest in equity and access issues. Rochon says Dr. James D. Anderson, in the then-Educational Policy Studies department, made him take a few undergraduate-level classes to ensure education was a path he wanted to follow. Only then did Anderson officially accept Rochon to the Ph.D. program and agree to advise him.
"Dr. Anderson became my lifeline, without question: intellectually, emotionally, socially, culturally, he provided the kind of sustenance I needed. And in such an unselfish way. The beautiful thing about Doc is that he gives you enough space to be yourself," says Rochon. "The other thing is, he has this ability to share himself with everyone in the room, so you feel like you are still special, you matter, you have a voice. Not all professors and administrators can do that. He's uniquely special."
"It's really that ripple effect that everyone talks about, with impact. What's truly exciting is you don't know when or if those ripples actually ever end."
- Dr. William Trent, professor, Education Policy, Organization & Leadership
This fall, Ayinde Rochon will dig into his master's degree coursework under the advisement of Dr. Pak. With a bachelor's degree in political science from Indiana University, his options for scholarly foci within his graduate program are practically limitless. Wisely, he knows a specific interest will eventually need to emerge. But Ayinde's open to the same inspiration and influence that guided his father, a generation earlier.
"Right now I'm still in a developmental stage in my life, and I'm still trying to figure out what my big goals are, how I can benefit my family and community," Ayinde says. "Being around mentors like Dr. Anderson, Dr. Pak, and Dr. Trent will help me get to that point."
"I love this place—I adore Illinois. It's the people, not the brick and mortar," says his father, Ron Rochon, president of the University of Southern Indiana. "Illinois continues to be uniquely positioned to do special things for lots of people like it did for me. Like it will do for my son."
The ripples are overlapping one another; they're going outward and coming inward, creating perpetual impact, beckoning us to keep watching as the story unfolds.
Share your Illinois story of impact with us at advancement@education.illinois.edu.