Children Use Video Games to Explore Science in Two NSF-funded Projects
by Sharita Forrest, UI News Bureau / Aug 26, 2019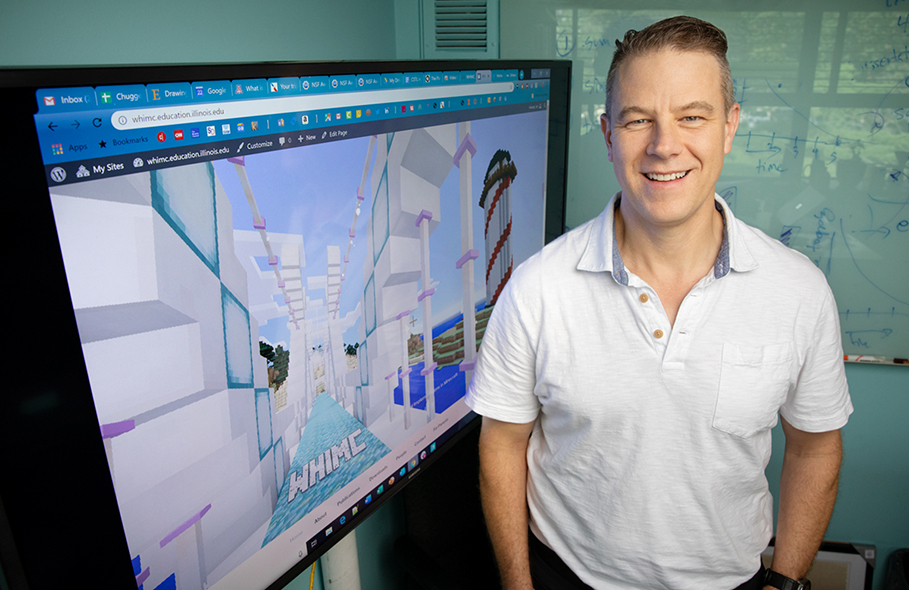 Educational Psychology professor H. Chad Lane and his team of researchers believe that the future of humanity rests in the hands of scientists so young that they currently have homework assignments and bedtimes.
The National Science Foundation seems to agree, recently awarding a total of $3.2 million in funding to two of the team's projects. In both projects, children use the video game Minecraft to explore space or to develop solutions to significant environmental challenges on Earth.
Minecraft, which debuted in 2009, is the second-most popular video game of all time, surpassed only by Tetris, Lane said. He and his team are among the many educators who are using Minecraft to pique youths' interest in science.
"We know that middle school is a critical time," Lane said. "If we don't engage them deeply in science now and give them opportunities to explore important ideas in positive and fun ways, we might lose them before they ever have a chance to start."
By kindling children's interest in science, technology, engineering and math, the projects aim to increase underrepresented minorities' participation in STEM fields as adults.
The first project is an ongoing endeavor that asks young scientists to turn their eyes and minds skyward to explore profound questions such as what Earth might be like if it orbited a red dwarf star, as many recently discovered exoplanets do.
The NSF awarded $2.7 million in funding to the project. With the new funding, Lane's team is scaling up the project to reach new audiences through the creation of planetarium shows, an interactive experience on the PBS NOVA Labs website, an always-on Minecraft server and new summer camps.
In collaboration with University of Maine astrophysicist Neil Comins, Lane's team is developing new hypothetical models of Earth and exoplanets. In addition, they're creating an online educational activity about exoplanets for the NOVA Labs website in collaboration with David Condon, a content producer for the site.
They're also developing new shows for the Fiske Planetarium in Boulder, Colorado, in coordination with astronomer and graphic designer Jorge Perez-Gallego of the University of Colorado.
Both the planetarium shows and the online exoplanet activity are intended to draw young scientists to the team's Minecraft server to further their learning.
Condon, Comins and Perez-Gallego are co-principal investigators on the project, which is called "Fostering Enduring Interest in STEM through Exoplanet Education and Interactive Exploration and Creation of Potentially Habitable Worlds."
In collaboration with the Champaign-Urbana Community Fab Lab, Lane has been using Minecraft as a learning tool in summer camps and after-school programs for several years. He is continuing to provide those opportunities for fifth graders through eighth graders in Champaign and at the Urbana Neighborhood Connections Center.
Learn01, a Miami-based nonprofit, is helping the team host a Minecraft-based summer camp for children in that city.
Didith Rodrigo, a professor at Alteneo de Manila University, will seek to replicate the team's findings in U.S. children with their peers in the Philippines using the same Minecraft server.
In the second project, which received $500,000 in NSF funding, middle school students will use Minecraft to solve significant scientific problems that are inspired by real-world environmental challenges such as devising ways to prevent recurrent flooding.
"Students might see a setting where flooding is a recurring problem and be tasked with trying to prevent it or to redirect the water so there's minimal damage and environmental impact," Lane said. "To do that, they'll use a variety of computational tools and apply their knowledge of the applicable science to come up with more effective solutions."
The solutions the children generate will be shared with an advisory board of scientists and engineers, who will review them and provide feedback.
The Western Center Academy in Hemet, California, a school that emphasizes project-based STEM education, is Lane's partner on that project, called "Cultivating Creativity to Integrate Computation and Science Problem-Solving in Informal Learning."
"I have seen some of the amazing things kids do in Minecraft, and we can't wait to see what happens when we get them immersed in solving these very hard problems," Lane said. "Minecraft is a vehicle that allows kids to push their imaginations and think about important questions facing humanity. By emphasizing the exciting, we hope to entice children with experiences that help them grow and sustain their interest in science over time."