Young Writers Camp Inspires Students to Find Their Voice
by Lea Peck / Aug 14, 2019
College of Education provides youth with a creative and nurturing environment to explore and develop their writing
In 1974, the first National Writing Project was founded in the Bay Area with the goal of creating a different form of professional development for teachers while promoting collaboration and sharing of ideas among peers.
In 2008, Sarah McCarthey, Department Head of Curriculum and Instruction brought the national initiative to campus, co-founding the University of Illinois Writing Project (UIWP). Today, she co-directs with original co-founder and Champaign Unit 4 high school teacher Scott Filkins.
A couple years after starting the organization, they were looking for a way to bring writing opportunities to students from first grade to high school. They wanted to expose students to a variety of genres, including short stories, storytelling, comic-strip writing, plays, fairytales, and poetry.
In 2010, the UIWP Young Writers Camp was born.
The Young Writers Camp consists of two week-long summer sessions hosted at the College of Education. Campers from first through twelfth grade arrive on campus and experience being in a community of writers. Teachers from the Champaign-Urbana area and surrounding communities lead campers in developing valuable skills to expand upon their writing abilities.
According to McCarthey, the Young Writers Camp is one of a kind.
"The opportunities provided at camp tend to be quite different from what many area schools offer in their curriculum," said McCarthey. "Being able to focus on writing all day allows for a deeper understanding and appreciation across processes and genres. Campers learn from each other just as much as they learn from their teachers.
The camp is broken into three groups: Elementary (Grades 1-3), Intermediate (Grades 4-7), and Secondary (Grades 8-12). Each group provides students with an encouraging environment where they are free to create original pieces of writing, learn to work collaboratively with others, and have fun.
Since its conception, the camp has grown exponentially. Originally offered at Urbana High School, the program moved to campus about five years ago and has seen increased interest from the community.
"Youth enjoy coming to campus to get a sense of college life," said McCarthey. "They take advantage of many campus resources, especially as stimuli for writing topics."
This year the camp served 105 writers from 50 different schools.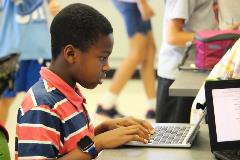 One Young Writers Camp teacher, Hannah Yeam has been a part of the camp as a teacher for intermediate and secondary grade levels for the last three summers. She says it's a great opportunity for students to explore their imagination.
"Students benefit from this type of camp because we highly encourage them to be creative with their writing and really set no limitations to the topics and genres they choose," said Yeam. "We do our best to provide a wide variety of activities and approaches to help them tap into their imagination and bring their stories and characters to life through their words. It also provides a great outlet for students to express their own feelings, thoughts, and interpretations about the world around them."
Yeam says the camp is also a great opportunity for teachers to teach in a more casual environment.
"During the school year, we as teachers do our best to provide students time to explore different types of creative written expression. However, camps like these provide ample time for both students and teachers to interact with one another's writing in a more relaxed atmosphere."
For more information, on the University of Illinois Writing Project and Young Writers Camps, visit our website.