Former Dean Susan Fowler Speaks at Congressional Hearing
by Ron Manderscheid / May 21, 2019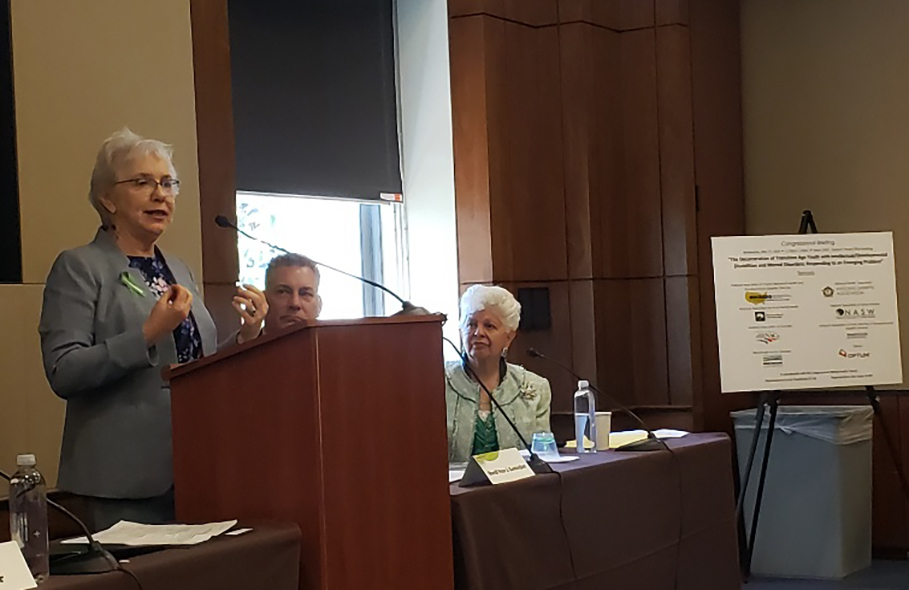 Retired Dean and Professor Emerita of Special Education Susan Fowler recently testified at a congressional briefing that highlighted the needs of transition-age youth with intellectual and/or developmental disabilities and behavioral health conditions.
On May 15, U.S. Representatives Grace Napolitano (D-CA) and John Katko (R-NY), co-chairs of the Congressional Mental Health Caucus, hosted a very important Hill briefing as part of Mental Health Awareness Month. This briefing addressed the decarceration of transition age youth with intellectual/developmental disabilities (I/DD) and mental disorders. Key presentations outlined the issue, its impact, including upon families, and needed solutions.
Napolitano opened with welcoming remarks. She decried the plight of many children and young adults with disabilities, and she emphasized the need to move toward community care.
In her testimony, Fowler spoke eloquently about the extremely serious impact of this issue with regard to her son, Chris, and on her own family.
Read the full story...