Online HRD Program a Natural Fit for Military Veterans
by Tom Hanlon / Apr 10, 2019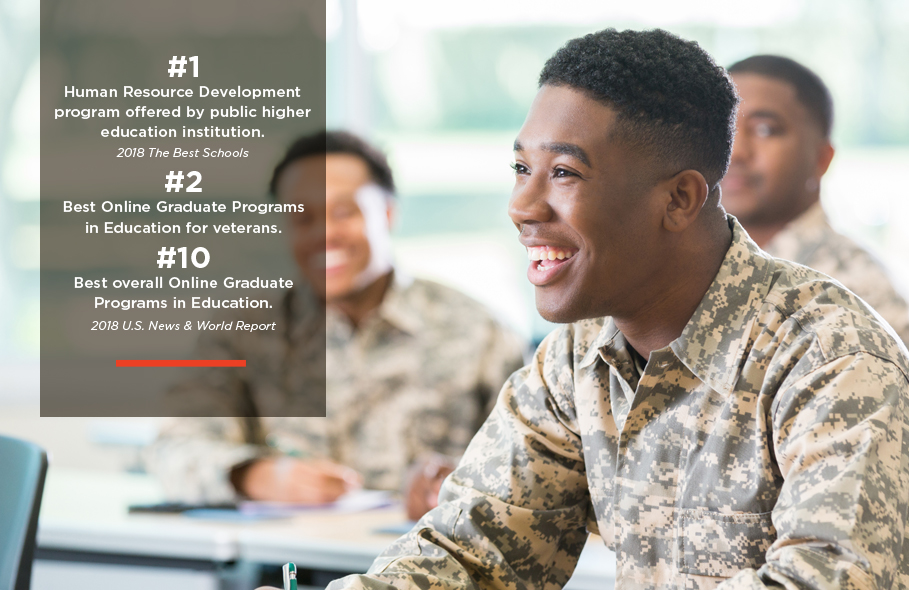 The University of Illinois' highly-ranked online master's Human Resource Development program is strengthened by the significant number of military veterans it attracts.
Military veterans make up nearly 30 percent of the University of Illinois' online master's Human Resource Development program.
There's a good reason for that, says program coordinator David Huang, an associate professor in Education Policy, Organization and Leadership (EPOL) at Illinois' College of Education.
"HRD, as a discipline, aligns well with veteran's experience in the military," Huang says. "In particular, we highly value the training and development aspects of organizational operations across contexts."
You can imagine the training and development needs of the US military, which has about 1.3 million active-duty troops and another 865,000 in reserve.
"The HRD concentration online has always been a popular choice among veterans," Huang notes. "In recent years, we are seeing more applicants with military backgrounds. They are always a high-performing group of students."
And the veterans are at least part of the success equation for the online master's HRD program. Strong and successful students add to the strengths of the program, which is the nation's top-ranked such program for public universities (and second overall), according to TheBestSchools.org.
Following is a brief profile of two veterans who recently attained their master's degree through the online HRD program at Illinois.
Anthony Williams: Using His Military Skills in Civilian Life
For Anthony Williams, returning to school to get his master's in Human Resource Development was a natural fit as he neared retirement from his 29-year stint in the Navy.
"My position in the Navy was in the HR field," Williams says. "A lot of us [in the HRD online program] worked in HR in the military, especially on the administrative side, dealing with payroll, with death benefits, with burial benefits."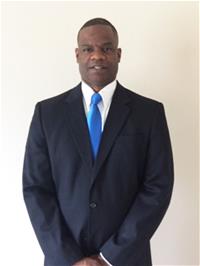 Williams, a Chicago native who now works in Houston as an education coordinator at the Texas Veterans Commission, always wanted to go to the University of Illinois at Urbana-Champaign. He received his undergraduate degree from Southern Illinois University, but when he learned about Illinois' HRD program, it was a no-brainer for him. He enrolled in 2015, earned his master's in 2016, and also came away with a certificate in Management of eLearning for Workplace Learning and Training.
"My personal goal was to have a higher degree before I parted, and I achieved that goal with my master's," he says.
His original goal had nothing to do with education. He wanted to be a professional basketball player. He attended two colleges in Wisconsin, but things didn't pan out, so he joined the Navy in 1988.
"I didn't have any sort of discipline prior to joining the military," Williams says. "When I joined the military and got into that structure, it changed me. You have to get up on time, you have to be on time, you have to eat a certain way, you have to march at a certain rate, you have to pay attention to detail. I thought, 'Wow, man, this is something I can really take with me.'"
Williams applied that discipline to his Navy career, to earning his HRD degree at Illinois, where he achieved a 3.95 grade-point average, and to his work at the Texas Veterans Commission, where he is applying the knowledge gained from his HRD degree.
"The program has helped me in knowing how to consult with various service officers, with provosts, with chancellors of various institutions," he says. "I've learned how to make the veterans' resource office better. I like the resource part of it, the consulting part, and the training part as well."
He recalls with particular fondness professors David Huang, Peter Kuchinke, and Ron Jacobs—whom he also studied under at Southern Illinois during his undergraduate years.
"The instructors and their assistants were very helpful," Williams says. "If you ran into roadblocks or had questions, they were able to help resolve them.
"I had a great experience in the program. In fact, it was so good, I'm considering applying for the doctorate program in HRD."
Chad Torgerson: Finding Multiple Ways to Use His Degree
Chad Torgerson spent much of his six-and-a-half-year Army career working on PATRIOT missiles. His training included learning how to operate the expensive technology and rocket systems, calculate targets manually and electronically, and understand artillery tactics and battle strategy.
"We had to know how to service and operate the equipment and make sure it was working in the middle of a desert sandstorm when it's 112 degrees," he says.
Besides the challenge of the job, Torgerson found another challenge when he retired from the Army in 2005 after serving two deployments to Kuwait, including one for the Iraq War.
"There weren't a lot of civilian jobs in working with missiles," he jokes. "So I knew furthering my education was going to be important."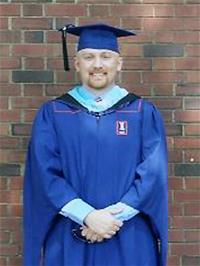 Torgerson enrolled in Illinois' online HRD program in 2013 after receiving his associate's and bachelor's degrees (the latter in information technology) elsewhere. He graduated with a 4.00 GPA, but his original plan—to become a faculty member at a college or university and pass on his knowledge and skills to other adults—has yet to pan out.
But he's making ample use of his degree, which has a focus in eLearning.
"I'm building a learning management system for my Catholic content," says Torgerson, who converted to Catholicism several years ago and has been documenting his experience since. "I'm using eLearning for it, rebuilding my website to incorporate an eLearning focus, going beyond the written aspect to deliver the content in a more modern way, using the skills I learned from my degree."
Torgerson says that what he learned in the HRD program about different learning styles has helped him in his own pursuits. "Developing content in a way that applies to people with different learning styles can make a huge difference for people who struggle with one style or another," he says.
Torgerson also uses his HRD degree in his company, SMB Ally, where he works with clients in developing training programs for staff to learn to navigate the NetSuite system. NetSuite is a cloud computing company that provides software and services to manage business finances, operations, and customer relations.
"I do a lot of my training online, working remotely with clients all over the US," he says. "When that lightbulb goes off in somebody's head and I hear that, 'Oh, okay!', it's a great feeling."
Torgerson even applies what he learned through the HRD program at home with his kids. "I'll be going over their homework with them and teaching them concepts, and I can see the difference in how they pick up and retain information," he says.
Torgerson loved that he could apply what he was learning in the HRD program immediately. "We could actually put into practice what we were learning in a live class environment and be able to see the results immediately," he says. "That you can apply it helps drive it home. It helps you absorb the information by seeing in a hands-on way how the topics apply."
He also appreciated how the content was structured. "It was challenging, with a good amount of coursework, but they understood that the majority of students were not full-time students, but were in the program to further their careers," Torgerson explains. "We were already in the real world and using the degree to help us get to the next level. So they structured things well. We could still take care of our other responsibilities. There was a good balance."
Torgerson encourages current professionals who are thinking about getting an online HRD degree to go for it. "It's flexible," he says. "If you can dedicate one night a week to the weekly lectures, you can do it.
"For me, it was a great experience. Yes, I could have gained more IT knowledge in an IT program, but that knowledge would probably be obsolete by now anyway. What I learned in the HRD program were skills that go beyond just core technical skills. I use what I learned on a daily basis. I can take those skills with me and apply them in so many ways."
Are You a Good Fit for the HRD Online Program?
The online HRD program is for both current HRD professionals and those who are seeking to enter the field for the first time. The General HRD concentration develops important administrative skills.
In addition to the Master's program, Illinois also offers an online PhD program in HRD.
Interested in applying to earn your degree in one of our HRD online programs? Be sure to check out the financial aid resources for veterans.
Veteran Student Support Services (VSSS), a unit within the Office of the Dean of Students, recognizes the selfless service and sacrifices made by members of our armed forces and the unique challenges associated with transitioning into a university setting. To support this transition, we are committed to providing Veterans, active duty personnel, National Guard and Reserve members and qualified dependents with the services necessary to pursue their academic and personal interests, explore different learning experiences, and integrate into the campus community.