Elizabeth Garreau: Reinvigorating Her Passion
by Tom Hanlon / Oct 23, 2018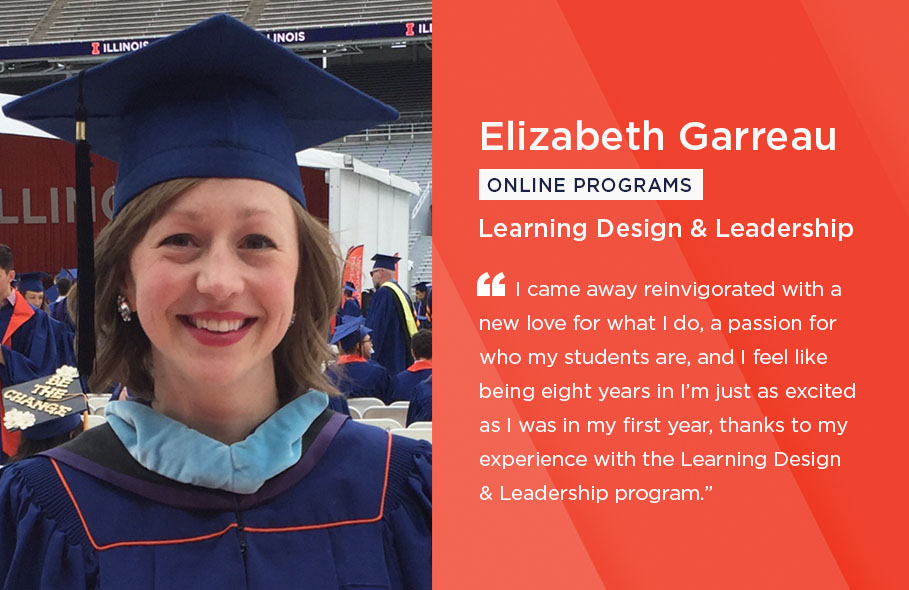 Through the Learning Design & Leadership online program, fourth-grade teacher Elizabeth Garreau has discovered new opportunities to live out her teaching passions while helping her students be creative and innovative in their use of technology.
The Learning Design & Leadership online program, offered through the College of Education at Illinois, fit Elizabeth Garreau's needs perfectly.
Garreau, a fourth-grade science and math teacher at Jonathan Burr Elementary School in Chicago, wanted a master's degree that coincided with her passions in education policy and technology. And it needed to be online so she could continue her work as a teacher.
The Learning Design & Leadership (LDL) program checked all those boxes and more for Garreau, an Illinois alumna who earned her Ed.M. from Illinois in 2018.
She admits to being hesitant at first, as she'd had only taken an abbreviated summer semester of online courses before, eight years ago, and values face-to-face interactions in learning environments. "But all my concerns were addressed, and I felt comfortable very quickly," says Garreau, who is in her eighth year of teaching at the elementary level.
Garreau credits Professors Bill Cope, Mary Kalantzis, Nicholas Burbules, and others for making LDL a high-quality program. "Given my awareness that Illinois and the College of Education are cutting-edge and knowing that Dr. Cope developed the platform [CGScholar, an online learning platform for knowledge communities that is used within the program] gave me great confidence going in," she says. "Dr. Cope's investment is so strong and inspiring, because he practices what he preaches. He and the other professors were genuinely interested in who we were not only as students, but also as people. Despite being hundreds of miles apart and never meeting my fellow students until graduation, the professors fostered a sense of community in the online setting."
Garreau cites several strengths of the program.
"The learning was meaningful not only for what I'm hoping to do later on in my career, but also for what I was doing in my classroom during the same week when a topic or question was posted or discussed," she says. "I could dive deeper into the concepts in ways that were very tangible and meaningful to my practice at the moment. Everything we did we could derive meaning from immediately. It was purposeful, and there were a lot of opportunities to make our learning our own."
She also appreciates the flexibility afforded the students. "Professors were understanding that we had careers and families to manage at the same time," she says. "They still demanded excellence, but the flexibility to make earning our degree doable was there."
A third strength, she notes, is in the learning gained from communicating with other students. "It turned into a lot of resource and idea sharing, challenging one another's ideas and asking, 'How is this working in your classroom?'" Garreau says. "I was able to learn a tremendous amount from people whose backgrounds and experiences are very different from my own."
Those strengths opened the door for Garreau to greater career opportunities to live out her passions. "I've been given opportunities in my school community to apply what I've been learning along the way," Garreau says. "For instance, I am helping develop our school's STEM program and working with our administration to integrate technology into our curricula in ways that make student learning more transformative, as opposed to having technology in the classroom for the sake of technology."
In addition, Garreau is working to develop an innovation lab at her school. "I want to give students the opportunity to be 21st-century learners and to be creative and innovative in ways that they have not previously been able to do without the use of technology."
The Learning Design & Leadership program, Garreau says, is well worth your time. "The University of Illinois has done a tremendous job of creating a program that people want to invest in, in terms of their time, being part of a unique online community, and growing themselves not just as educators but as learners in general," she says.
"This was such a fruitful year for me. As someone who has felt the challenges from year to year of being a teacher, I came away reinvigorated with a new love for what I do, a passion for who my students are, and I feel like being eight years in I'm just as excited as I was in my first year, thanks to my experience with the LDL program."