Passing of Dr. David Zola Evokes Deep Sadness
by Sal Nudo / Sep 28, 2018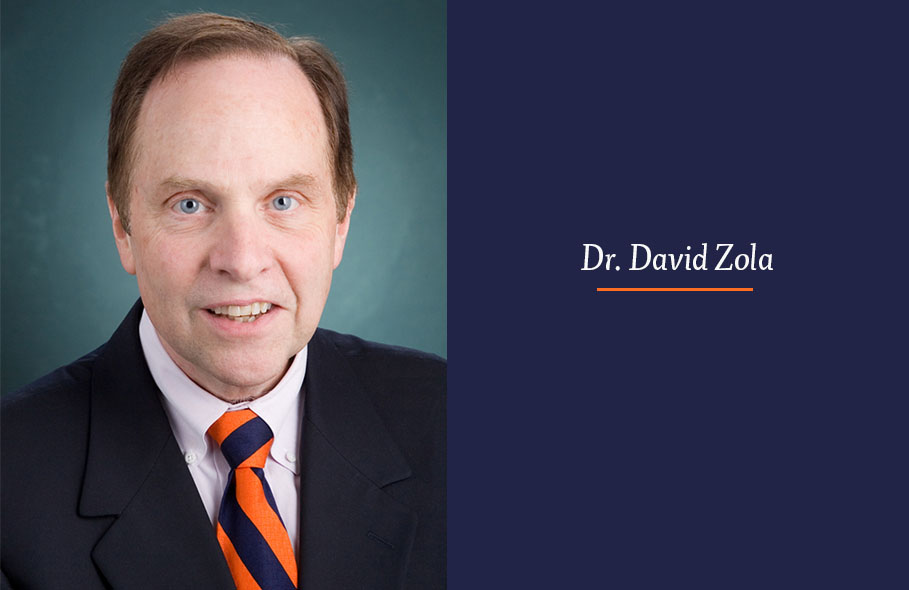 Dr. David Zola, a revered educator and beloved friend to many students, faculty, alumni, and staff of the College of Education community and beyond, passed away at 6 a.m. on September 28. He was 71 years old.
If you walked into the building first thing in the morning and ran into David, you knew your day was going to be brighter."

— Dean James D. Anderson
The passing of Dr. Zola has saddened many. Dean James D. Anderson described the relationship he had with his friend and colleague as lighthearted, joyful, and motivating.
"If you walked into the building first thing in the morning and ran into David, you knew your day was going to be brighter," Anderson said.
Anderson said he admired how Zola immersed himself into the College, collaborating with many graduate and undergraduate students, often with a knack for knowing just what programs they should enroll in to fit their aspirations. Anderson said Zola remained positive and uplifting every day.
A former clinical professor in the Department of Educational Psychology, Zola could often be seen in the Education building chatting with colleagues in offices and was constantly accompanied by students who were noticeably thrilled to join him.
Known as an engaging sparkplug of a teacher who inspired students throughout his career, Zola began his tenure in the College as a research assistant in 1973. In the succeeding decades he attained full professorship and was assistant dean of the College from 1993 to 1997.
For the last 30 years Zola has taught foundational courses such as Educational Psychology (EPSY 201), Adult Learning and Development (EPSY 407), and Developments in Educational Psychology (EPSY 490). As recently as this semester he was teaching until he became ill with stage-four cancer.
Professor Zola taught an estimated 30,000 undergraduate students during his career and, according to Dr. Dan Morrow, the head of Educational Psychology, was "a wonderful mentor who guided many students through academic, career, and other life decisions."
Morrow said Dr. Zola was trained in cognitive psychology by Dr. George McConkie starting in the late 1970s and eventually published numerous cited papers that covered the role of eye movements in reading, which was fitting for someone who was involved with the Center for the Study of Reading in the College of Education.
"His work with Dr. McConkie and others was instrumental in developing eye-tracking techniques that helped revolutionize the study of reading by identifying cognitive processes involved in reading comprehension," Morrow said.
Though Dr. Zola's interests shifted over time to teaching and pedagogy, according to Morrow, he remained involved with scholarship, which included working with graduate students to create and evaluate new models of teaching within his Educational Psychology class.
Zola's popularity in the classroom was evident by the numerous students who mentioned he was their favorite professor in the "Student Spotlight" section of the College's undergraduate newsletter called The Update. Student Jennifer Marnul said in a Nov. 2, 2017, issue that Dr. Zola made a lasting impression on her, and that she would one day use the creative, hands-on lessons she learned from him in her own classroom.
In a more recent Update issue from this fall, junior Ashley Kaufman said she had to laugh when Zola came to class dressed as the late Jean Piaget, a Swiss psychologist known for his work in child development. She said the act was indicative of Zola's teaching style and personality.
Kaufman said Zola was no ordinary professor and that he did everything with meaning and an open heart. She said his classes always felt like a safe space in which she and her peers could be themselves and receive their best education.
"Dr. Zola was always aware of students' learning styles and their individual needs," Kaufman said. "He would engage students through guest speakers, the passing of a microphone, group conversations, and so much more. He always had a new activity for the class to participate in that made sitting in his lectures genuinely enjoyable."
Kaufman said Zola was a mentor to her and that she knew he would be from her first Education 101 class during her freshman year. Many other students, she said, felt that same deep connection to him.
"Even if students only had him for one class, he left an everlasting impact on many lives," Kaufman said. "I can honestly say I knew no other professor like him, and he is by far the best person I crossed paths with in my life. His charismatic, empathetic, and unique personality allowed him to get to know his students beyond the classroom. He cared about each and every student's life and well-being."
Students were fond of Zola's practice of asking them to write five thank-you cards to past teachers who influenced their lives in a positive manner. The activity was a popular undertaking that students found meaningful, and the feedback they got from the teachers who received their cards was often affecting.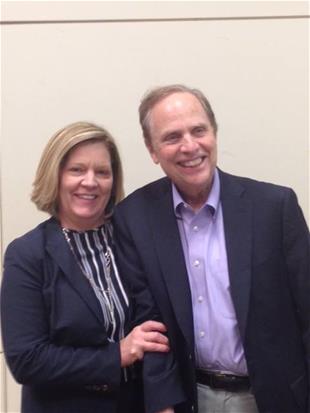 Zola was married for nearly 30 years to his wife, Susan, whom he met in 1986. The couple raised three kids together: Sarah, Anne, and Luke. Dr. Zola was a devout Catholic who served as a deacon at St. Patrick's Catholic Church in Urbana. In a May 2018 News-Gazette article centering on his faith, Dr. Zola said being ordained as a deacon at St Patrick's in 2012 was one of the most poignant moments of his life.
Susan Zola, who is the superintendent of the Champaign Unit 4 School District, said in an April 2017 News-Gazette article that she was extremely proud of her husband.
"I think if you would talk to people who have had his classes," she said in the piece, "you would find his teaching at the college level is a strong reflection of what we would hope young teachers are embracing and engaging in their jobs in pre-k through 12."
The students and the many individuals who were influenced for the better by knowing David Zola will undoubtedly recall wonderful moments with their friend, colleague, and mentor for years and years to come.
"I am honored to have known Dr. David Zola for three years, and he will always be a role model for me in my teaching career," Kaufman said. "I hope to become half the extraordinary teacher he was."
The visitation will be on Sunday, September 30, from 3:30 to 7:30 p.m. at St. Patrick's Church in Urbana (708 W. Main Street). Funeral services will be on Monday, October 1, at 10 a.m. at the church.
In lieu of flowers, the family requests that donations in David's honor be made to St. Patrick's Church in Urbana, Illinois to build a formal cantor stand in his name. Condolence cards may be sent to The Zola Family c/o College of Education, Office of the Dean, 1310 South Sixth Street, 38 Education Building, MC-708, Champaign, Illinois 61820