C&I student receives prestigious Presidential Award for STEM teaching
by acjones3@illinois.edu / Aug 16, 2018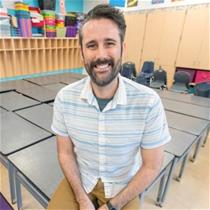 Curriculum & Instruction student Kevin Frederick was named a recipient of the prestigious Presidential Award for Excellence in Mathematics and Science Teaching. In an interview with The News-Gazette, the first-grade teacher at Booker T. Washington STEM Academy said he takes pride in his ability to stimulate young minds.
"I try to engage my students' curiosity and empower them in everything they do," he said.
Read the full interview.
Photo by Stephen Haas/The News-Gazette