Prepared and Professional
by Tom Hanlon / Jun 19, 2018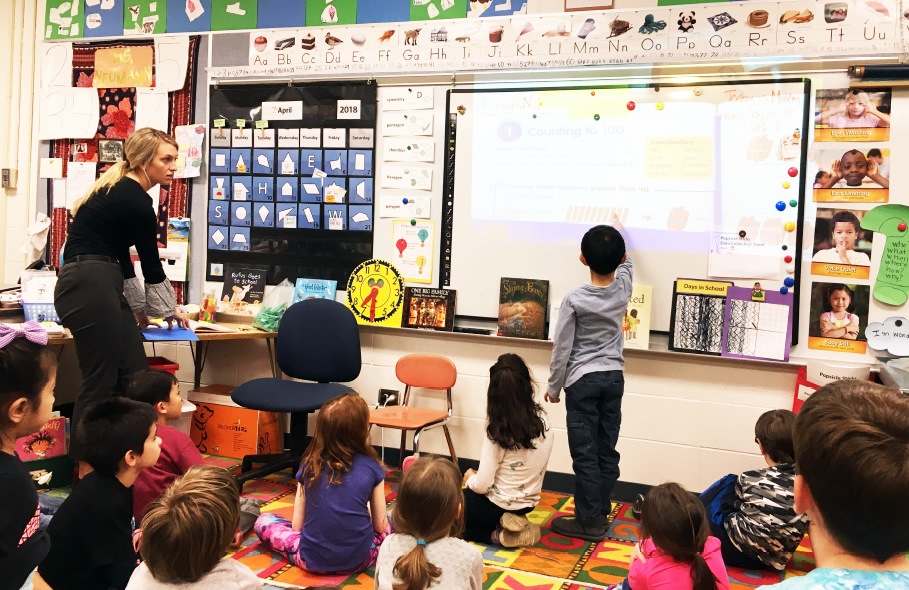 Elementary education student teacher Sophia Kagan teaches a class at Willowbrook Elementary School in the Northbrook | Glenview School District 30
College of Education majors highly sought after upon graduation
Melissa Hirsch has a strong connection with, and deep appreciation for, the College of Education at Illinois.
"Each year we host approximately seven to 11 student teachers from the College of Education in our small district of about 1,200 students," says Hirsch, the assistant superintendent in the Department of Curriculum and Instruction at Northbrook | Glenview School District 30.
"The students from the University of Illinois are extremely well prepared and ready to continue their learning in the classroom," Hirsch continues. "They are prepared, responsible, and professional."
Alyson Stephenson agrees.
"As educators, our job is to continuously grow in our practice, and the student teachers from the University of Illinois follow this professional expectation," says the veteran fifth-grade teacher at Champaign's Bottenfield Elementary School.
"The University of Illinois candidates this year and in recent years have been outstanding," says Colette Bell, the principal at Anne Fox Elementary School in Hanover Park, Illinois. "They are so knowledgeable, hardworking, and positive—all qualities I am very much looking for in new teachers."
Jonathan Kosovski, the principal at International Prep Academy in Champaign, has seen approximately 30 student teachers and student observers from the U of I in his classrooms within the last three years.
"We have had many strong student teachers that take on leadership roles in their grade levels," he says.
In addition, Kosovski appreciates the new perspectives Illinois students bring to his school.
"I feel that they keep us on our feet about being honest and real about our practices and instruction," he says.
Sunny McMurry, the clinical experiences specialist in the School and Community Experiences office at the College of Education, notes that the College has great partnerships with local districts, Chicago Public Schools, and Chicago's northwest suburbs.
"We have the type of relationship across multiple districts where administrators say, 'We always look for University of Illinois candidates, because they are so well prepared,'" she says.
That preparation, according to McMurry, is extensive.
"One of the things we pride ourselves in is our students have many experiences across multiple grade-level bands, depending on what their license band is going to be," she says. "We also pride ourselves on making sure they have multiple diverse experiences. Before they move into student teaching, they are in placements locally—in small urban communities, in rural communities, and some bedroom communities like Mahomet and St. Joe. We like to get them in as many diverse places as possible."
Having those diverse experiences distinguishes Illinois students and prepares them for a variety of settings. And Stephenson sees an attribute in U of I students that is perhaps even more important to their future successes.
"The biggest strength I see is their eagerness to learn and grow as professional educators," she says. "They take the time to build relationships with students in the classroom at the beginning of their placement, and they design fully inclusive lessons that address the needs and abilities of all learners in the classroom. And, after lessons, I have noticed a trend in the reflection piece of their work. They are thinking about ways to improve lessons for the future.
"Planning and reflection are the building blocks for successful teaching and learning in a classroom."
McMurry points out that success is accomplished by the hundreds of hours each future teacher spends in the classroom.
"We're making sure that when you're on your own, you won't just survive—you'll thrive in any type of school setting, even as a first-year teacher," she says.
Bell is confident that will be the case at Anne Fox Elementary.
"I've hired three University of Illinois students to fill classroom positions for the upcoming school year," she says.