Illinois-Microsoft partnership to create opportunities for students with autism
by the College of Education at Illinois / Jun 5, 2018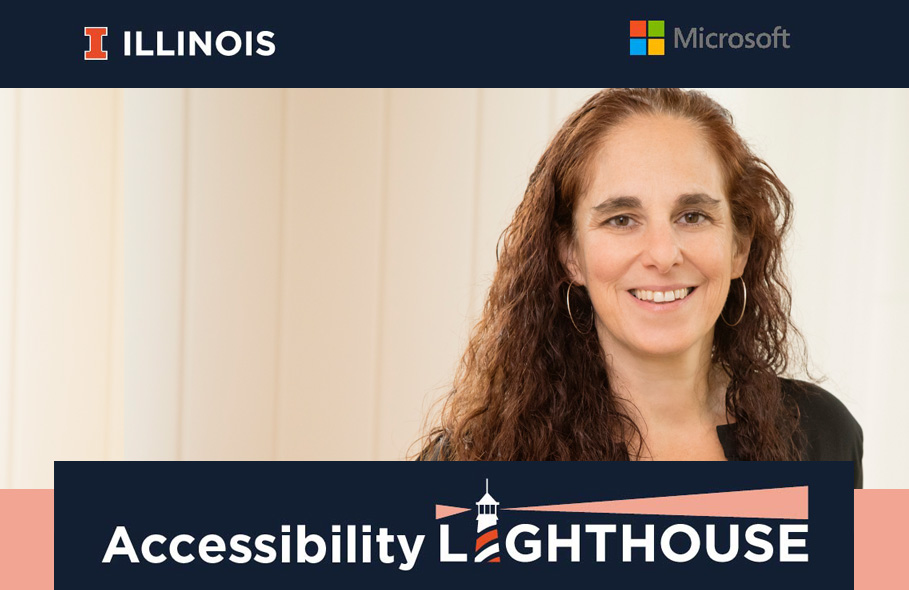 Hedda Meadan-Kaplansky of the Department of Special Education is helping
lead the Illinois-Microsoft collaboration
Department of Special Education will play important role in University of Illinois-to-Microsoft hiring pipeline
The Department of Special Education is one of several units on campus that is collaborating on the Accessibility Lighthouse Program with Microsoft, which is looking to employ more students with autism by creating a University of Illinois-to-Microsoft hiring pipeline.
Microsoft is investing $200,000 in the one-year program, which launched June 4.
Making our university a place where every individual can succeed—that's the goal."

— Hedda Meadan-Kaplansky
Associate Professor Hedda Meadan-Kaplansky will lead Special Education's efforts in conjunction with The Autism Program (TAP), working with colleagues to help students with autism earn more technology degrees and work at Microsoft.
"Making our university a place where every individual can succeed—that's the goal," Meadan-Kaplansky said.
Meadan-Kaplansky and her colleagues will be developing and providing training and resources for faculty and peers on best practices for working effectively with students and co-workers who are on the autism spectrum.
The collaborators will also develop an on-campus version of the Lighthouse program, providing the supports and services necessary to recruit promising students on the autism spectrum, and supporting their growth and development so they are prepared for the workforce after graduation.
Given the recent statistics on autism, Meadan-Kaplansky said such efforts are needed more than ever. According to a 2018 report by the Centers for Disease Control and Prevention (CDC), one in 59 children are diagnosed with autism spectrum disorder by age 8, an increase of 15 percent since 2012.
Just as alarming, the report says the national numbers likely "reflect a persistent undercount of autism's true prevalence among the nation's children."
Over the years, Special Education scholars have been heavily involved in studies related to autism. Currently, Meadan-Kaplansky is working on a project that promotes communication development of young children with autism and other developmental disabilities.
She is also collaborating on the development of the Family Behavior Support App, with the goal of supporting parents in implementing interventions with their young children with disabilities and challenging behaviors at home.
Researchers in Special Education are also working on projects with the University of Birmingham to understand the needs of culturally and linguistically diverse families with children with autism in the U.S. and U.K.
Microsoft is likewise engaged with individuals with autism and recruiting them in its workforce. Meadan-Kaplansky said the company wants to enhance that effort by building a relationship with a renowned university that is widely known for its inclusivity toward those with disabilities. The College of Applied Health Sciences and the Department of Computer Science are also involved with the Accessibility Lighthouse Program.
"I think the collaboration with Microsoft will make this project stand out," Meadan-Kaplansky said. "It's not just the educational preparation but also the pipeline of jobs waiting for some individuals, so it's going to be very unique and helpful."
An all-day kickoff event for the Accessibility Lighthouse Program took place on June 4 at various campus locations. Lisa Denson-Rives, associate dean for advancement at the College of Education, was one of the co-hosts of the event, which included presentations, lunch and campus tours for attendees from the University of Illinois and Microsoft. The day was capped off with a keynote presentation by speaker Megan Lawrence, Microsoft's accessibility evangelist.