College's James Scholars honored
by the College of Education at Illinois / May 8, 2018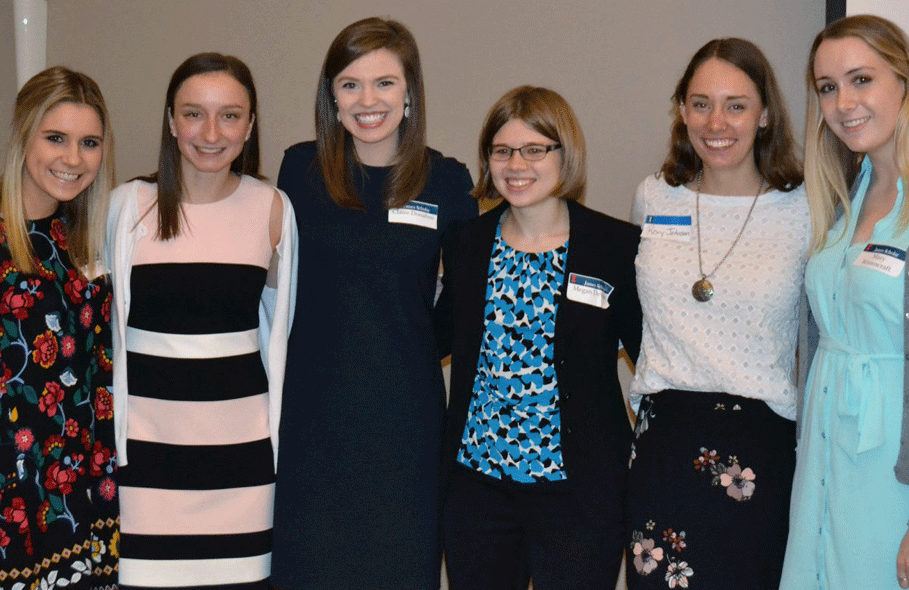 James Scholar honorees, students, parents, faculty, and staff were all on hand for the April 14 James Scholar Recognition Brunch held at the I Hotel and Conference Center in Champaign.
The brunch, which began in 2012, annually celebrates the research and accomplishments of undergraduate students in the James Scholar Honors Program in the college. Through the ideals of research, civic engagement, global consciousness, leadership, and professional development, the campus-wide program allows students to work with renowned faculty on projects.
Kathy Ryan, assistant dean for academic affairs, said the brunch began as a way to showcase the work of James Scholar students who were conducting valuable research, as well as working on notable course projects, that focused on current education issues.
"The brunch has been a great event that lets our fantastic students know how much the college's faculty and staff members appreciate their academic achievements," Ryan said. "Usually the event is held on Mom's Day at Illinois, so it also allows the students' mothers to see their projects and join in the celebration."
The "Making Classrooms Inclusive" project, conducted by elementary education students Claire Donahue and Emily Katz, was one of the highlights at this year's brunch. Donahue and Katz collaborated on the project with Special Education scholar Johnell Bentz in Bentz's General Educator's Role in Special Education course (SPED 405).
Donahue, Katz, and Bentz shared their study with attendees, explaining how classrooms could become more comprehensive through co-teaching efforts with paraprofessionals, changes to their physical spaces, and by creating lessons and activities for all types of learners.
"The students designed the project with my consultation and did a great job," Bentz said. "They volunteered to present to their peers at the end of the semester."
Numerous students in the EDUC 102 and CI 199 courses gave poster and laptop presentations for the "Scholars Showcase" portion of the event, covering a wide-range of topics such as the benefits of year-round schooling in elementary schools, social-emotional learning and restorative practices, and a study-abroad trip to Australia.
In addition, students from the Honours College at the University of Macau who are currently studying in the College of Education gave laptop and poster presentations on English education, mathematics, computer science, government, and public administration.
Honorary James Scholars recognized
The brunch also recognizes Honorary James Scholars in the community who are passionate about education in the areas of service, lifelong learning, and teaching. This year, the college added civic engagement as a new category of honorary recognition.
The inaugural civic engagement honor was given to Carol Scharlau '66 C&I, Ed.M. '68. A former teacher in Champaign public schools and at the U of I, Scharlau is highly regarded for her philanthropy and volunteer work in the community.
The other 2018 Honorary James Scholars were Beverly Goldstick (lifelong learning), Jay Mann, Ed.M. '03 EOL, Ph.D. '17 C&I (teaching), and Donald Stagen, Ed.M. '61 EA (service).
Mann was a James Scholar as an Illinois undergraduate in the College of Liberal Arts & Sciences. Yet his "true home," he said, is in the College of Education due to his career interests and the close cohorts he has helped guide through the college's professional education courses.
"Receiving this recognition for teaching is so humbling and reaffirming of the commitment I've made to the preservice teacher candidates I've been fortunate enough to work with within courses over the past 18 semesters," Mann said.
Our students' talents, commitment to expanding their learning, and dedication to the field are inspiring and so encouraging during a tumultuous time in teacher education."

— Jay Mann
He added that the spring brunch is a truly special event that showcases the abilities of College of Education students.
"Our students' talents, commitment to expanding their learning, and dedication to the field are inspiring and so encouraging during a tumultuous time in teacher education when we are challenged to recruit and retain high-quality teacher candidates," he said. "Each time I've attended the event, I have left with a renewed sense of hope and great sense of pride in how the College of Education faculty and staff mentor our emerging educators."