College's new TIER-ED initiative to bolster capacity and research of technology in education across lifespan
by the College of Education at Illinois / Feb 7, 2018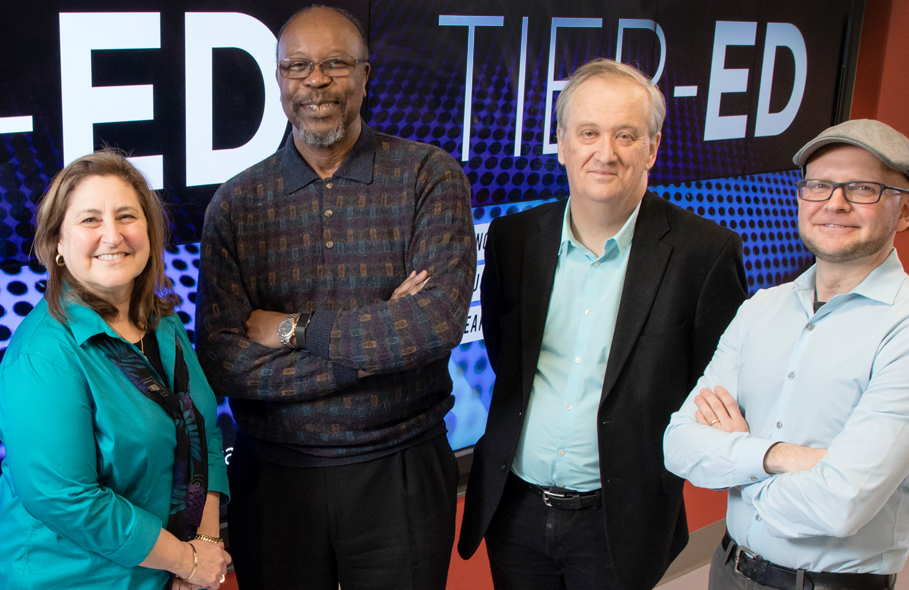 TIER-ED steering committee members Lisa Monda-Amaya, Bill Trent,
and Bill Cope with TIER-ED Director Robb Lindgren
Director Robb Lindgren says being on the forefront of how new technologies are used to address the most critical problems in education feels like something Illinois was "built to do."
The Technology Innovations in Educational Research and Design (TIER-ED) initiative is underway at the College of Education. TIER-ED will offer capacity for conducting important and cutting-edge research on the effects of new technologies on educational contexts and learning, positioning the College as a leader in the design of digital tools that allow for equitable access to impactful educational experiences.
A record number of scholars have applied to be a part of the faculty cluster-hire to join the College in 2018 to help achieve the ambitious goals of TIER-ED, while academic partnerships among scholars in the College and faculty in units across campus will increase. These individuals will work across disciplinary boundaries to bring forth transformative practices of research and teaching.
Other TIER-ED goals include:
Increasing the pipeline of students into programs that prepare them for design and research
Identifying more effective ways to use technology in teaching and designing tools to support teachers
Establishing new connections with industries to help develop and bring to scale the technology innovations of the university
Dr. Robb Lindgren is the director of TIER-ED. He said the enthusiasm and support of the initiative throughout campus has been outstanding, and that being on the forefront of how new technologies are used to address the most critical problems in education feels like something Illinois was "built to do." Lindgren believes it's a moment in time in which faculty collaboration in conducting research on universities is noticeably evolving. Because of those evolutions, he says the time is right for the College of Education to be an agent of change.
Explain the types of cutting-edge studies you think could result from TIER-ED?
Lindgren: There is a lot of research currently happening on the effects of digital technologies on teaching and learning, but much of this work is limited because it's being done within a single discipline from a single perspective. What I think can result from the TIER-ED initiative are interdisciplinary studies that tell us something fundamental about how education occurs in a digital world, and how to create new designs that can be tested and potentially have an impact on our local community. Computer simulations for a science classroom, culturally responsive mobile applications that encourage literacy at home, and an augmented-reality museum exhibit are all potential projects that can bring College of Education faculty together with researchers across the university to produce both a scholarly contribution and a tangible design that can be shared widely.
How will TIER-ED help the College of Education become a leader in designing digital tools that provide equitable access to important educational experiences?
Lindgren: It starts with leveraging the expertise we have in the College to create educational environments that are equitable and responsive to issues of diversity. Too often, we see the design of educational technologies being done with a focus on what cool things they can currently do but not focusing on what we need them to do in terms of being adaptive and fostering authentic learning experiences. I have had great hallway conversations in the College of Education with colleagues in the departments of Special Education and Education Policy, Organization & Leadership about ways to make the designs of technologies more consistent with what we already know about diverse learners and being culturally responsive. What we need now is the infrastructure, the resources, and good partners outside of the College to turn those ideas into prototypes that we can study and evaluate.
What type of innovative scholarship do you anticipate the new TIER-ED faculty members will bring to the College, and how will their knowledge affect student learning here and across campus?
Lindgren: We're currently doing a search for up to three new faculty members who we expect will add to the existing interdisciplinary faculty we have and serve as catalysts for the interdisciplinary design work we think TIER-ED is capable of. We're still reviewing applicants for this cluster hire, but for now, I can say there is a lot of talent out there in terms of people doing fascinating work on the transformative effects of educational technologies. This includes scholars who are using neuroscience and physiological tools to create more effective learning platforms; people who are focused on creating better tools and better training for teachers who want to use new technology in their classrooms; and researchers who are building new interactive interfaces for online and face-to-face learning and then developing new methodologies for studying the quality of education that results. I think these hires will produce new labs and new designs that can dramatically impact the College of Education's footprint on campus.
How will TIER-ED strengthen the College's partnerships with units across campus, who are those units, and why is this important?
Lindgren: The College of Education has had good partnerships and good relationships with most other units on campus for a long time. The goal of TIER-ED is to try and expand and solidify those partnerships into stable projects that address critical issues in education and concrete designs. For example, we already have several faculty who are affiliates with units such as the Beckman Institute and the National Center for Supercomputing Applications, which means these scholars are occasionally invited to give a talk or are pulled in to consult on a specific project or advise a particular student.
The goal of TIER-ED is to create a structure in which faculty from these units are working together to solve problems that originate in education and providing support for prototyping, evaluating, and scaling up solutions to those problems. The list of units across campus that we've already reached out to is long—Engineering, various departments in LAS, DRES, CITL, Applied Heath Sciences, and Fine Arts and Design, just to name a few.
How will TIER-ED establish new connections within the corporate world and why is that being done?
Lindgren: Other units on campus have a long history of working with corporate partners, giving them in-depth experience with organizing these efforts. Right now, we're trying to learn from these units, and, where possible, partner with them to ramp up our own corporate outreach efforts. In many ways, this is an easy sell—various industries understand the importance of education and are very interested in the potential for developing more powerful tools for learning and training. They often have a great interest in working with College of Education faculty in these areas, but they don't necessarily have experience with education research and what it entails. So part of what TIER-ED is trying to do is better communicate to industries what we can offer to improve their workplace practices, their products, and society at large.
When do you see TIER-ED becoming fully operational?
Lindgren: We already have a steering committee of 11 faculty members and, as I mentioned, a search in progress for up to three new faculty whom we hope will join us this fall. We are also currently conducting meetings across campus to discuss partnerships with other units and build our capacity for corporate relations and student recruitment. So TIER-ED is definitely in launch mode, and we expect that many of the impacts of this initiative on areas such as research and enrollment will emerge next academic year.