Two Education freshmen named Chancellor's Scholars
by Steve Witmer and the College of Education at Illinois / Sep 12, 2017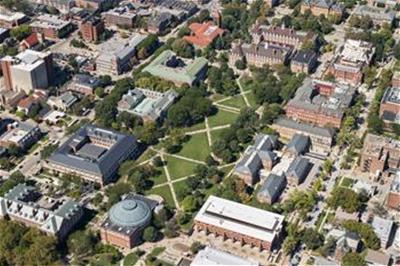 Two College of Education underclassmen have been designated Chancellor's Scholars in the Campus Honors Program this fall, chosen for their academic excellence and leadership potential.
Freshmen Grace Oberg and Michael Rotter, both of whom are studying in the Department of Special Education, were among 140 freshmen and sophomores who received the honor.
The Campus Honors Program is a four-year general-studies program open to undergraduates in any curriculum. It admits up to 125 freshmen each year, selected from more than 7,000 on the Urbana campus. Up to 20 additional students join the program at the beginning of their sophomore year.
Chancellor's Scholars participate in small-enrollment honors classes and seminars. Close student-faculty interaction also is fostered by a mentor system, a lecture series on topics of general interest, dress-rehearsal visits to Krannert Center for the Performing Arts, and international programming. Other benefits include summer research and travel grants.
Education seniors Hannah Bohn, Morgan Havel, Grace Liu, and Lindsay Perkins are also Chancellor's Scholars.
View the full list of Fall 2107 Chancellor's Scholars.