Scholars aim to increase access for diverse set of learners in NSF-funded project
by the College of Education at Illinois / Aug 9, 2017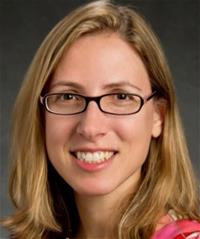 Special Education scholar Maya Israel will be the principal investigator of a National Science Foundation-funded project that focuses on progressions in how students should learn computational thinking within the context of elementary mathematics.
Israel and co-principal investigators Diana Franklin, Andrew Isaacs, James Pellegrino, and Leonard Pitt will begin the two-year "Learning Trajectories for Everyday Computing" project in January.
Israel said computer science and computational thinking are new areas of study in elementary schools. The team's hope is to increase access and engagement to a diverse set of learners by focusing on integration in mathematics in grades three through five through instructional lesson plans and activities designed through a Universal Design for Learning framework.
"It might seem odd to teach young learners how to 'code,'" Israel said, "but there is a growing body of literature that suggests such activities, if designed in an age-appropriate manner, can improve problem-solving, collaboration, and persistence."
Until recently, Israel said such activities were reserved for enrichment programs for students who were academically advanced or were provided, through informal learning, opportunities that were not available to students without financial means. Her project focuses on computer science and computational thinking for all learners.
By studying the implementation of these materials in academically diverse elementary school classrooms, the project will refine learning trajectories; aim to better understand how synergies between elementary mathematics and computational thinking might be leveraged to create effective and efficient integrated instruction; and generate evidence related to the effect of computational thinking-infused mathematics instruction on students' understanding of fractions.
Israel's team is made up of campus scholars and scholars in Chicago. They will be collaborating with teachers and administrators in the Champaign Unit 4 School District and will work with George Reese, the director of the Office for Mathematics, Science, and Technology Education. Israel said the complexity of developing and testing learning trajectories in the new discipline of computational thinking requires expertise in teaching and learning for diverse learners as well as educational research, computer science education, mathematics education, and assessment.
"This project is truly interdisciplinary," Israel said. "I count myself privileged to work with such an esteemed group of people."
All of the materials developed within the project will be available to view on the Creative Technology Research Lab.