Special Ed doc student 'storms the Hill,' engages lawmakers on advocacy issues
by Sal Nudo / Aug 7, 2017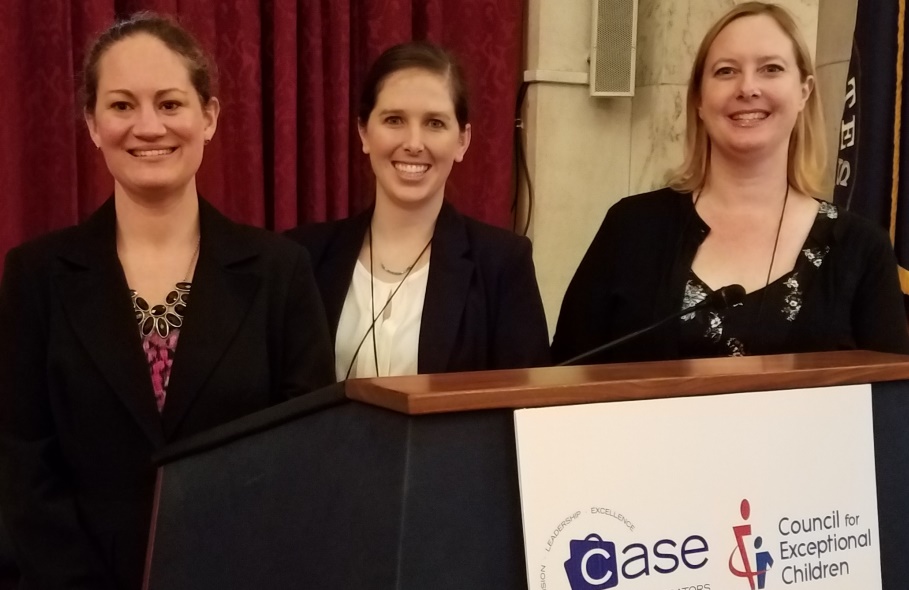 Doctoral students Jami Swindell, Magen Rooney, and Shari Hopkins at the 2017 Special Education Legislative Summit
Special Education student Shari Hopkins was selected as one of four doctoral student representatives of the Teacher Education Division (TED) to attend the Council for Exceptional Children (CEC) 2017 Special Education Legislative Summit in Alexandria, Va.
The aim of Hopkins and her fellow doctoral peers who attended this summer's summit was to try to convince members of Congress (mostly through their assistants) to fully fund the Individuals with Disabilities Education Act; support public funds in public education and services offered through public school districts; and oppose bills that reduce Medicaid coverage for children in schools and intervention programs.
"Everyone was willing to listen," Hopkins said of the legislative assistants her group spoke to. "Some just listened and took notes. Some more responsively, where you felt like you were having a discussion."
To cut Medicaid means the state would become solely responsible for the cost of these necessary services.

- Jim Shriner
The conversations took place at a critical period due to proposed cuts in federal Medicaid funding by the Trump administration, which would lead to reductions in services to schools and students with special needs. Jim Shriner, an associate professor in Special Education, said Medicaid supports all students, not just those with special needs. Yet services for special education are a large part of the budget for most districts, he said.
"To cut Medicaid means the state would become solely responsible for the cost of these necessary services," said Shriner. "So cuts to services would lead to a redirection of money from one program to another or a greater reliance on families getting private insurance might be needed."
The approximately 30 doctoral students in attendance were part of a larger group of more than 250 advocates who were divided into teams according to what state they were from. Hopkins said the first few days were spent in a "boot camp" type of atmosphere in which participants heard from CEC leaders, administrators, lobbyists, and governmental committee members about relevant issues. They also learned about the media aspect of advocacy, including the importance of social media to relate crucial points.
Team members then processed the info and discussed their personal stories with one another, making sure to get their facts straight before talking to legislators on Capitol Hill.
"It's really important when you're 'storming the Hill' that you have facts and you have actual numbers," Hopkins said. "You're talking to senators, but you're also talking to your representatives, and they want to know how these things impact their constituents."
Along with advocating on Capitol Hill, Hopkins interviewed fellow attendees and doctoral students about what they learned from the summit and how they might use that information in future endeavors. Additionally, she took videos of and recorded interviews with fellow participants, which will be shared at a TED conference in November.
Hopkins said advocacy is crucial for special education students and their families. Going forward, she and Special Education doctoral student Magen Rooney, who also attended the summit, plan to visit with an area representative on their own to further the summit discussions. Hopkins has always had a passion for making her thoughts known on certain issues, but that on its own won't necessarily move the conversation along, she said.
"Passion alone isn't going to help a person see a different perspective," she said. "You have to have more substance to your passion. That passion's great, you need it. The stories are wonderful, but you also need to have the knowledge of the issue and the research and numbers."
Learning about legislation, policies, and advocacy related to special education is a critical part of our doctoral training here at Illinois.

- Amy Santos
Amy Santos, interim head and a professor of Special Education at the College, reiterated that understanding how policies impact research and teaching at the local, state, and national level is imperative in the special education field.
"Learning about legislation, policies, and advocacy related to special education is a critical part of our doctoral training here at Illinois," Santos said. "Being selected as part of the small group of doctoral students invited to learn firsthand about special education policies and legislation is truly an honor. We are happy for these students and take pride in having them represent us at this important event."
Hopkins is a former paralegal and teacher who took a "circuitous route" in pursuing her doctorate, which is centered on teacher education and improving outcomes for secondary education students with severe disabilities. She is conducting qualitative research in the College on the participation of students with severe disabilities within their communities. The July summit inspired her to think about the study—and possibly future studies—in a larger context within the realms of policy and legislation, including how school districts may prohibit or promote student participation.
Hopkins will use the knowledge she gained during the summit to teach one class session of the Legal Aspects of Disabilities course with Shriner in the fall, focusing on the talking points of the event and the major current-day topics affecting the special education field. She hopes to continue her work in teacher preparation and research as a future scholar.
"I want to impact the field by learning more about how to better prepare preservice teachers for what they're going to be facing when they go out into the classroom," Hopkins said.