Dean Anderson inspires education leader Jeanne Morris to lifetime of influential teaching
by Sal Nudo / Jul 26, 2017
Alumna Jeanne Morris holds the paper "Investigation of Education for African-Americans in the South," which she wrote as a doctoral student in Dr. Jim Anderson's class.
The commonalities between alumna Jeanne Morris, Ed.M. '66, Ed.D. '79, and Dean James D. Anderson, Ed.M. '69, Ph.D. '73, a fellow College of Education graduate, are hard to miss.
Both are African-Americans and each pursued higher-education degrees at around the same time. Both are from the South and of the generation in which teaching was considered a time-honored profession. And the passion within both individuals to explore the history of black education in the South spurred each to do intensive research and eventually have long and distinguished careers in higher education.
During her doctoral studies in the late 1970s, Morris was an older-than-normal student in Anderson's class, which was to the other students' benefit, according to Anderson. She had had two kids, had been teaching in the real world in Bloomington-Normal, and possessed an inquisitiveness and concern for the subject matter that Anderson found inspirational.
Her commitment was beyond just doing the regular work for the regular paper. She would follow up ... and continue the research.

- Dr. James D. Anderson
"What I really remember about her is that, for her, it was more than just the assignments," Anderson said. "She was seeking answers to questions and things she wanted to understand. Her commitment was beyond just doing the regular work for the regular paper. And she would follow up, even after class, and continue the research. I found out that she really continued her research long after the class."
Morris began her academic career at Spelman College and taught for four years in Florida, teaching children of migrants reading, writing, and music, an area that was prevalent in her musically inclined family.
In 1957 she married a similarly promising scholar named Charles, who earned a master's degree and a doctorate at Illinois in the College of Liberal Arts & Sciences and would go on to become a professor emeritus at Illinois State University. Charles's area of expertise was mathematics, and he eventually got into administration at ISU. ("I was faculty, so we didn't talk," Morris joked.)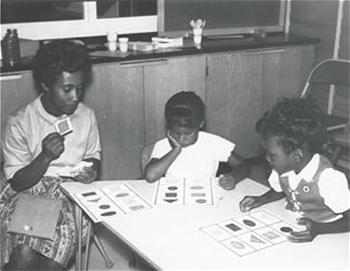 Morris taught at a nursery school in Normal and earned her master's degree from the College in 1966. When she pursued her doctorate more than a decade later, she traveled back and forth from Bloomington-Normal to Champaign-Urbana, eventually earning her degree and becoming a 26-year faculty member at ISU in the departments of Elementary Education and Curriculum and Instruction, with a focus on multicultural education. When Morris recalls her time in Anderson's class, she remembers a professor who was encouraging but demanding.
"You were accountable, but you were supported," she said. "I hadn't done that depth of research, and so he guided all students through that process. He was very supportive and very interested in what I was doing. So it was a good experience. It was not easy, but it was doable with his help."
Anderson stood out to Morris because he was African-American—one of the few in the College in the late 1970s. She was impressed with his directives to students to always rethink and further investigate matters to discover varied viewpoints.
"Just seeing the Jim Andersons on campus became such an inspiration to do well and replicate what they were doing for other people," Morris said.
Just seeing the Jim Andersons on campus became such an inspiration to do well and replicate what they were doing for other people.

- Dr. Jeanne Morris
Morris's paper in Anderson's class was titled "Investigation of Education for African-Americans in the South." She was interested in tracking the progress of "separate and unequal" schools in the region, starting from the period when her mother, Miriam Shivery Moore Brown, attended school and into her own childhood.
As she delved further into the topic, Morris discovered that furthering one's education can be habit-forming: "The more you know, the more you want freedom," Morris said of slaves who hungered to read.
Throughout her life, the 86-year-old Morris has been highly influenced by her mother and speaks with reverence of her today. Brown died at the age of 102, and as she approached 97, her daughter completed a lovingly crafted manuscript titled "In and Out of the Shadows: The Life and Contributions of Miriam Shivery Moore Brown." The 38-page piece begins with Brown's early years in Charleston, S.C., and covers her first teaching job at Laing Normal and Industrial School and her 52-year career in education.
Morris described writing the manuscript as an "adventure," explaining on Page 2: "I write in tribute to all the Negro rural school teachers of America who were unrelenting agents for the affirmation of dignity and self-worth. It is my hope that this story will inspire and strengthen critical claims for full entry to the educational process. With those who prize the unshackling of all humanity, I share optimism that shortly and swiftly, all shadows which entrap will vanish."
During the late 1970s and through much of the 1980s, Anderson was doing his own heavy research on the education of blacks in the South, which eventually became the title of his seminal book from 1988 that analyzes the topic from the Reconstruction to the Great Depression. Georgia Historical Quarterly said in a review that Anderson's The Education of Blacks in the South is an "unmatched survey of the primary sources of black education, its provocative judgments, and its ability to recapture the voices of southern blacks striving for educational equity despite great obstacles."
Given the shared heritage and scholarly pursuits of Morris, Brown, and Anderson, an irony of Anderson's book is that he neglected to cover Avery Normal Institute, one of the great normal schools for blacks and the institution where Brown graduated from in 1922. Though he dedicated entire chapters to normal schools in his book, Anderson overlooked the well-known institution and was once lightly chastised for it by graduates of Avery at a conference in Charleston. Today, he can look back and laugh at the omission.
"I covered normal schools, and I mention a lot of normal schools by name, but I never mentioned Avery by name," Anderson said. "But Avery is one of the great normal schools. I'll say it this time: It was one of the outstanding normal schools."
Anderson and Morris grew up as blacks in the South—Anderson in Alabama and Morris in South Carolina—but their backgrounds were different. For Morris, attending college was an expected next step within her family, which valued education greatly. The University of South Carolina wasn't an option for Morris but the historically black college Spelman was, and it was mentioned often during her childhood.
Anderson, on the other hand, was a first-generation college student who came from a family in which no one went to college and it was unheard of to do so unless one was the son or daughter of a teacher or minister. His huge break in life came when a teacher he had during senior year of high school, Herman D. Hughes, recommended to a dean at Stillman College that Anderson be given a scholarship. Anderson had no intention of going to college and doesn't recall applying to Stillman. Nonetheless, he was accepted to the institution based on Hughes's recommendation and felt a part of the environment right away.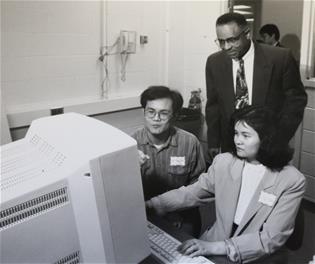 "I remember the first day when I walked into the college, it was like, 'Okay, this is what I was meant to do all along,'" Anderson said. "I was headed in another direction as a consequence of tradition and family and income. I was going in that direction. This had changed because of Dr. Hughes, who went on to have a distinguished career in academia himself. I felt so much at home when I walked onto the college campus."
Through their shared experiences, Morris, Anderson, and Brown understand what it's like to teach and assist students who come from difficult backgrounds. Such students may not have high expectations because they don't want to fool themselves into thinking they'll be going somewhere better in life that they won't, according to Anderson, but he, Morris, and Brown understood how to motivate such students, ultimately making it their life calling.
Anderson hasn't forgotten how Mr. Hughes could have looked at him and his family and then looked away. His teacher, however, saw something special and pursued what was in his student's best interest. Similarly, many of the teachers Anderson had while growing up in the South pushed him to excel.
"They really did invest in me, right from the start to the finish," Anderson said. "They were constantly pushing you to be better, to be greater, to do things and not worry about what was around the corner. Let's just be great now. You can't control what's around the corner, but you can control what happens in the classroom today."