Faculty give back by establishing new funds for scholarships, research, and professorship
by the College of Education at Illinois / May 5, 2017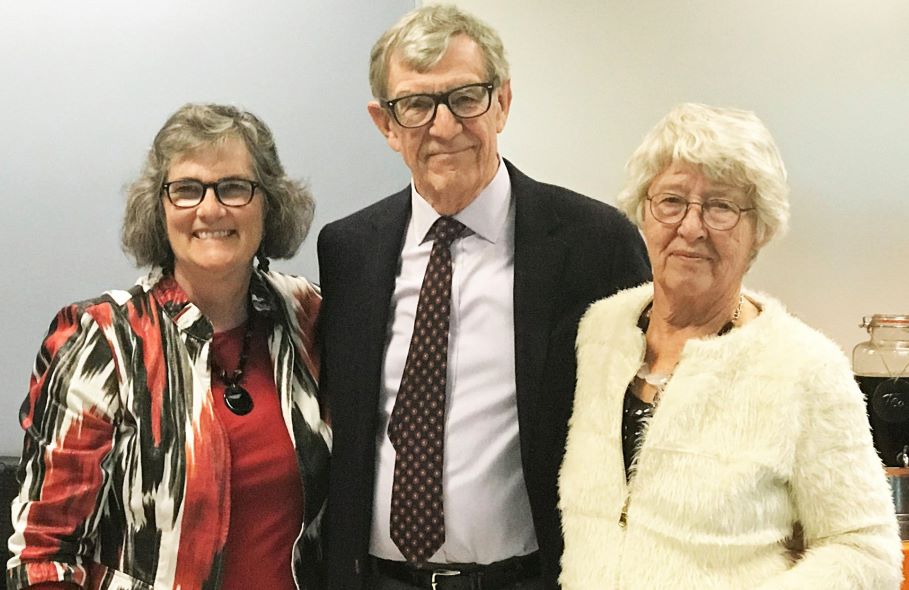 Sarah J. McCarthey, Richard C. Anderson, and Jana Mason
Three new College of Education funds will offer scholarship support to students and provide money that will go toward a doctoral research student and a professorship.
Professor Emeritus Richard Anderson and his wife, Jana Mason, established two new gifts: the Professor Richard C. Anderson Professorship in the Cognitive Science of Teaching and Learning; and the Professor Richard C. Anderson Doctoral Research Assistant in Educational Psychology Fund.
Anderson's professorship fund will go toward a doctoral research student in the Department of Educational Psychology, where the scholar has spent five decades of his professional career. The scholar also pledged support for doctoral research in the department.
As a faculty member, educational researcher, and scholar, Dr. Anderson has dedicated more than 50 years to conducting influential research on children's reading and vocabulary growth. He founded the Center for the Study of Reading in 1976, in collaboration with the U.S. Department of Education, to address the high number of U.S. schoolchildren who were struggling with reading. Eventually, the center expanded its research and development into Beijing Normal University.
Anderson and Mason are generous donors to Illinois. In addition to these two new funds, they established the Jana M. Mason and Richard C. Anderson Twenty-First Century Piano Endowment Fund in the School of Music. Mason retired as a professor in 1995 from the Department of Educational Psychology.
The Professor Sarah McCarthey Scholarship Fund is a gift from Sarah J. McCarthey, the newly named interim head of Curriculum & Instruction, who, as the director of Teacher Education in the College for three years, witnessed the major financial barriers that many students entering degree programs encountered.
"I believe that an ongoing scholarship fund could help recruit and support outstanding students to the College," said McCarthey. "I hope the scholarship fund will continue our collegewide efforts to produce excellent teachers, educators, teacher educators, and scholars who can make an impact in Illinois and in the U.S."
Dr. McCarthey, whose research focuses on teachers' writing instruction within current policy contexts, was instrumental in helping transform the College's Elementary Teacher Education program a few years ago. She has been a scholar in the College since 1999 and received her doctorate in teacher education in 1991 from Michigan State University.
McCarthey is also the recipient of numerous awards, including a Distinguished Senior Scholar honor in 2012-2013 from the Bureau of Educational Research.


Your gifts support the important work of College of Education faculty and open the door to an Illinois education to talented students who want to make a difference. Consider supporting an Education at Illinois fund.