Education at Illinois scholars produce most widely read research of 2016
by the College of Education at Illinois / Mar 21, 2017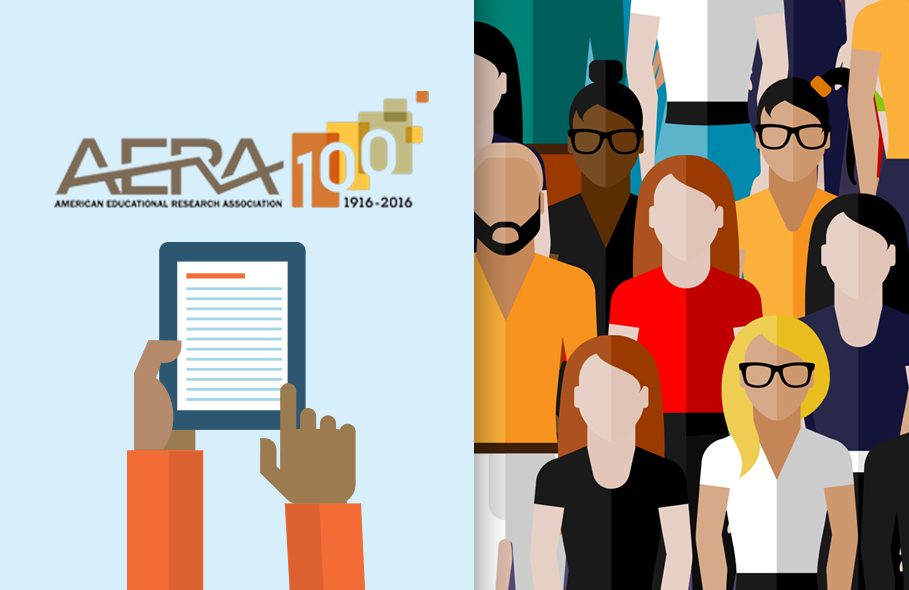 As a research-focused, land-grant institution, Education at Illinois faculty are committed to interrogating complex problems and sharing their research to help create better outcomes for learners from all backgrounds—and 2016 proved to be a very influential year for scholarship within the College.
Numerous College of Education scholars have been recognized by the American Educational Research Association (AERA) for their highly read research articles. Professors Sarah Lubienski, Bill Cope, and Mary Kalantzis all contributed to articles that made AERA's "Most Read Education Research Articles of 2016" top-20 list.
Lubienski's article, co-written with four other scholars, including Curriculum & Instruction doctoral student Martha B. Makowski, was ranked No. 3 on the list. Its focus on gender gaps in math was a topic that was being dismissed the past few decades, according to Lubienski, but is starting to gain more attention, perhaps because early differences in math performance can lead to disparities in math confidence and career trajectories. Less than 20 percent of graduates in high-status, math-intensive fields, Lubienski said, are women.
"The study also suggests that teachers tend to rate boys' math proficiency higher than that of girls who have similar achievement and behavior," Lubienski said. "The results indicate that, although some gender differences narrowed in the 1970s and 80s math-related gender gaps are not simply closing on their own. This, combined with other studies, show there are persistent gender gaps in math achievement, self-confidence, occupations, and societal and teacher stereotypes.
Cope and Kalantzis's article, "Big Data Comes to School," which made No. 7 on the list, explores the effects of big data in education, specifically the data generated by student writing. The authors discuss new sources of evidence of learning and argue that they have significant consequences for the traditional relationships between assessment and instruction.
AERA's selected top articles were included in the 20 most popular journal pieces published by the organization in 2016 and ranked by the number of times they were accessed online. The range of topics covered in this year's list are vast and include areas such as school climate, race, and learning tools.
In addition, several Education at Illinois scholars and alumni produced 2016 articles that were ranked as AERA's top-10 most-read pieces, accessed within three of the organization's peer-reviewed journals.
The gender-gap piece co-written by Lubienski and Makowski was the third most-read article in the journal AERA Open. In addition, "Big Data Comes to School" by Cope and Kalantzis was the sixth most-accessed piece in the journal.
Several scholars in the departments of Educational Psychology and Curriculum & Instruction produced the No. 7 most-read article in the American Educational Research Journal with the piece "Improving Children's Competence as Decision Makers." The contributing writers were Professor Emeritus Richard C. Anderson; Kay Grabow '70 C&I, Ed.M. '72; May Jadallah, Ph.D. '09 Ed.Psych.; Judy Yu-Li Hsu, (current Ed Psych doctoral student); Tzu-Jung Lin, Ph.D. '12 Ed.Psych; Brian Miller, M.S. '07 Ed. Psych., Ph.D. '11 Ed. Psych.; Joshua Morris (current Ed Psych doctoral student); Kim Thi Nguyen-Jahiel, Ed.M. '95 Ed.Psych; Beata M. Latawiec, Ph.D. '12 C&I; Shufeng Ma, M.A. '13 Ed.Psych (current Ed Psych doctoral student); Theresa Scott; Jingjing Sun, M.S. '11 Ed.Psych., Ph.D. '15 Ed.Psych; Jie Zhang, Ph.D. '09 Ed.Psych.; and Xin Zhang, M.S. '13 Ed.Psych.
Education graduates David Rutkowsi, Ed.M. '04 EPS, Ph.D. '07 EPS, and Leslie Rutkowski, Ph.D. '07 Ed.Psych, had the No. 7 most-read article in the journal Educational Researcher with the piece "A Call for a More Measured Approach to Reporting and Interpreting PISA Results."
View the full list of AERA's "Most Read Education Research Articles of 2016" and the most accessed articles in AERA's peer-reviewed journals.