College's online HRD program helps alumna land competitive Disney internship
by Sal Nudo / Feb 6, 2017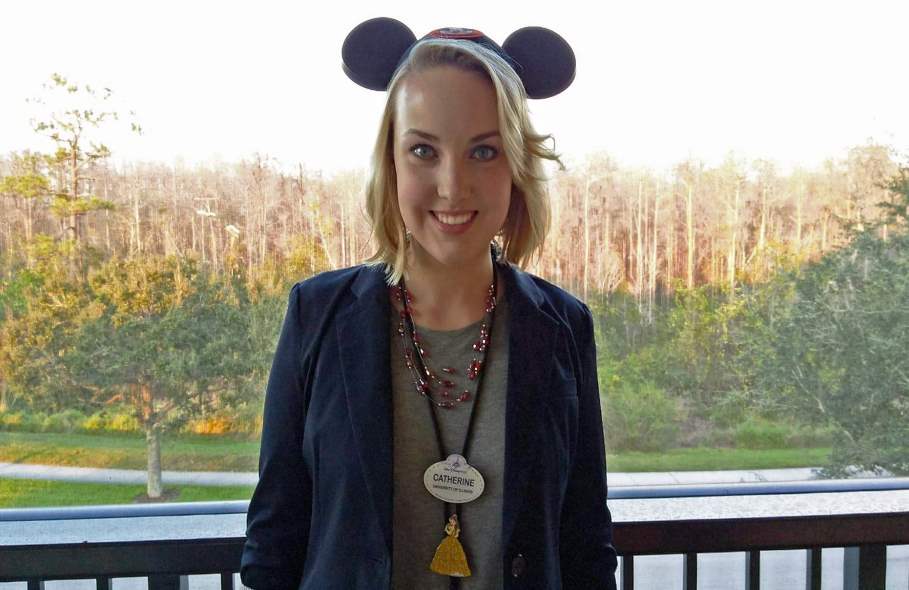 Twenty-three-year-old Catherine Hixson, Ed.M. '16 EPOL, estimates she has visited Walt Disney World in Orlando with her family once a year from the time she was 5 through her senior year of high school.
In January, Hixson returned to her Disney roots in more of an official capacity, after taking an extended break from the annual Orlando visits to pursue two college degrees. One of them was earned from the College's Master of Education – Human Resource Development online program, which Hixson said prepared her well for getting the competitive instructional design internship she now has in the Disney Company's global human resources operations sector.
During the extensive interview process for the internship, Hixson shared with Disney professionals many of the instructional strategies she discovered in the College's HRD program. This encompassed her education of general HRD concepts, her many finished projects and conducted research, and her learning of the ADDIE model, an instructional design strategy that Hixson said covers the entire process of implementing a training module.
"It felt like a final exam," Hixson jokingly said of the interviews with Disney employees.
At one point during her 18 months in the HRD online program, Hixson worked on an instructional design project for a company that had training needs, using the analysis, design, and development instruction she attained and applying it to a real-world scenario.
"I was able to take something from class and actually give it to an organization that was going to be able to use it, so that was great," she said.
Hixson said anyone who enjoys research would benefit from and love the HRD online program. Students in the program share the wealth of research they conduct, collaborate on ideas, and refine learned concepts.
One of Hixson's favorite classes within the HRD program was Learning and Human Development with EdTech, taught by Professor Bill Cope. Though many of the courses were taught synchronously in a group setting, Cope's course was mostly asynchronous and involved a great deal of research and writing projects.
"What I really liked about his class was that it was learning through making mistakes," Hixson said. "I actually learned so much that way, by not being told something in bullet-point format and instead being assigned a topic to do research on and then talking about it in class and getting feedback."
She also learned a lot in the Training System Design course, taught by Assistant Professor Eunjung Grace Oh, who, according to Hixson, "made learning instructional design seem easy, even though the implementation of these strategies can often be very time consuming and detailed." While taking Oh's course, Hixson created a learning module that taught online learners at Illinois how to use the Blackboard Collaborate system.
Along with the vast knowledge she absorbed, Hixson also appreciated the flexibility to learn on the go while taking online courses, as she accompanied her parents during their move from Texas to Alabama before starting the Florida internship.
Hixson's six-month paid internship involves creating training modules and programs for the associates who work within Disney's global human resources operations, people who answer phones and receive questions regarding pay, leave, and general HR operations.
"I'm basically helping the employees to help the employees," Hixson said.
Hixson's Disney internship could extend another six months, with the possibility of a job offer, but for now she is simply learning on the job like any new employee and enjoying spending time at one of her favorite places on Earth.
Since joining the Disney team and making new friends in Florida, Hixson has visited the parks extensively—for free—on weekends, watched the Magic Kingdom "Wishes" fireworks display held at night, and taken a tour of the vast underground tunnels of the park, which allow cast members to move around the premises more efficiently.
Hixson said she is looking forward to her parents visiting soon and celebrating her father's upcoming birthday at the Disney parks.
"It's fun to be back," she said.