Dean's Diversity Lecture Series fosters meaningful dialogues at Illinois
by the College of Education at Illinois / Jan 11, 2017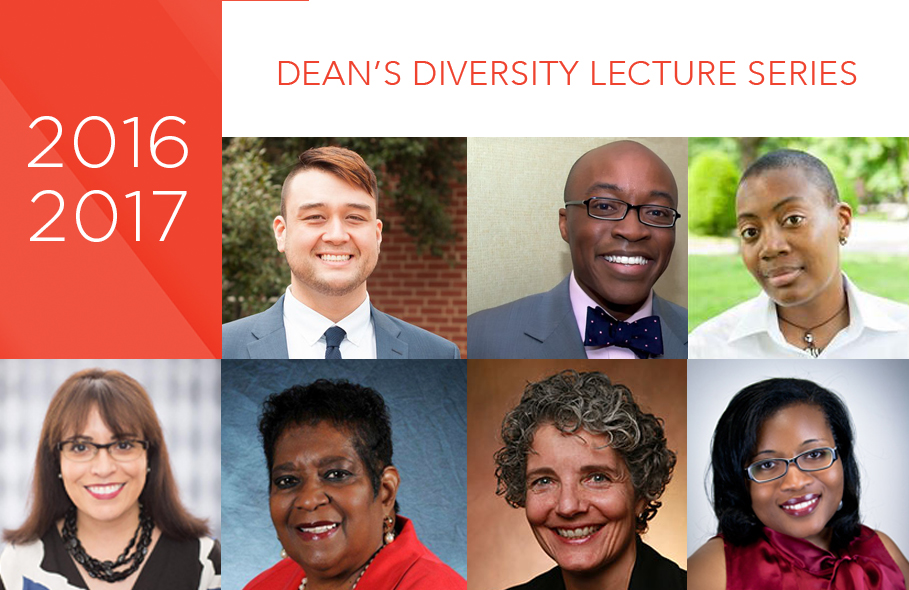 In keeping with the College of Education's tradition of engaging faculty and students with leading senior scholars in different fields of educational scholarship, the Dean's Distinguished Lecture Series offers a rich opportunity for students, faculty, and staff to hear from internationally renowned intellectuals who address a variety of disciplinary topics in education.
This year's series, which began in the fall of 2016, focuses on diversity and is providing a space in the University of Illinois community for productive dialogue about concerns such as perceived inequities, biases, and microaggressions that impact workplace wellness and climate.
Yoon Pak, the acting head of the Department of Education Policy, Organization & Leadership (EPOL), said the fall talks and the upcoming lecture-series conversations "have long been overdue" and will help enact structural changes in higher education.
"I see the lecture series as supplementing and being complementary to the important work in which many of our faculty and graduate students are involved," Pak said. "It's always important to see how new research sheds light on an age-old problem that will not go away anytime soon. The lecturers bring a fresh perspective in this regard."
Speakers Dafina-Lazarus Stewart of Bowling Green State University and Dian Squire of Iowa State University gave stirring talks in December. Along with her public lecture, Stewart also led fireside chats specifically for faculty and staff and for students. The more intimate talks gave participants an opportunity to discuss ways in which the College can take action toward advancing equity and inclusion, especially as they pertain to the campus's climate and workplace wellness.
Anjalé Welton, an associate professor in EPOL, said that while theory is important, sometimes it's not connected to actual practice. People may get excited about what a speaker says, but then the lecture fails to leave listeners with concrete actions that translate to everyday habits. Welton said Stewart's talk, however, provided excellent examples of connecting scholarship to practice.
"Dr. Stewart did a nice job of outlining what institutional norms, practices, and systems need to change in order to achieve equity and justice beyond just diversity and inclusion," Welton said.
Welton was also gladdened by the opportunity Squire gave attendees to turn to one another and converse.
"Audience members enjoyed engaging each other in discussion," she said. "It actually took a couple of minutes to get people to wrap up their talks and return their attention back to Dr. Squire's lecture. To me, this was very telling and means the campus community is eager to engage one another in these types of topics."
The Dean's Diversity Lecture Series emerged from the Diversity Brown Bag Series, which took place in the College's Bureau of Educational Research in 2016. One of the sponsors of the Diversity Lecture Series is the College's Office of Community College Research and Leadership (OCCRL), which has been devoted for more than 20 years to understanding and advancing the education of diverse learners, according to Director Eboni Zamani-Gallaher.
"We are committed to fostering equitable access and outcomes across educational tiers, and the Dean's Diversity Lecture Series aligns with our core values and the work of our center," Zamani-Gallaher said.
She added that the responses to the talks have thus far been outstanding, with few open seats during the events. Following the lectures, Zamani-Gallaher has received requests for more information on the presenters and queries on the forthcoming lecturers.
EPOL graduate student Devean Owens helped coordinate the travel activities of the first few speakers and assisted with promoting the events. She said the Diversity Lecture Series has confirmed and validated the research she has done and her career interests, and she has been impressed with the College's commitment to issues of diversity, equity, and access, as well as the interest surrounding such topics.
"Even before the first lecture, students were excited about the amazing lineup of speakers," Owens said. "We have been extremely pleased with the attendance of our faculty, staff, and students, and the attendance by people in other colleges across campus."
The Office of the Provost also is a sponsor of the Dean's Diversity Lecture Series.