Journal recognizes EPOL professors for well-cited paper
by College of Education at Illinois / Jan 6, 2017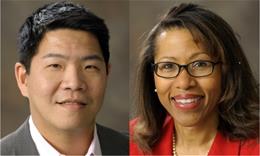 A research paper written by David Huang and Denice Hood in 2013 has been recognized by The Internet and Higher Education journal as one of the publication's five most highly cited papers from 2014 through June of 2016.
Sun Joo Yoo, Ph.D. '12 EPOL, was a co-author of the paper, which is titled "Gender divide and acceptance of collaborative Web 2.0 applications for learning in higher education."
Huang said his team's project transplanted the technology acceptance framework that is commonly seen in workplace and information technology research to the higher education context, in an effort to understand the role of social media in supporting or inhibiting student learning.
"The intellectual exploration of the project was rewarding," Huang said, "as we were able to reveal the gender divide toward social media adoption among our participants."
Huang added that the recognition from the journal highlights his team's consistent effort to conduct relevant and meaningful research for the improvement of learning and technology integration in higher education.
Huang and Hood are both associate professors in the Department of Education Policy, Organization & Leadership.