Founding Director of OCCRL Receives Award
by the College of Education at Illinois / Nov 21, 2016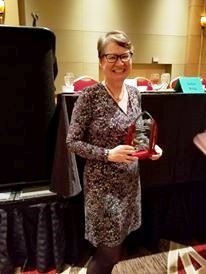 Gutgsell Professor Emerita Debra Bragg received the Howard R. Bowen Distinguished Career Award Nov. 11 at the annual Association for the Study of Higher Education conference. The award is given to those who have played major roles in advancing higher education through distinguished scholarship, leadership, and service.
Dr. Bragg recognized early in her career the important role of community colleges in serving as a primary entry point for postsecondary youth and adults who are underserved. As the founder of the Office of Community College Research and Leadership (OCCRL), Dr. Bragg's research focuses on the transition to college of youth and adults, with a special focus on populations that have historically been underserved in the postsecondary setting.
Throughout the years, Dr. Bragg has provided mentoring and guidance to dozens of graduate students who were able to use their experiences at OCCRL to begin their careers as researchers, practitioners, policymakers, and faculty members. Dr. Bragg's continuous—and continuing—contributions to higher education will have lasting effects on access and outcomes for underserved student populations for generations to come.
Learn more...