Leveraging the strengths of an interdisciplinary research culture
by the College of Education at Illinois / Oct 7, 2016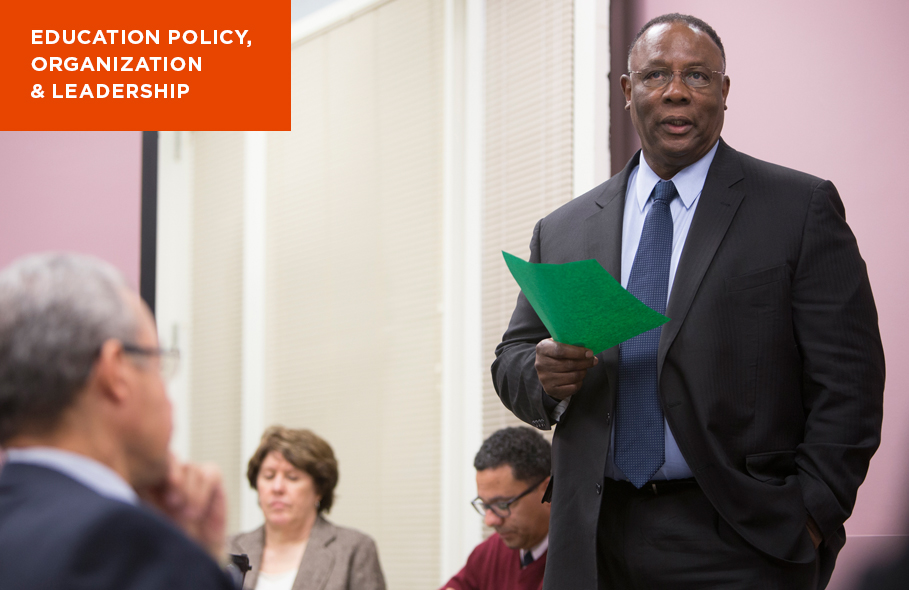 Graduate students and faculty members collaborate in all five divisions of the Department of Education Policy, Organization & Leadership (EPOL) to address the most critical issues in education, drawing upon traditional strengths in social foundations, education leadership, higher education, and human resource development. The department fosters an interdisciplinary understanding of education policy and practice across traditional divides among philosophers, historians, social scientists, organizational theorists, policy analysts, and education administrators.
"We do so many different things to leverage our diverse expertise," said Yoon Pak, an associate professor and acting department head who has been with EPOL since 1999. "We work directly in the schools to think about better, more effective delivery of teaching, leadership, and policy. We research workforce training and what education means from the standpoint of communities, families, and nonprofit organizations. We're delving into forms of identity development at the micro level. It's also about the larger critical understanding of inequality and inequity at the global and localized levels. At the heart of it all is our approach to the study of the range of human diversity."
Powered by diverse interests and experiences
Diversity is one of EPOL's strengths, perhaps even its brand, according to Pak. Its diversity has evolved in part from the melding of departments a few years ago.
"We are diverse," she said. "It's who we are, and we've never faltered from that. The department has made a concerted effort to recruit, retain, and ensure that all students succeed, especially students from underrepresented backgrounds and first-generation college attendees."
Pak said EPOL faculty care deeply about making the graduate student experience on campus a life-changing one: "All they have to do is look at our alumni base to see how well we've been doing things."
EPOL's track record is indeed impressive. During the past 30 years the department has recruited and graduated top African-American and Latino students who have gone on to great success as provosts, deans, endowed chairs, and world-renowned professors.
"They're also parts of non-governmental organizations and nonprofit organizations. Some start their own schools," Pak said. "They're at the state and federal levels working in policy, and they are also good teachers in schools, good principals, and good superintendents."
The world-renowned faculty members conduct important research and shape policy—all the while making themselves fully available to students.
Recent highlights within EPOL include the Educational Administration & Leadership division partnering with the Chicago Leadership Collaborative, which Pak said was "a gateway into principal certification for Chicago Public Schools." Don Hackmann and Anjale Welton were instrumental in spearheading the initiative.
Faculty members also work directly within Urbana-Champaign and surrounding communities to impact the young and old. Rebecca Ginsburg, for instance, directs the Education Justice Project, which offers college credit for incarcerated males at the Danville Correctional Center. In 2016, Ginsburg was recognized for her innovative outreach with an Excellence in Public Engagement Award from campus.
Additionally, EPOL faculty members provide expertise as editors of top-tier journals in areas such as the history of education, philosophy of education, and human resource development. This work is greatly enhanced by the assistance of talented graduate students in journal operations. These educators also serve as directors of centers and institutes focused on assessing and advocating for educational improvement in grades P-16 and beyond.
Working with an interdisciplinary focus, numerous EPOL professors have joint appointments or collaborate with educators from other departments and colleges, which Pak said provides a deep and balanced perspective.
"We look at it from a sociological perspective, from a historical perspective, and from various perspectives that help us gain an understanding on the issues," she said.
Pak noted that the Educational Policy & Foundations division approaches topics using educators' disciplinary training in history, philosophy, sociology, anthropology, and economics. Collaborations with other units on campus place the research in a broader and deeper context. One example is Chris Higgins's recent National Endowment for the Humanities award for the Summer Institute for College and University Teachers on "The Centrality of Translation to the Humanities: New Interdisciplinary Scholarship."
A new Ed.D. program and a family atmosphere
The bulk of online offerings in the College are in EPOL, and its newest program is big news: The department has begun an online Ed.D. program.
The spirit of the program was to bring about equalizing opportunities for non-traditional students, according to Pak.
"The thinking was, 'Let's bring the Illinois brand and faculty expertise to a larger audience, people who for various reasons don't have access to come to campus physically.'"
Pak, who has been the director of doctoral graduate programs since 2012, said the department is also developing an online Master's of Education degree, which will offer varied pathways in teaching and research.
EPOL continues to attract top graduate students and highly respected professors. It's an atmosphere in which prominent research, teaching, and scholarship take place.
"One of our graduate students said it best," Pak recalled. "He said it feels like a family atmosphere here. And it does. I can't imagine not being able to work with our grad students. They're the best."
Research and awards in EPOL

Jennifer Delaney received a grant from AERA that will investigate "promise" financial aid programs on postsecondary institutions. In 2015 Delaney received a Scholarly Paper Award, co-authored with T.D. Kearney, from the Journal of Education Finance on guaranteed tuition.
Anne Haas Dyson received the 2015 David H. Russell Award for Distinguished Research from the National Council of Teachers of English (NCTE). She is the only person in the organization's long history to twice receive the award. Dyson was also awarded the NCTE's Outstanding Educator of the Year honor for her contributions to the field of English language arts.
Eboni Zamani-Gallaher received a grant from the Illinois Community College Board to study pathways to community colleges and the experiences of underrepresented students.
Peter Kuchinke received the 2015 Academy of Human Resource Development Outstanding Scholar Award.
Bill Cope and Mary Kalantzis are pursuing interdisciplinary research (education, computer science, and veterinary medicine) in literacy multimodalities and developing online courses and programs through a National Science Foundation grant.
Don Hackmann received a grant from the Chicago Board of Education for the Principal Preparation Program for Chicago Leadership Collaborative.
Stanley Ikenberry and George Kuh received a Lumina Foundation for Education, Tracking and Mapping Institutional Use of Frameworks for Enhancing Student Learning grant through the National Institute for Learning Outcomes Assessment.