Defining excellence in research, teaching, and service
by the College of Education at Illinois / Oct 6, 2016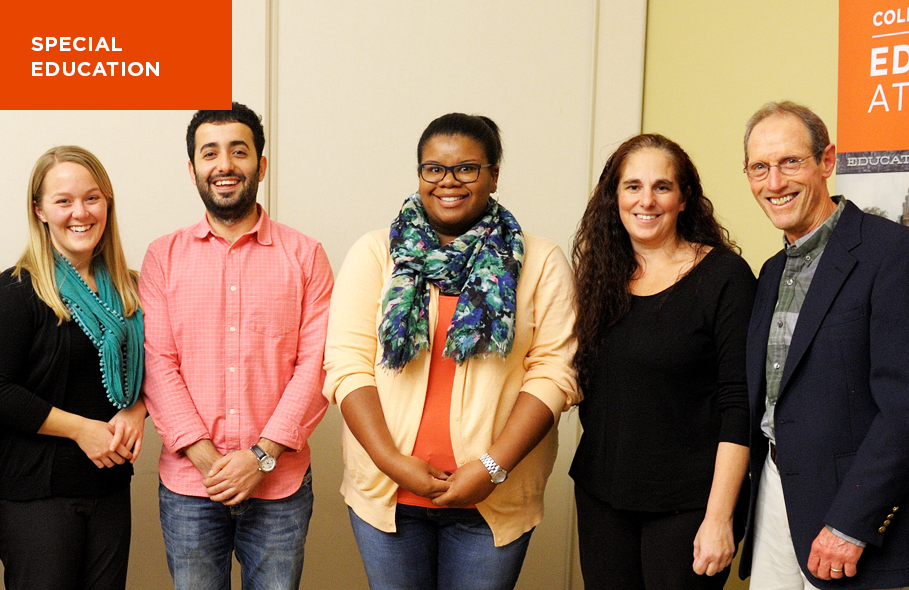 The Department of Special Education has long been a leader in research that promotes effective and inclusive outcomes for individuals with disabilities across the lifespan. Faculty and students regularly pursue research, teaching, and service activities that improve the quality of life for individuals with disabilities and their families.
Rosa Milagros Santos, interim head of Special Education, acknowledged her department is small by research-focused universities standards, but she said that size does not equal impact in this case.
"I'd say we're small but mighty," said Santos. "We continue to be ranked highly by U.S. News & World Report, in part because of our ability to access external research funds. We conduct innovative research, and we historically have been cutting-edge leaders in the field."
Santos said when people discuss the history of special education in the U.S., the University of Illinois is mentioned prominently because of the many faculty members and researchers who have done their pioneering work in Urbana-Champaign. Sam Kirk, for instance, is considered the father of special education, while Bob Henderson, Merle Karnes, Jim Halle, and Jeanette McCollum were all special education pioneers during their Illinois tenures.
Santos said Special Education's esteemed legacy helps the department recruit globally and selectively choose doctoral students, who, as future leaders in the field, are vital to the work being conducted within the College.
"Our strong foundation and solid history excites people to come here," Santos said. "We are often approached by people who ask, 'Are you going to have an opening?' The work we've done and are doing is very attractive to faculty and doctoral candidates."
The groundwork for the future of Special Education is happening now thanks to the work of both younger and more seasoned faculty members who have received numerous grants through the U.S. Department of Education, the Department of Health and Human Services, the Department of Defense, the National Science Foundation, and the National Institutes of Health.
"As money gets tighter, it speaks well of our faculty that they can put together strong grant proposals that matter and that will have a strong impact," Santos said.
A commitment to scholarship, teaching, and service
Santos said one of the strengths of Special Education is the community-like feel of the department and the collegiality and collaboration that occurs every day. She said it's important to find a balance within the scholarship, teaching, and service that happens among colleagues and students.
"Research universities lean heavily on scholarship, and as a consequence some students don't see the value of teaching or the value of doing service within your field," Santos said. "Our department thrives on helping our students do a good job with their research, with their teaching, and with their service. Those are all key areas for us."
Santos pointed out that many faculty members are editors of peer-reviewed journals and are leaders in national professional organizations. Many are active in the Urbana-Champaign community through service-learning projects, think tanks, and in other realms.
Their service extends to campus units at Illinois as well. The Division for Rehabilitation Services, for example, contacted Special Education because its faculty members didn't know how to deal with students with autism and Asperger's syndrome. Stacy Dymond and Hedda Meadan-Kaplansky listened to the requests and designed a project to provide the needed support.
Ultimately, the focus in the department on teaching and service benefits students greatly.
"Our colleagues nationwide say our graduates have really strong research and teaching experience when they complete their programs," Santos said. "They come out of school with the ability to teach in college and the ability to do the research they need to do."
Creating 'superstars' in the field and setting high standards
Santos said the younger faculty members in her department are picking up where pioneers such as Kirk, McCollum, and Karnes left off, hitting their strides and becoming the "superstars" that the special education field needs.
And it's not just the faculty who are making an impact; as doctoral students graduate and go out into the field, they are making a big difference in society.
"When we graduate one doctoral student, and that person starts working at another university, he or she impacts undergraduate and graduate students there, and those students then make an impact on so many children and families. It's a ripple effect," Santos said.
Likewise, Special Education undergraduates go on to become influential teachers, year after year impacting the lives of students and making Santos and her colleagues proud while keeping the College highly visible.
These ripple effects are felt worldwide, with numerous former students going on to teach internationally, many of them returning to their homelands of Korea, China, or Taiwan to share what they learned at Illinois. Others become teachers domestically.
"If there's one thing we're proud of in our department, it's our students," Santos said. "They're the ones who go out there and put into practice the things we study."
Illinois is a research-focused university, and undergraduates are learning directly from faculty who are doing the research.
"What we teach our students is current and evidence-based," Santos said. "Many of them have opportunities to be involved in research in their classes."
The research and real-world practice by faculty and students are focused on meeting the needs of students who require accommodations so they can have the same access to resources and opportunities as their peers.
"We continue to advocate strongly for individuals with disabilities and their families by setting the standards for what good practice looks like in classrooms, in community settings, and in programs for families in their homes," said Santos.
Research and awards in Special Education

Meghan Burke is investigating ways to help families become better advocates for their children in special education.
Hedda Meadan-Kaplansky is developing an app to help families support their children in communication.
Jim Shriner is partnering with school districts in Illinois and other states to train teachers to develop individualized education plans using online tools.
Amy Santos, Meghan Burke, and Hedda Meadan-Kaplansky are collaborating on a leadership grant to prepare doctoral students and post docs to understand and address the experiences that many families of individuals with disabilities face specific to individualization, mobility, poverty, adversity, culture, and trauma.
Micki Ostrosky is working in partnership with colleagues nationwide to study motor development of young children with disabilities.
Amy Santos and Micki Ostrosky are continuing to team up on multiple grants designed to provide training and professional development to early childhood personnel in Illinois and worldwide.
Stacy Dymond is coordinating multiple grants that will prepare future leaders and teachers who focus on service learning and working with older students with significant disabilities.
Mary-alayne Hughes is pursuing a recently funded grant that is helping prepare teachers to work in inclusive early childhood settings that support dual-language learners with disabilities.
Micki Ostrosky and doctoral candidate Jenna Weglarz-Ward were nominated and selected to receive the 2016 Division for Early Childhood of the Council for Exceptional Children's Mentoring Award and Doctoral Student Award.