Children discover programming, science in IDEALL space
by the College of Education at Illinois / Jul 5, 2016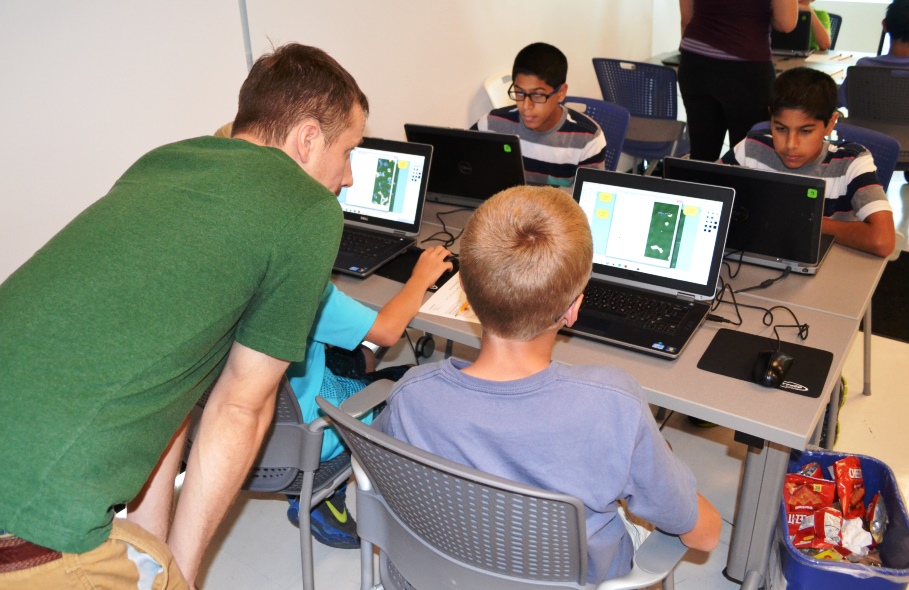 What if the atmosphere was thinner? What if the moon didn't exist? These scenarios were presented to children ages 10 and up during the June 27-July 1 "Science Simulation with Minecraft" camp in the IDEALL space of the Education building.
The inspiration for the "what-if"scenarios for Earth was inspired by the books of renowned astronomer Neil Comins, a physics professor at the University of Maine.
"Campers imagined their own 'what-if' questions, then created a wide range of imaginary versions of earth," said Chad Lane, an associate professor in the Department of Educational Psychology. "Some were frozen over, others were burned to a crisp with dead trees and rivers of lava, while others had animals that could only live in caves underground. It was remarkable to see both their imagination and understanding of science working in such harmony."
Working with a Minecraft server platform, the learners explored and simulated environments and interactions to understand more about programming and science. The camp was run by the Champaign-Urbana Community Fab Lab and Lane.
Lane said Minecraft is an engaging game that many kids enjoy playing, and the camp offered an accompanying simulation of the natural world that was fully open and welcoming of user-created modifications.
"We turned the campers loose to create worlds they hypothesized would represent earth under different conditions. To do this they had to learn how to use world editors and install modifications.
"They were really amazing," Lane said of the 10 kids who attended.
Learn more about the workshops offered.