'Talented Twelve' alumni indicative of College's high annual graduation rate of African-American Ph.D.s
by Julie Wurth / Jul 4, 2016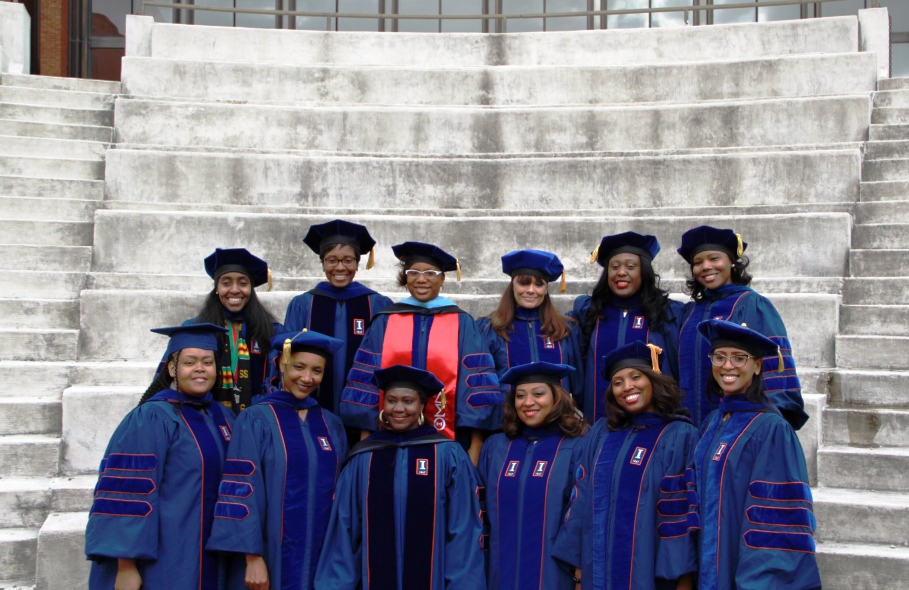 The "Talented Twelve" outside Krannert Center for the Performing Arts
The College of Education at Illinois awarded 20 Ph.D.s to African-American students this year, including 15 women. And 12 of the women received their doctorates from the Department of Education Policy, Organization & Leadership.
Christopher Span, the College's associate dean for academic programs, has taken to calling the women the "Talented Twelve." He said the numbers are nothing out of the ordinary at Education at Illinois. "Diversity is not just a concept. It really is a way of life," he said.
Span, who wrote an essay on the College's success in this area for The Journal of Blacks in Higher Education, went on to say that many diverse individuals who graduate from the College engage the world with a different perspective of how the world works and how it can work.
He also credited decades of work by African-American Education professors James Anderson and William Trent, both of whom diversified enrollment and instilled a welcoming environment for minority graduate students.
Read more on the subject in a piece from The News-Gazette.