UI team competing to win prestigious SPR Cup this spring
by the College of Education at Illinois / Mar 16, 2016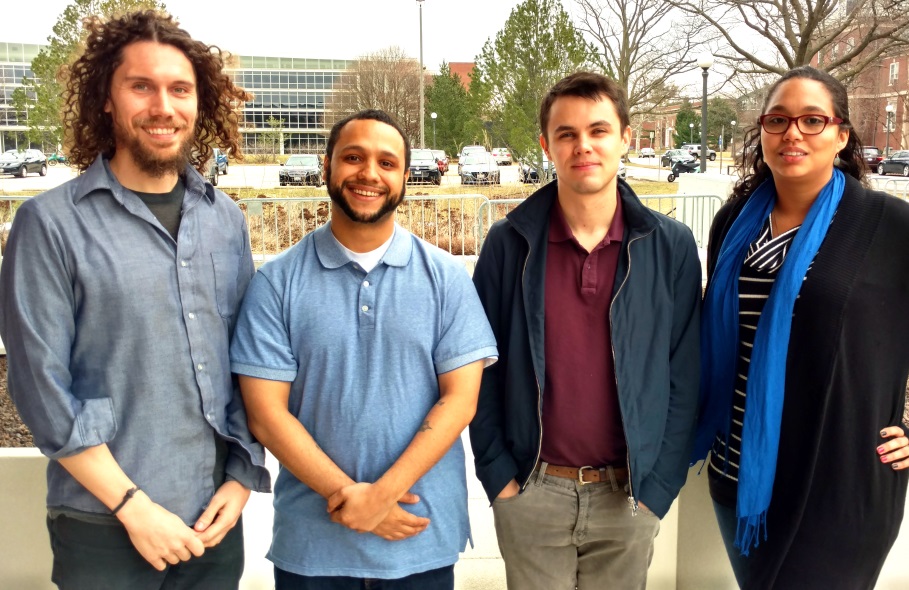 Team members left to right: Jordan Davis, Gabriel "Joey" Merrin, Tyler Hatchel, and Ashleigh Jones; Lisa De La Rue not pictured
Researchers Jordan Davis and Gabriel "Joey" Merrin are looking forward to meeting some of the elite names in the research field. Tyler Hatchel and Ashleigh Jones, both research and teaching assistants, can't wait to collaborate with more advanced researchers on a large-scale project with their colleagues. And Lisa De La Rue, Ph.D. '15 Ed. Psych., an assistant professor at the University of San Francisco, is revved up to receive the data and get going.
Overall, each of these emerging scholars from the University of Illinois at Urbana-Champaign who qualified for the 11th annual Sloboda and Bukoski Society for Prevention Research Cup are motivated as a team to win the competition. Only six squads qualified nationwide, and competition is fierce. Winners will be announced during the Society for Prevention Research Cup (SPR) annual conference May 31 through June 3 in San Francisco.
SPR was founded in 1991 and is a multidisciplinary membership of scientists, practitioners, advocates, administrators, and policymakers. According to its website, SPR advances scientific investigation "on the etiology and prevention of social, physical and mental health, and academic problems and on the translation of that information to promote health and well-being."
"What inspired us to apply for the competition was the opportunity to show other scholars the methods we've been using to analyze longitudinal data," said Merrin, the University of Illinois team captain whose research as a doctoral candidate in the Department of Educational Psychology focuses on the development of delinquency, substance use, and antisocial behavior from early to late adolescence. "We believe our methods are robust and are more developmentally appropriate for analyzing the type of data we work with."
"We believe our methods are robust and are more developmentally appropriate for analyzing the type of data we work with."
- Gabriel "Joey" Merrin
Davis is a doctoral student in the School of Social Work whose research focuses on drug and alcohol dependency among adolescents and young adults. Jones, a doctoral student in the College of Applied Health Sciences, is interested in the psychosocial effects that create stress among cancer survivors in relation to social relationships and career development. And De La Rue's research has focused on school-based interventions and examined the influence peers have on adolescent social development using longitudinal social network analysis.
The connection that brought Davis, Hatchel, Merrin, De La Rue, and Jones together is the work they have done in the lab of Gutgsell Professor Dorothy Espelage, an international expert in bullying, youth aggression, and teen dating violence. Each of the team members have collaborated with one another in varied ways before, but now they will work as a team.
Hatchel joined the Counseling Psychology Program specifically because he wanted to collaborate with Espelage on translational research designed to improve the well-being of stigmatized youth.
"What inspires me to work with Dorothy is her application framework," Hatchel said. "She does a lot of empirical work. A lot of it is centered on how we can make a difference, so it's translational in nature. This is a good opportunity for us to take that motivation and inspiration and apply it."
Davis said that he and Merrin are grateful to have collaborated with Daniel Berry, an assistant professor in Educational Psychology, who has taught them advanced and more appropriate methods for analyzing and presenting complex statistical models.
"Over the past three year, Dan has ingrained and instilled in Joey and I the idea of more developmentally appropriate ways to analyze data. This approach involves examining both between-person and within-person differences, meaning how I differ from other people versus how I differ from my own self over time. So we look at changes within individuals as well as changes between individuals," Davis said.
The U of I will face off against five-member teams from Arizona State University, Clemson, Florida International, Kent State, and UC Irvine. Squads will be working hard two months prior to the event after receiving their data sets, which will follow the SPR conference theme and title: "Using Prevention Science to Promote Health Equity and Improve Well-being."
Work among team members will include conducting a literature review, generating research questions and hypotheses, conducting analyses, and preparing for a multimedia symposium talk that summarizes results and provides implications for policy and prevention.
Teams are encouraged to polish their evaluations after the meeting with the goal of creating publishable material. The squad that scores the highest may be asked to submit its written work to the prestigious journal Prevention Science.
"The University of Illinois is positioned to win this cup," Espelage said. "There is a long tradition at Illinois to be the strongest in experimental and quantitative designs that are directly applicable to prevention science, SPR, and the ultimate goal of creating efficacious and sustainable prevention programs."