Professor Chris Lubienski again recognized as top public policy influencer
by the College of Education at Illinois / Jan 7, 2016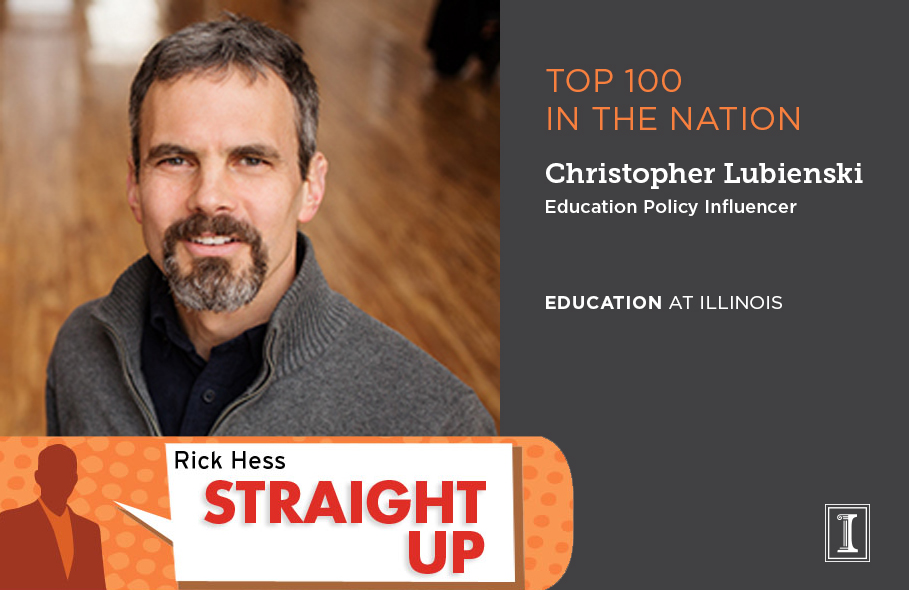 Rankings reflect scholar's impact on public discourse in 2015
For the sixth year in a row, Professor Christopher Lubienski was named as a scholar on the 2016 RHSU Edu-Scholar Public Influence Rankings list, which is published annually by Rick Hess of the American Enterprise Institute in his Education Week blog called Rick Hess Straight Up (RHSU).
The Education Policy, Organization & Leadership professor ranked No. 91—up 55 spots from last year—on the list of top 200 education scholars, all of whom have had long and distinguished careers, massive influence in public development, and prominent professional and public roles.
Scholars were ranked in eight categories and gauged by their influence in categories such as Google Scholar, Highest Amazon Ranking, Education Press Mentions, and Klout Score. On his scoring rubric page, Hess said there are more than 20,000 faculty members dealing with educational questions and issues in the U.S., making inclusion on his list a special accomplishment.
Lubienski's research focuses on education policy and politics, the political economy of education, organizational theory and innovation, education reform and equity, and other realms of public and private interests in education.
In November 2015, Lubienski presented his research before a U.S. Senate committee on the subject of vouchers. Additionally, his 2014 book, The Public School Advantage, which he co-authored with Sarah Lubienski, was recognized last year with an American Publishers Award for Professional and Scholarly Excellence.
Former Education at Illinois alumnus Yong Zhao, M.A. '94 Ed., Ph.D. '96 Ed.Psych., was ranked No. 8 on the RHSU list. Zhao was a research assistant at Illinois from 1993-1995 and is currently a faculty member in the college of education at the University of Oregon.
Erica Frankenberg, a Forum Fellow in the Forum on the Future of Public Education, also made the RHSU list at No. 186.