C&I doctoral student selected for prestigious CADRE Fellowship
by the College of Education at Illinois / Nov 20, 2015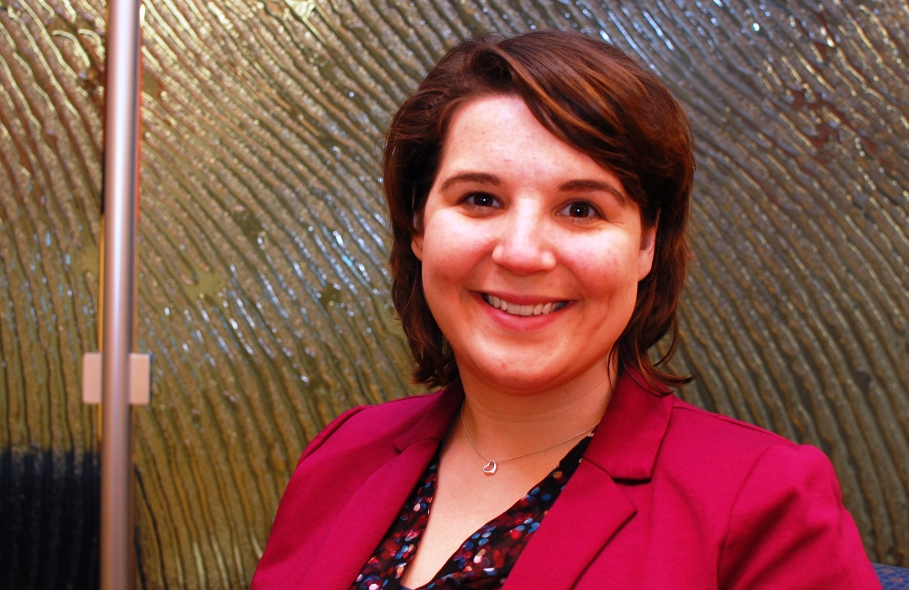 Lisa Skultety, a third-year doctoral student in the Department of Curriculum & Instruction, has been selected for one of 10 highly competitive annual CADRE Fellowships. Recipients receive a one-year fellowship to work with the Community for Advancing Discovery Research in Education (CADRE), a resource network for STEM education researchers supported by the National Science Foundation (NSF).
Skultety is working with Dr. Gloriana González on the NSF project, CAREER: Noticing and Using Students' Prior Knowledge in Problem-Based Instruction. The goal of the study is to create a professional development model combining "Lesson Study," animations, and videos of classroom instruction, with the purpose of increasing mathematics teachers' attention to students' prior knowledge in their classrooms.
This is the second time the educational researcher has been part of an NSF-funded project. The experiences, Skultety said, have allowed her to refine her research interests. González added that Skultety's experience as a former mathematics teacher and knowledge of different research methodologies will serve her well during the fellowship.
While she was a teacher running a classroom, Skultety wondered how professional training could support educators in meaningful ways.
"She understands the complexities of teaching from the inside and attempts to support teachers through professional development," Gonzalez said. "This opportunity will help her to solidify her preparation a a mathematics education researcher and to explore the resources provided by NSF to engage in transformational research."
Skultety said the talented faculty members within Curriculum & Instruction are generous in assisting students in a variety of ways.
"During my time here, I have been impressed with the faculty's willingness to encourage and develop graduate students, and their excitement and passion for bettering the future of education," Skultety said.
The CADRE Fellows program, which is now in its seventh year, provides networking, mentoring, and education opportunities for researchers and curriculum developers who are in the early stages of their STEM education careers. The new fellows include graduate students, post graduates, and research associates who work on STEM-related projects funded by NSF's Discovery Research in Education Program. Their projects include the development of a wide range of STEM education resources, materials, and technologies.
In the coming year, the new CADRE fellows will participate in a professional learning community, acquiring skills essential for building a successful career in research. They will explore potential career options, how to develop and submit proposals, and how to write for publication and dissemination. Each fellow will produce a product, such as a presentation, paper, or proposal, and their experience will culminate in attendance at the 2016 PI Meeting, and a mock proposal review conducted by NSF program officers in Arlington, Virginia.
"Through the fellowship, participants learn firsthand what it takes to be an effective researcher and also have the chance to network with other researchers and developers from across the country," said Barbara Brauner Berns, managing project director at the Education Development Center who coordinates the program for NSF. "Previous recipients have told us the experience was invaluable."
View the full list of the 2015-2016 CADRE Fellows.