Celebrating the achievements of our 2015 Education graduates
by College of Education at Illinois / May 19, 2015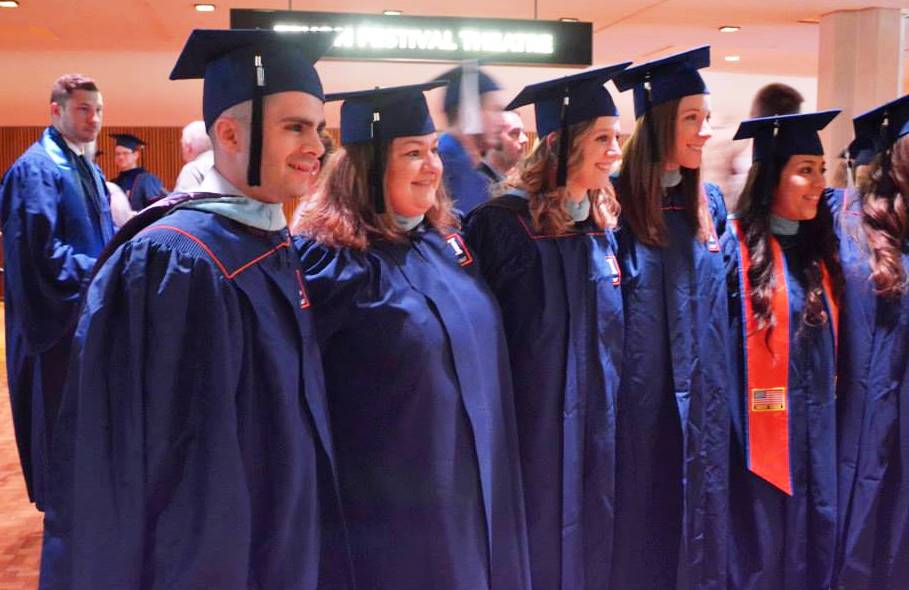 Newest Education alumni join 34,000 fellow graduates as the next generation of influential leaders in the field
The College of Education held its convocation ceremony at the Krannert Center for the Performing Arts on Saturday, May 16, 2015, to celebrate and mark the outstanding academic milestones of its newest alumni. Graduates of on-campus, online, and off-campus degree and certificate programs were recognized for their accomplishments before standing to shift their mortar board tassels from right to left, signifying the completion of their education.
The College recognized seven bronze tablet honorees and 37 James Scholars this year. Additionally, 120 students received bachelor's degrees, 208 students received master's degrees, 68 students received doctoral degrees, and five students received certificates of advanced study.
As members of the Class of 2015 enter the next stage of their professional lives, Dean Mary Kalantzis said they will have the confidence and ability to make a real difference in the lives of diverse learners. The new graduates will go on to become teachers at all levels, Kalantzis said, as well as administrators, practitioners, and leaders in business, government, nonprofit organizations, and health care.
"My wish is that you take the knowledge you have received from us and turn it into a gift for others," Dean Mary Kalantzis said at convocation. "That you have the joy of transferring your love of teaching to your students and colleagues. That you fulfill your destiny and that you help others to achieve their own."

Outstanding Student Medal recipients address classmates
The Education Alumni Association annually awards a doctoral candidate, a master's student, and a bachelor's student from the College as Outstanding Student Medalists for their stellar scholarship, leadership, and service to the College, the University, and the community. This year's recipients, Lori Erbrederis Meyer (doctoral), Lisa Ferguson (master's), and Jenna Kandah (bachelor's) addressed the Class of 2015 during the commencement ceremony.
Lori Erbrederis Meyer, Ph.D., Department of Special Education
Lori is now an assistant professor at the University of Vermont. She pursued her doctoral degree from the College of Education because of her commitment to advancing the field of special education. Her professional experiences as a teacher provided her with an effective blend of research and practice, and she was able to use examples from her work experiences to illustrate real-world concepts to students.
"Tonight, I believe the gift we can give is our voice in thanks for all our teachers, family, and friends. Tomorrow, I believe the best gift we can give is our actions. We can walk in ways that reveals our College's commitments to inclusivity, innovation, diversity, social justice, and making education accessible to all learners—the values our education here at Illinois gifted us. Our paths will not be identical to our teachers, but a commonality will be the spirit and values that guide the course."
- Lori Erbrederis Meyer
Lisa Ferguson, Ed.M., Department of Curriculum & Instruction
Lisa, a first-grade teacher in Urbana, puts her students and their success at the forefront of what she does as a teacher. She has shown her passion for literacy in the classroom by helping her students create home libraries. Additionally, she has transformed their learning through the use of stunning technology in the classroom. The result became a hub of student-focused, independent, and collaborative work that was directed by both students and teachers.
"As we move forward into new jobs or perhaps more classes, it may help us to remember that life is messy, but not to let the messiness hold us back. Sometimes we have to fight our urge to panic—or at least to try to forgive ourselves when we fail to do so on the fly. And we always need to continue getting messy—step out of our comfort zones, to ask questions, and, while doing so, to maintain our calm."
- Lisa Ferguson
Jenna Kandah, B.S., Department of Curriculum & Instruction
Those who nominated Jenna recognized her as their top 1 percent of students in all their years as educators. She was praised as an educator who "promotes the authentic and respectful inclusion of diverse voices." Among many accomplishments, Jenna made a significant impact on campus as director of the service program Vis-à-Vis, which communicates the importance of having volunteers and tutors in local classrooms.
"The students we teach make everything worth it. All of the hard work we've put in and entire days spent lesson planning are worth it when we see that light bulb go off in a student's head. I know many more light bulbs will be going off in our future classrooms, and I cannot wait!"
- Jenna Kandah
Bronze Tablet recipients from the College
The University of Illinois recognizes high academic achievement by inscribing on Bronze Tablets the names of students who have at least a 3.5 cumulative grade point average throughout the academic term prior to graduation and rank in the top 3 percent of students in their graduating class. The tablets hang in the Main Library. Congratulations to the following high achievers from the College:
| | |
| --- | --- |
| Kristin Aria Bishop | Danielle Marie Maynard |
| Jenna Nicole Kandah | Alyssia N. Van Duch |
| Amanda R. Marinko | Nicole M. Yoon |
| Louise Mary Mathews | |
James Scholars from the College
The College of Education James Scholars Program recognizes the talents of outstanding students and provides unique learning opportunities to enrich their educational experience.
| | | |
| --- | --- | --- |
| Emily T. Bierbower | Katelynn M. Larson | Karolina Maria Guadalupe Salaiza |
| Hannah Rose Brenner | Amanda R. Marinko | Michelle A. Sievers |
| Diane Choe | Ali Alena Marten | Jessica Katelin Sikorski |
| Jennifer C. Clark | Louise Mary Mathews | Margaret V. Slingerland |
| Alyssa Dee | Danielle Marie Maynard | Nicole Marie Truesdale |
| Rebecca K. Dein | Amy Colleen McEllen | Alyssia N. Van Duch |
| Hana E. Dolin | Alexandra Marie Nasca | Lydia G. Vetrone |
| Crystal Erpelo | Grace Alexandra Neuses | Kylie Elizabeth Walch |
| Melissa L. Feiger | Danielle Marie Pape | Megan T. Whalley |
| Grace C. Householder | Nicole M. Penherski | Jasmine C. Wong |
| Jenna Nicole Kandah | Alyssa Arlene Pisano | Nicole M. Yoon |
| Sara A. Kemp | Jessica J. Quinn | |
| Chloe Eun Young Kim | Lauren M. Rochman | |
View photos from commencement weekend.