College alumnus recognized as '40 Under 40' leader and as 'Those Who Excel' Merit Award recipient
by Nicole Mechling / Nov 6, 2014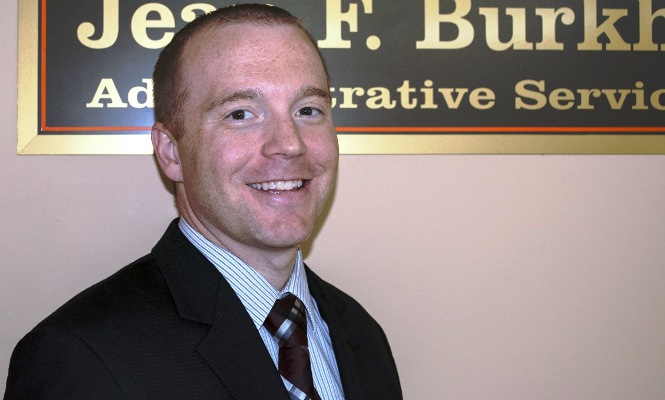 Joseph Wiemelt, M.Ed. '09 EPOL, Ed.D. '14 EPOL, believes education is all about opening doors—from the College of Education guiding his career path to his own work in establishing bilingual programs for local students and families.
The 32-year-old Wiemelt, director of Equity and Student Learning and Bilingual & Multicultural Programs at Urbana School District 116, uses what he learned in his master's program and current doctoral program in the Department of Education Policy, Organization and Leadership to advocate and lead for social justice, equity, and multilingual learning opportunities from kindergarten through high school.
The educator's influence on so many lives has led to his inclusion on Central Illinois Business Magazine's 2014 "40 Under 40" list, and he was a recipient of the "Those Who Excel" Merit Award from the Illinois State Board of Education (ISBE).
Dr. Anjalé Welton, Wiemelt's current doctoral adviser, said Wiemelt is an important bridge between the University of Illinois and the K-12 school community, especially for faculty whose work centers on issues of equity and access.
"His patience and willingness to listen is why he is successful in initiating dialogue and professional development on social justice concerns such as race and linguicism—issues that people are often reluctant to discuss," said Welton. "I have truly enjoyed collaborating and learning with him."
Wiemelt and Welton have worked together on equity and leadership issues in Urbana and have collaborated on professional development workshops at the district level.
"She gives me critical feedback and advice and is an ongoing mentor of mine for my job as a local school district administrator," said Wiemelt.
His interest in becoming a bilingual education leader inspired him to attain his master's degree and doctorate at the College. In his position, Wiemelt oversees the school district's bilingual education programs and equity initiatives, and he facilitates staff development and school improvement.
"I wanted to lead schools and school districts forward with bilingual and multicultural education programing because there is just a huge shortage of bilingual administrators in that area, especially in the Midwest and, specifically, in central Illinois," Wiemelt said. "I recognized there are a lot of issues of inequity within bilingual education."
One dual-language initiative—called Two-Way Immersion—allows students who speak English as their primary language to learn alongside students who speak Spanish as their first language, with the goals of developing into bilingual, bi-literate, and multicultural students who excel academically.
Currently, 13 classrooms in Prairie Elementary and Leal Elementary schools participate in Two-Way Immersion. Drs. Eurydice Bauer, Georgia Garcia, and Christina DeNicolo, now at Wayne State University, were instrumental in the implementation and success of the program, which is available starting in kindergarten.
"We would not be where we are at today if it weren't for them and their commitment to bilingual education and our greater community," Wiemelt said.
As he leads the program, Wiemelt is also a proud parent of a dual-language participant. His son Nicholas is a kindergartener who takes part in the program at Prairie Elementary. The 5-year-old's teacher uses Spanish for 90 percent of the day and English for the remaining 10 percent. As students age, classroom instruction eventually evolves into an even split of both English and Spanish.
Wiemelt, the father of three boys, said his son loves the dual-language learning environment and likely will in the future.
"Growing up bilingual not only opens your door to opportunities, but it opens your mind to others, to difference, and to growing up with friends you probably wouldn't have grown up with otherwise," Wiemelt said. "It opens doors for greater integration, multiculturalism, and a better understanding of each other."
As demonstrated by his "Those Who Excel" award, the work of Wiemelt and his colleagues is getting rave reviews by ISBE, according to an article by The News-Gazette, which said Prairie and Leal elementary schools in Urbana are offering some of the most cutting-edge early childhood and grade school programs in the state, particularly the dual-language program at Prairie.
Wiemelt began learning Spanish during his undergraduate program at Millikin University while studying and teaching for a year in the Dominican Republic. He soon saw the value of bilingualism and now helps students get started 13 years earlier than he did.
Wiemelt said his education at Illinois better prepared him to work within culturally and linguistically diverse school settings.
"I know I would not be receiving these awards if it were not for my educational experiences at Illinois and the College of Education. I have grown personally and professionally, and I owe a great deal of my success to the College of Education, the professors I have worked with, the fellow graduate students who I have studied with, and, of course, each and every student and family I have served in my career," said Wiemelt.